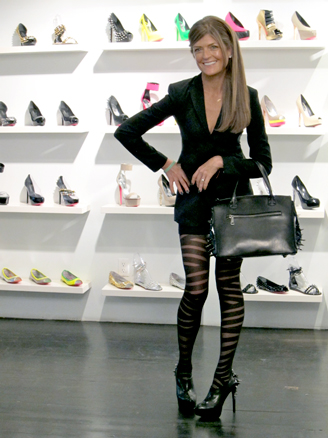 Footwear Designer Ruthie Davis
Shoes are a great way to spunk up even the most straightforward ensemble. And when you add metal spikes and neon colors to a pair of endless heels -- even to a simple white tee and jeans -- there is no way you will be a wallflower.
Ruthie Davis, the queen of the power shoe, certainly isn't.Though you may not know Davis by name just yet, you've certainly seen -- and likely worn -- her work. Before starting her own collection in 2006, she was the behind-the-scenes mastermind at shoe companies including Reebok, Ugg and Tommy Hilfiger.


Ruthie Davis footwear
Davis, who has been obsessed with shoes since childhood, mixes high-concept fashion with modernism, function and sneaker technology. Her spring collection takes classic shoe styles and influses them with unexpected touches, from athletic-looking elastic details on an open bootie, to gold metal balls along an insanely high heel, plus metallics, neons and silver spikes on double and sometimes triple platforms.

The Inside Source: Your shoes are very theatrical and statement making. Do any celebrities and/or musicians rock your styles?
Ruthie Davis: Yes! Beyonce has been photographed in my shoes close to 25 times... Fergie, Jennifer Lopez, Lady GaGa, Miley Cyrus, Selena Gomez, Nicole Scherzinger, the list goes on... I am really excited about a new following I have of young Hollywood starlets rocking my shoes such as Ashley Green, Brittany Snow, Chelsea Kane, Jamie Chung, Ashley Tisdale, Kelly Osborne, Olivia Wilde and many, many more.
The Inside Source: What is your first shoe memory?
Ruthie Davis: When I was about two years old, my mother took me to get my first pair of red patent leather mary-jane shoes. I actually remember that rush when I saw the salesman take the shoes out of the box and put them on my feet. Apparently, when he tried to then take them off, there was a baby fashionista tantrum. But a memory that is even more vivid was when I was in 7th grade and my older sisters had bought me a pair of Korkies platforms. My mother had no idea about them because they were not designed for someone 12 years old. I used to take them with me to school in my backpack. I walked to school and as I got closer, I would switch out my 'mom approved' sensible shoes with my beloved platforms.

The Inside Source: How did you turn your childhood love of shoes into a profitable business?

Ruthie Davis: I have always gone after my passion in life. I began drawing shoes when I was in high school, and I had so many shoes in my closet that my father used to tell me, "You're either going to have to marry rich or get into the shoe business to support your habit." I chose the latter. I turned my passion into a career, but I also paid my dues. I have an MBA in Entrepreneurship and I worked for large footwear brands to gain needed experience before setting out on my own.

The Inside Source: How did your experience at companies like Reebok, Ugg and Tommy Hilfiger impact you when you launched your business?
Ruthie Davis: I have always liked the whole package, where design and marketing come together. When I design shoes, I am designing a brand -- a concept that has a marketing plan behind it. In all of my corporate jobs, I did the same thing I do today with my own brand. I created an innovative design that has a specific consumer target in mind with a story or point of view behind it is marketable. For example, at Reebok I added more fashion and bright colors to the Reebok Classic sneakers that made them hook up with what people were wearing in apparel. I added the sizzle to the steak. With Ruthie Davis, I take the excitement and colors and tech of an athletic shoe and combine it with the glamour, high fashion, and sexiness of a dress shoe to make a new type of shoe with lots of sizzle!
Click here to read the full story and to see Davis' eBay product picks. Photos courtesy of Ruthie Davis. Article written by Suzanne Singer for The Inside Source.
SUBSCRIBE TO & FOLLOW LIFESTYLE
HuffPost Lifestyle is a daily newsletter that will make you happier and healthier — one email at a time. Learn more