Illustrator, designer, director, musician, author and artistic director, Dan Donahue is a multi-disciplinary creative whose work has, for the last decade, been a benchmark of cool. There were the multiple covers and merchandise he illustrated for psychedelic rock band, MGMT; a stint as creative consultant for the Original Penguin brand; and the line of retro-inspired denim, Lips Jeans, that he co-founded in Brooklyn.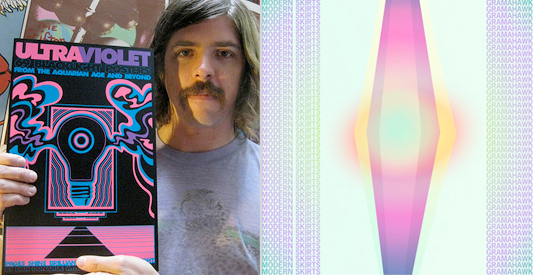 Donahue pictured with his book, Ultraviolet: 69 Blacklight Posters from the Aquarian Age and Beyond. Cover art for an album by the band, Modern Skirts, designed by Donahue.

So there's no doubt the 37-year-old amateur historian will tackle his new position as art director for global product of Land's End with the same cosmic aplomb. And, as in the past, he'll surely turn to eBay to turn up vintage treasures for inspiration. Amy Flurry, a regular contributor to The Inside Source, eBay's digital style magazine, caught up with Donahue to find out what he has up his sleeve for for the traditional clothing company and why 'psychedelic' is his favorite eBay search term. For more interviews with fashion and art industry insiders, visit The Inside Source and follow us on Twitter and Facebook.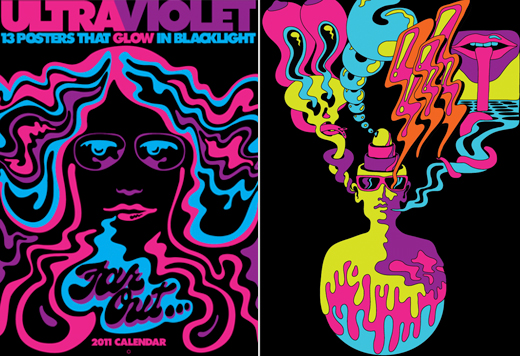 The cover of Donahue's book. A tour poster for the band MGMT, designed by Donahue.

The Inside Source: Tell us about your new gig with Lands' End.

Dan Donahue: I am an art director for global product. I oversee all graphics as they relate to the product, whether it is a glow in the dark graphic for a boy's tee shirt or an optical anchor on a men's fashion accessory.
It is a massive role considering the wide range of products that Land's End offers. I most recently designed the logo for the Lands' End Japan relief effort being used internationally. right: Donahue's denim collection, LIPS Denim
I had just recently returned from Tokyo and had one of the most inspirational trips of my life. After making lots of new friends at our Japan office as meeting so many people and artists, the news of the tragedy hit me immediately. I am thankful everyone I met is alright and working hard to rebuild and recover.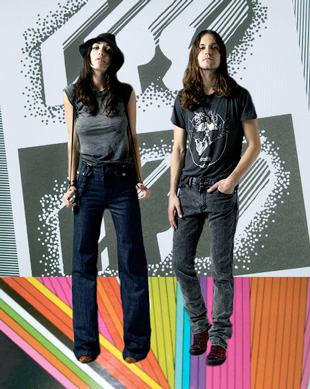 Donahue's denim collection, LIPS denim
The Inside Source: How have you used eBay?
Dan Donahue: I used eBay extensively while I was art director at Original Penguin. I was sort of a one-man design department there and was glued to my computer, so it was a necessity. I used eBay to build out my concept walls for the season, for the more interesting items that would help tell the story of the season and elements of the world that could build the character we would dress. Sometimes I would actually write stories or scripts for the season. One season I wrote a sixties B-movie and the other a surf thriller. I guess I was always looking for a way to bring the world into the garment and try and develop my creative writing while on the job.
The Inside Source: And your real life thrillers?
Dan Donahue: Before that, I was on the road with my band or out shooting videos or doing documentaries, so my time was out in the world and I would dig up treasures wherever I would be. I would take these leads and then research on eBay afterwards. A sort of follow-up to my real life adventures.
The Inside Source: How many black light posters do you have in your entire collection?
Dan Donahue: Way more than any one person should ever have. I have never cataloged all of them because some are in pretty rough shape, but my guess is six hundred plus, and believe it or not, there are a lot I don't have. There is a Holy Grail poster I am still out to get, so it looks as if my work is never done.
The Inside Source: When did you start collecting them?
Dan Donahue: I had them on my wall as a kid. Led Zeppelin was my first poster and it sat beside some skateboard posters and pictures form Thrasher magazine. I would say my wall in my room when I was a kid looks like my walls now. I have always been attracted to the bright beautiful glow of counter culture art.
The Inside Source: Have you ever bought black light posters or equipment off of eBay?
Dan Donahue: I have bought a ton of posters off eBay as well as some vintage black light bulbs in the box. I got a set of those and used to give them away as party favors at our GROOP HOME in Athens, Georgia [Donahue is a founder of Groop Home, a design firm catering to musicians, fashion designers and other creaitves]. I got a hand-painted mural of the Yellow Submarine in day glo inks from the seventies that looks pretty beautiful and completely unique.
The Inside Source: Are you currently shopping around a second book idea or do you have another planned?
Dan Donahue: I would love to do volume two of Ultraviolet, and it has been discussed. I have a large retrospective of sixties graphic novels that will hopefully see the light of day. I have been collecting source material for the book for about 15 years, so I feel it's time. When I will have the time is another story.
The Inside Source: Favorite eBay search term?
Dan Donahue: Psychedelic. I think that word defines my own personal aesthetic as it relates to art and music.
(images with permission from Dan Donahue)

SUBSCRIBE TO & FOLLOW LIFESTYLE
HuffPost Lifestyle is a daily newsletter that will make you happier and healthier — one email at a time. Learn more