For anyone even remotely acquainted with the fashion blogosphere, Susie Lau needs no introduction. If the name doesn't sound familiar, perhaps you know her by Susie Bubble, the personality behind the much-loved and highly influential blog Style Bubble, a blog she started in 2006. (Lau has been going by Susie Bubble since way back in elementary school when, she says, "I always looked like I was in a world of my own -- in a bubble!")
As one of the lucky few who makes a living from her blog, a few times year during Fashion Week season, Bubble scours the globe, traveling from one fashion capital to another, exposing new fashion design talent and giving her fresh, enthusiastic and unfiltered take on the big name designers you already know and love. Fresh from London Fashion Style Bubble Week, she makes "the case for [up-and-coming British designer] Louise Gray, crying out like a crazed banshee that her clothes will make the world a better place." While in Milan, she says, "I saw what was I think the best Prada show I've seen in person EVER (granted, I've not seen that many...) [it] will most certainly warrant Pra-pra-pra-ra-ra-ra-da-da-da posting over the next few months."
But Susie Bubble doesn't just write about fashion; she's not afraid to road test all the crazy fashion she sees -- which means you can catch her image on just about any street style blog. Leah Chernikoff, a regular contributor to eBay's digital style magazine, The Inside Source, checked in with Susie about letting your fashion style shine bright in the City of Lights. To read the full interview, click here.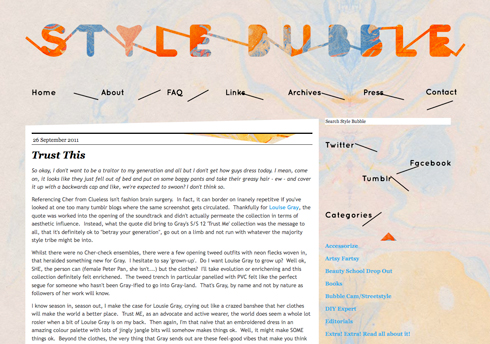 The Inside Source: What do you love about Paris Fashion Week?
Susie Bubble: It's the culmination of the month. It informs the season and really shapes what the mood is -- what will emerge as concrete fashion trends -- and normally it's where the key shows take place. I actually love doing all the showrooms in Paris, doing re-sees of collections that I saw in New York and London as well as seeing designers that present their collections for sales but don't do shows (like a lot of the Japanese labels).
The Inside Source: How do you plan what to wear over "Fashion Month"? How do you pack?
Susie Bubble: I don't really decide on outfits until I get to the city. I get to go home to London in between each week, so I don't have to pack for the slog of Milan and Paris combined. I can then take a breather and pack for a different climate as well as pick up things from designers. (I borrow a few things here and there for Paris, but not excessively so!)
The Inside Source: Do you think that fashion folks dress differently for Paris Fashion Week?

Susie Bubble: Paris is probably where people bring out their most 'impressive' outfits -- new season stuff, showpieces. Some have their daily uniform, but of course, a lot of people dress for the cameras, and with Paris comes the dramatic backgrounds like the Tuileries, so it makes sense that their more extravagant outfits come out to play. Also, there's a "seriousness" to Paris that makes people dress up. These are big, lofty fashion shows we're seeing and with that comes this weird pressure to live up to that with what we're wearing.
The Inside Source: I know you, like me, are all about the food -- as much as or even more than the fashion. Where do you love to eat in Paris?
Susie Bubble: I like to treat myself when in Paris to big slap-up meat fests because most of the time I'm eating in a hurry. My favorite places are La Régalade Saint-Honoré for really lovely well-done modern French food, Robert et Louise for great meat and Anahi for Argentinian meat and Les Vitelloni for unfussy Italian.
The Inside Source: What are the things you have to do for fun every time you're in Paris?
Susie Bubble: I don't get to do it now that I work whenever I'm in Paris but I do love Porte de Vanves on a Saturday morning to dig around for old books, clothes and random bits. It's smaller than Clignancourt, less crowded and still a good place to get a good bargain.
The Inside Source: How does the street style differ in all the major fashion cities?
Susie Bubble: I hate generalizing, but New York is about looking put together with little quirks here and there, London is about the crazy eclectic mix, Milan is also put together but with more classicism, and Paris is strictly chic. That's just the general take, but each city has its own fashion style tribes.
The Inside Source: What shows are you looking forward to most in Paris and why?
Susie Bubble: The biggies, of course -- Givenchy, Balenciaga, Haider Ackermann, Chanel, Comme des Garcons... I'm also looking forward to younger designers such as Anthony Vaccarello, who has just won the ANDAM prize [a prize fund put together by the French Ministry of Culture to promote new designers], and Julien David, who fuses streetwear with high fashion. Oh, and Kanye's show will be a weird treat.
The Inside Source: How do you stay awake through it all?
Susie Bubble: By not sleeping too much -- because then you fall into the habit of thinking you've got time to sleep. I survive better on fewer hours of sleep and more energetic activity.
FOLLOW HUFFPOST