As if the advent of Net-A-Porter wasn't boon enough to fashion lovers, its offshoot, The Outnet, has brought a whole other level of good cheer to online shoppers. Namely, you can get that same roster of well-edited designers from Net-A-Porter at steeply discounted prices on The Outnet. At the helm of The Outnet is Stephanie Phair, a Conde Nast and online retail veteran with an instinct for creating buzz online.
The Outnet's roster of designers is impressive, discount or not. "Azzedine Alaia, Balmain and Marni are popular because they are so hard to find at a discount," Phair told Nandini D'Souza, a regular contributor to The Inside Source, eBay's digital style magazine. "Our Christian Louboutin sales are always sell-outs!"
D'Souza caught up with Phair to talk trends, bargain shopping and eBay.
The Inside Source: What are your favorite trends for spring 2011?
Stephanie Phair: I'm excited about a return to '70s fashion. I think it's one of the most figure-flattering trends and easy to outfit too--a pair of high-waisted pants, a blouse and platform wedges and you're good to go. I'm also going to add some acid-bright color pops into my wardrobe this season by investing in a few key accessories. This is one of the best ways to update your wardrobe without too much expense. I love mixing classic pieces with on-trend accessories.
The Inside Source: What trends do you think are on the wane in terms of what you're seeing on The Outnet? What trends do you think are perennial?

Stephanie Phair: Fashion trends ebb and flow, but a good blazer will always make a statement and pull together any outfit. My wardrobe is full of them! Nautical-inspired clothing is often a big spring/summer trend and bold, clean lines are definitely in this season. Tailoring is another perennial favorite--it's just the ways to wear it that change--at the moment it's quite masculine-inspired.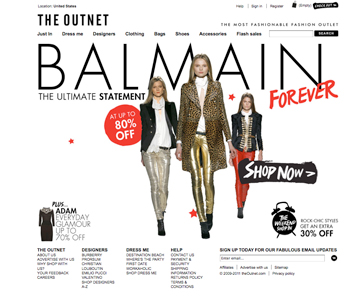 The Inside Source: Who are your personal favorite designers?
Stephanie Phair: I love Burberry Prorsum. Christopher Bailey's designs are always classic with a modern twist, which I adore. I recently bought a Dolce & Gabbana cocktail dress on The Outnet. I don't think I've ever had a dress that looked, felt and fitted so well. When it comes to my off-duty wardrobe, I like McQ, especially for denim.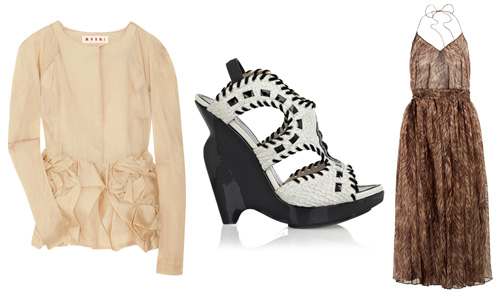 The Inside Source: What are some tips for a discount shopper to not look like she's wearing last season?
Stephanie Phair: I always say, "So what if you're wearing last season!" Don't forget that some trends bubble under the surface for a few seasons before they reach tipping point--wedges are a recent example--so you can buy something from past seasons that's right on trend. I think it shows real confidence, style and originality if you mix and match previous season pieces with your current wardrobe. You'll also never have to worry about turning up to an event in the same outfit as someone else.
The Inside Source: Let's talk about that other bargain shopping site. How often do you search on eBay and for what kinds of things?
Stephanie Phair: I've just moved out of my New York apartment so I've been checking my listings on eBay daily as well as keeping an eye out for pieces for my new home. I find it's a great resource for furniture finds.

The Inside Source: What are your favorites things to search for on eBay?
Stephanie Phair: Old guilt frames for a wall collage of frames--you don't even need to fill them! Right now I'm on the lookout for a great dressing table. Something that feels luxe and like you have all the time in the world to get ready--when in fact you're probably applying your lipstick as you run out of the door. Antique storage trunks that add an old world charm and chandeliers are other things I like to seek out. The diversity of make-up and beauty products on eBay is vast and contrary to what a lot of people think many of the items are brand new, so I always check these out too.
SUBSCRIBE TO & FOLLOW LIFESTYLE
HuffPost Lifestyle is a daily newsletter that will make you happier and healthier — one email at a time. Learn more