This article was written by Cate T. Corcoran and originally appeared on The Inside Source, eBay's digital style magazine. To read the full interview, click here and be sure to visit us on Facebook and Twitter.
We are in awe of Preetma Singh. For one, she's gorgeous, stylish and smart. But even more amazing is that she quit her job as a corporate lawyer to be an intern -- at a fashion site. Never mind that the site was the super cool Refinery29. It was still a bold move.
But before all that happened, in 2010 Singh started her own personal style blog, The Working Girl, Esq., to keep her creative side going while she was working as an attorney. Yes, she was a latecomer to the world of fashion blogs, as she has admitted. But she hoped to do something different -- and succeeded wildly.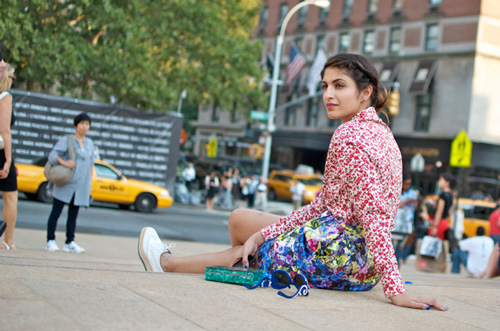 Preetma Singh of The Working Girl, Esq.
The blog was meant to showcase Singh's bold and completely original yet always office-appropriate style -- a feat that isn't easy to pull off.
Her first post declared some of the challenges she faced: Other fashion bloggers "do not trudge to work under the pall of 'appropriateness,'" she wrote. "They do not have to sacrifice personality and creativity for job security. They do not have to worry about whether they really should have bought those crazy bondage leather harem pants even if it was at a sample sale and even if they were 90 percent off because where in the hell am I ever going to wear those?!"
Well wear them she does -- initially as an attorney, but after a chance meeting with some editors at Refinery29, she decided to quit her job to do an internship there. While working at Refinery29, she also took on an internship at Stylesight, a trend forecasting company. These days she is a fashion assistant at none other than Vogue.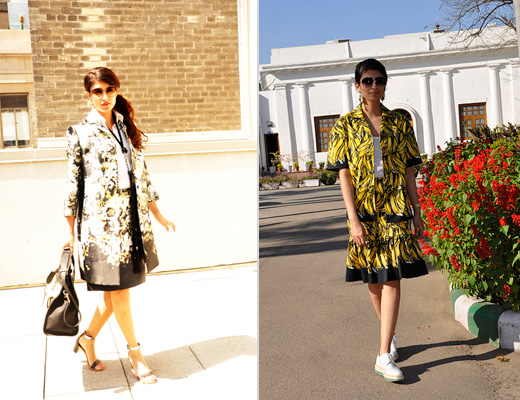 And though her current gig allows for (even encourages) risk-taking fashion moves, this self-described "corporate lawyer-turned-magazine fashion assistant [still] believes that office style shouldn't be an oxymoron, no matter where you work."
A browse through her blog reveals that her signatures are bright colors and prints in work-friendly silhouettes. She cares a lot about quality, whether something costs a lot or a little. Singh haunts sample sales, outlet stores and eBay, among other resources, and she wears vintage. She loves Dries Van Noten.
Here, the Toronto native lays down the law for us.
The Inside Source: What is it like working in law vs. fashion?
Preetma Singh: Fashion is a lot more creative. That is refreshing because working in the corporate law world, it's very much about copying and pasting and going off precedent and agreements, even on the trial side. But working in a law firm vs. an editorial environment, I found in the day to day there are a lot of similarities. You must be super organized and on top of everything.

The Inside Source: Why did you start your blog?
Preetma Singh: Basically I needed a creative outlet. I felt I was losing interest in the things that had always been important in my life, like fashion. I love to write and needed a way to express that. I thought the blog would be good way to keep my interests up and force me to stay engaged and involved in the things that I love. I was also thinking about changing careers, and it was a way to explore whether I wanted to do it professionally.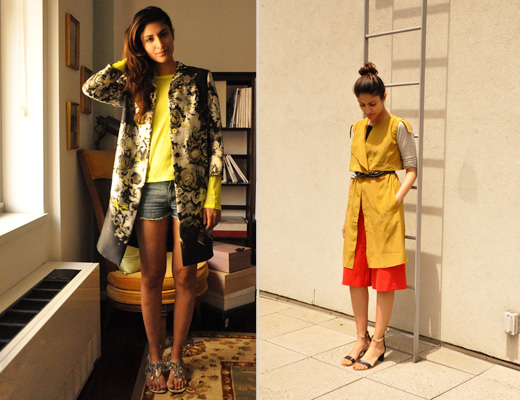 The Inside Source: What does a fashion assistant do?
Preetma Singh: Mostly a fashion assistant requests a lot of clothes from designers and gets them back -- making sure we get the exact right things for shoots. A lot of market research. A lot of times editors want a certain look; other times they want a blue trench coat. So it's really fun when you get those requests because you get to use your own resources and taste to help you find the perfect things.
The Inside Source: How do you put together your outfits?
Preetma Singh: I try not to think about it too much. That's one of those things I love about fashion. I tend to over think and over analyze things, and fashion is one area where I go with my gut. I love being a little tongue in cheek -- a reference to something I'm reading and what I'm listening to, always mixed with something random. I want it to be an extension of whatever is going on in my life. That's how it happens naturally. I don't have strict style.
The Inside Source: Has your style changed from when you started the blog?
Preetma Singh: It has. The point of the blog is that you can have fun with fashion and be professional in a normal workplace. I still try to incorporate a little bit of that but it's obviously changed because I'm not in the same work environment anymore. I still try to incorporate that professional aspect to it, and I think that's important in a professional environment if you're trying to get ahead, whether you're working at a magazine or a law firm.
The Inside Source: Any advice for women who love fashion but work in corporate environments?
Preetma Singh: Don't' be afraid of taking a chance, even if it doesn't work out one day. As long as you stay away from something obviously inappropriate -- too short, or too revealing -- you can wear color and you can wear different prints. People really respond to that. I was surprised I got so much positive feedback at my firm, especially from the women who were partners.
The Inside Source: Do you ever use eBay?
Preetma Singh: I do all the time, actually. Usually I use it if I'm looking for something very specific that is not available in stores. For Fashion Week, I really wanted a houndstooth clutch that did not cost a billion dollars. I couldn't find one anywhere, so eBay was perfect. Everyone asked what was; it was just some PVC makeup bag. Or if you are looking for something from an earlier season from a designer, eBay is the best place to try to track something like that down. Usually what I use it for is to find my cool vintage things. Living in New York City, it can be overwhelming to get to places, and there are so many choices, so eBay is convenient. [Though] it's easy to get lost on eBay and spend a lot of time on it looking for different things, even home things--not just fashion and clothing.
The Inside Source: What are some of your favorite purchases?
Preetma Singh:
I wanted a pair of creepers from England, and not that many places sell them. They popped up in my size and were the exact ones that I wanted, so that was a really good one. Last fall, I bought this great tweed cape coat thing, vintage from a seller in Maine or something. It's one of my favorite things. I always get so many compliments. It's really structured but still a cape. It does look like a tailored coat. I got a great Marni furry backpack I had been wanting from a few seasons ago. I found it on eBay one day and it was great price.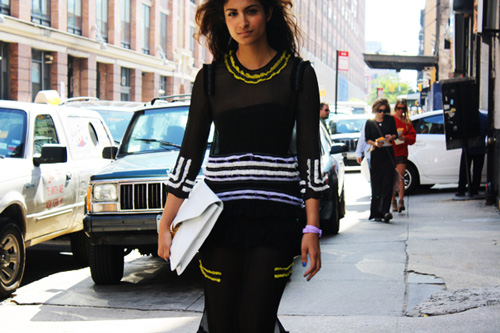 The Inside Source: What is on your wish list this season?
Preetma Singh: I really want kind of a duster-length winter coat. Wool--a really long tailored coat--in gray. I've been sourcing eBay for that one because there aren't a lot available in stores right now. I kind of regret not trying harder to get the Balenciaga punky boot. I would mix them up with something more feminine. They're an example of something I couldn't wear to work before. I'm hoping they'll pop up on eBay because they're out of stores right now.
The Inside Source: Are you into black and gray and dark colors now?
Preetma Singh: It seems that way, but I love color and prints. That will never go out of style for me, but I have so many colors and prints, so I'm trying to incorporate more neutrals. I've been on a black and white kick lately. I find myself drawn to that. You can incorporate colors and prints well with that. I also really like all the pastels I'm seeing at the spring shows, so I'll be on the lookout for those.
The Inside Source: Any regrets? Future plans?
Preetma Singh: I don't regret leaving the legal world. But there is a business-y, serious analytical side of me that I hope to incorporate into that creative side that I feel I'm developing right now. I went all the way to the other extreme and am just doing really creative work all the time now. Eventually I want to marry the two.
(images courtesy of Preetma Singh. Select photos by Lewis Mirrett and Wataru Shimosato.