Every woman I know is complaining about this season's shoes. And it's not just the 40-plus crowd, either. (A friend heard a bevy of P.Y.T's discussing this very topic in the ladies' room at the White House Correspondents Dinner, usurping discussion of both the size of Pamela Anderson's cleavage and the Heidi/Spencer/L.C. tension in the room.) Every pair of shoes is either high, high, high...or just plain flat. The choice: To plod or to totter.
On Net-A-Porter, the industry pace-setter for designer accessories and apparel, I found 240 pairs of flats, 300 pairs of high heels, and 24 pairs of mid-heels, 13 of them cute.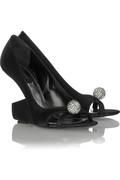 I am fascinated by the surrealist architectural heels that teetered down the Marc Jacobs runway for spring, but given my daily taxi-gym-subway-work-meeting- dinner-drinks-collapse sprint, I don't think I will be braving them this season.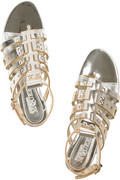 Although the metallic straps on gladiators like these from Alexander McQueen lend an of-the-moment superhero vibe, I think I'll avoid the cankle look for now and stick with watching Spider-Man movies.
While ballet flats are still cute (and I am an admitted devotee), if I see another Tory Burch Reva flat marching down Madison Avenue, I will scream. (I even tried to talk someone out of buying a pair at Saks last weekend just as she was trying them on.)
I'm in favor of an effortless look. Trend-inspired for sure -- I love the tribal prints, mismatched florals, and even the neon brights right now -- but when it looks like it took you 25 minutes just to strap your shoes on (not to mention pick them out, match them to your outfit, and practice walking), the overall statement ends up more precious than polished.
Women resent having to change shoes to walk a few blocks to lunch and then sneak the "good shoes on" in the bathroom before dinner. So many people are wearing shoes from two seasons ago. My mother says that her mid-heel Christian Louboutin's have become collectors' items. She recently attended a luncheon with some of the best dressed women in DC. They were wearing new Chanel and Dior and Prada and Moschino and old shoes. When she announced that she had recently scored a pair of medium high black sandals, everyone demanded to know where she found them.
The fashion magazines and store buyers are playing right along with the game. (I get it, it's a lot of fun to write about backward or five inch carved heels reminiscent of a totem pole.) But when retailers are already struggling, and I see it every day in my work at Store Adore, wouldn't it be smart to stock up on something women really need? (Did you notice how full the sale racks at department stores were at the end of last season? The problem goes back that far.)
I've had the best luck finding cute-sexy-wearable shoes when I've avoided the department stores and gone shopping at smaller boutiques. Perhaps its because these stores have more direct relationships with their customers and are therefore getting the message, or perhaps it's because the smaller stores (and their smaller budgets) simply have to be more reasonable when stocking their shelves. A few styles that I have my eye on right now include (from left): boho Korkease wedges from Ravinstyle (the comfort cork heel gets extra points), Loefller Randall peep toe pumps from La Garconne (just enough heel to slenderize my legs), Bettye Muller two inch yellow thongs from Piperlime and if I'm really kickin' it on the move, these 80%20 metallic high tops from Active Endeavors.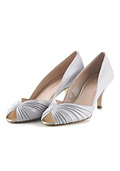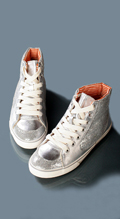 So come on big retailers, listen up. Let's just say that well heeled women want to be well heeled. It's an idea whose time has come.