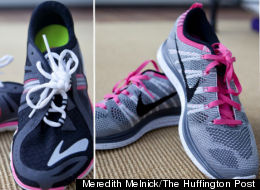 Running shoes are very personal -- a matter of inconvenience for the shoe companies that must produce them for the masses. Many stores dedicate major equipment and man hours to helping customers pick the right shoes, based on their particular gaits and anatomies. But there are some truths that apply to us all -- or at least some basic decisions and requirements: Do you want extra support or a more barefoot feel? Are you comfortable wearing neon pink, the fitness industry's near universal gendered color designation?
I decided to try six of the new models from top sports companies to see what's up in the world of running shoes. First, a bit of information:
I'm a casual runner. I run for mental clarity and for fitness, but I am not a big race runner. I don't consider myself "in training" for an endurance event of any kind.
I have a very normal, straight gait. No injuries, no major anatomical considerations to be made.
I have high arches and small feet, narrow ankles and though I've traditionally run in the bigger, foamier running shoes of yore, I'm beginning to shift slightly toward the cross-over "barefoot" style models that have popped up in the past few years.
My testing ground is also a route I've been running for probably 12 or 15 years: A straight, two-mile expanse from my parents' house in Massachusetts to the beach and back. There are a couple of hills and, yes, typically I run for longer. But given the circumstances, I wanted to keep all things equal between the six models and avoid injuries that can come from not properly acclimating to new shoes.
I don't recommend trying new and different shoes in quick succession: I certainly felt sore and stiff, especially in my calves. I was a bit concerned I'd hurt myself, though I happily emerged unscathed.
Have a look below for my thoughts on the latest in running fashion. Tell us in the comments: have you tried any of these models? Are you excited to try? And, while you're at it, what else would you like us to test for you? We're here to be your guinea pigs!
Sneakers To Try In 2013: A Review
These were the lightest shoes I tried, with a loose, porous cloth body and a low ankle. The stiff sole has a surprisingly high arch, which suits the natural shape of my foot, but might be strange for some. Because the ball of the foot has such a steep curve, it can feel as though the shoes are helping to propel you forward. Comfort: Definitely for those who prefer a "barefoot" feel. Great ventilation and a high-ish heel. Performance: Pretty great to run in, a bit strange to walk in. Because the front is so roomy, my toes were moving all over the place -- I know that's supposed to be the point, but it felt a little alarming. Appearance: One of my pet peeves is the need for all women's gear to incorporate pink, neon pink or purple. While the ring around the sole provided the requisite "girlification," overall I thought this was a rather discrete-looking shoe. The toe area is a bit bulbous, but who cares when it provides a nice breeze for your tootsies?

These were a bit heavier than most of the new running shoes, but with the same breathable material to keep your feet from overheating. The least girly-looking (a bonus in my book) and the most likely to cross over to other activities (they would make great cross-trainers). Comfort: Snug, these might not work for the more wide-footed among us, but easy to wear. Performance: Perhaps a touch heavy, comparatively, but appropriate for pretty much any activity -- not just running. Appearance: Nicely gender-neutral, slim and smart. The neon green is a little graceless and looks foamy and fake.

The handsomest of the bunch, they are also stellar running shoes, with a low ankle and fabric that stretches and gives. The stiff sole provides more support than, say, the Brooks or Vibrams, but with enough give that they feel like the middle-ground between barefoot feel and more structured models. Comfort: Like a glove. Snug and fuss-free. Performance: An easy run, but don't expect the shoes to do any of the work -- there's nothing bolstering you forward (for better or worse). Appearance: A pleasing textured knit makes these shoes the most fashionable and the pink accents are kept to a minimum.

Classic or heavy -- it really depends on your taste. For me, the substantial ankle support meant blisters after the first couple of runs. But for others, these barely-changed models may be the most comfortable. Comfort: They need some breaking in -- there's definitely a blister risk. And they were tight enough that my toes felt a little cut off. Performance: Supportive and buoyant -- these shoes will definitely put a little spring in your stride. Appearance: They look the same as the ones I had in high school. Nice, nothing to write home about.

An admission: I have a slight bias against "toe-shoes." I've always considered them a bit like the World of Warcraft of fitness equipment -- popular among lifehacker types and data nerds (not that there's anything wrong with that!) and a little fashion tone-deaf. So it was with some trepidation that I strapped these on. But now I think I get it ... kind of. I felt a bit bionic, as if I were running on some better version of my bare feet. The toe separation made my stride significantly different and so I went slow to avoid injury. Comfort: Weird but cool. Performance: It would certainly take a bit of practice to get comfortable running in these shoes. But with the training, they'd be a pleasure. Appearance: This was hard to get over. To wear toe shoes in public is to announce something about your personality or at least your taste. I wasn't wild about the way they looked.

Another heavy-ish model with stiff ankle support, a heavier fabric and a big (BIG!) sole. Still, these shoes took me on a surprisingly great run -- their robust, cushiony bottoms made them particularly easy to move in. Comfort: Definite blister risk and sized a little on the big side. A bit boat-like for barefooters. Performance: Tons of support and cushion, if that's what you're into. I definitely found myself with a higher stride than usual, although it could feel a bit heavy for picking up the pace. Appearance: Kind of neon and marshmallow-like. I wasn't thrilled with their function-before-fashion look, but they weren't offensive either.
Follow Meredith Melnick on Twitter: www.twitter.com/MeredithCM