Washington Post Hires NBC-MSNBC Veteran For Video Programming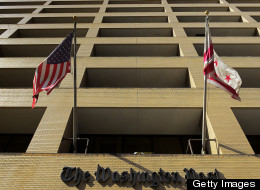 The Washington Post has been staffing up the past few months in preparation for the summer launch of an online politics channel, hiring producers, a technical director, studio technician and even poaching a senior video producer who'd been working on Politico's web program, "Politico Live."
And the staff continues to grow. On Friday, the Post hired Alice Rhee as Senior Producer of Shows, according to a staff memo obtained by The Huffington Post.
Rhee, who spent over 15 years at NBC and MSNBC, will be "instrumental in launching our original video programming, and in particular, our two new politics shows" and will "work closely with the national political team," according to the memo.
Full memo is below:
We're excited to introduce Alice Rhee, who is joining the video department as our Senior Producer of Shows. In this role she'll be instrumental in launching our original video programming, and in particular, our two new politics shows. She'll directly oversee the show producers and work closely with the national political team.

Alice has spent more than 15 years at NBC News and MSNBC, most recently working in tandem with Chief Foreign Affairs Correspondent Andrea Mitchell. Alice also has developed a distinguished record at NBC and is known as someone who gets things done. Over the years she has been a National Political Producer for Brian Williams, and a Special Projects Producer, Field Producer and Writer working with NBC News correspondents covering the White House, Congress, the State Department, the Pentagon.

She also has extensive experience covering national politics as a campaign producer, off-air reporter, and writer covering each presidential election season since 1996.

Rhee is the recipient of several national and regional awards including Emmy awards, a National Headliners award and the New York Newswomen's award for her reporting in the days following 9/11. In 2003, Alice was awarded an Emmy for producing a profile about the chief trauma surgeon at Hadassah Hospital in Jerusalem.

Rhee is also a freelance writer, a contributor to MSNBC.com, and a former substitute host at NPR's New York City station, WNYC.

She is a graduate of Columbia University's Graduate School of Journalism and McGill University in Montreal, Canada.

We're very pleased to have her enthusiasm and experience on our team. Her first day at The Washington Post will be May 6.

Andy Jon
Follow Michael Calderone on Twitter: www.twitter.com/mlcalderone