Key Witness in Rove Probes Killed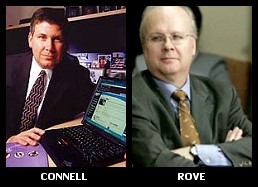 Mike Connell's untimely death will haunt Karl Rove and the Republican Party. As the key witness in investigations into election fraud and the destruction of White House emails relevant to the improper firing of US attorneys, Mike Connell recently informed investigators that he had received death threats while Cliff Arnebeck, a principal in an Ohio election fraud investigation wrote a letter to US Attorney General Michael Mukasey charging that Karl Rove had threatened Connell.
Mike Connell founded two IT consultancies that provided a cluster of services to the Bush White House where he worked closely with Karl Rove. Connell's firms were New Media Communications, Inc. and GovTech Solutions. In 2000 and 2004, Connell provided campaign services for internet strategy to the presidential campaigns of George W. Bush and Dick Cheney as well as the Republican National Committee.
Connell's other firm, GovTech Solutions worked for a growing list of clients in the federal government including: the US House of Representatives; the House Republican Conference; the House Intelligence Committee; the House Judiciary Committee; the House Ways & Means Committee and the House Financial Services Committee.
Federal investigators began probing Connell's involvement in a controversy over electronic voting machines and racial discrimination in the 2004 presidential election in Ohio. Witnesses informed Ohio authorities that former Secretary of State Kenneth J. Blackwell orchestrated the results of the 2004 election when he was serving as the Chairman of the Bush-Cheney re-election campaign in Ohio.
A Republican whistleblower named Stephen Spoonamore filed a sworn affidavit in federal court that led to a subpoena for Mike Connell in September of this year. In his sworn affidavit, Spoonamore alleged that Connell was a devout Roman Catholic opponent of abortion who had created electronic systems that could have been exploited by Republican operatives to rig the results of the presidential election of 2004.
Connell's testimony threatened to lead to the indictment of Karl Rove. Key allegations in the cases that were converging on Rove were to the effect that Connell was ordered to manipulate election returns in 2004 to deliver the presidency to George W. Bush instead of John Kerry who was leading the pre-election polls. A gifted IT expert, Connell was under investigation in the case of thousands of missing emails relevant to the probe into the politically motivated firing of US attorneys. In both cases, Karl Rove is the prime suspect.
The unfortunate timing of Connell's death recalls the untimely death of George De Mohrenschildt who was scheduled to be the star witness in the House Select Committee on Assassinations (HSCA) in 1977. De Mohrenschildt was a close friend of Lee Harvey Oswald. In February 1977, De Mohrenschildt granted interviews in Europe to the effect that he had direct personal knowledge of the conspiracy to assassinate JFK.
Upon De Mohrenschildt's return to the USA in March, he was subpoenaed by the HSCA and scheduled to meet with Lead Investigator Gaeton Fonzi. When Fonzi arrived at De Mohrenschildt's residence in Manalpan, Florida near Palm Beach he discovered that his key witness had died, apparently by 'suicide' only a short time before the two men were to have met.
De Mohrenschildt's death rocked the nation and was featured prominently on the front page of the New York Times and the New York Post where the banner headline read, "KEY JFK WITNESS KILLS HIMSELF."
Other key witnesses in the HSCA were brutally assassinated. Sam Giancana and Johnny Rosselli were designated key witnesses for the HSCA, but they became victims of assassination before and during the Congressional hearings that gripped the nation in 1976-7. Congressman Richardson Preyer (D-NC) was one of the most outspoken members of the HSCA that found JFK had been assassinated as part of a conspiracy involving organized crime.
Other suspicious and untimely plane crashes involving high-ranking politicians include those of: U.N. Secretary General Dag Hamaskjold; Congressman Hale Boggs; Sanjay Gandhi; Salem Bin Laden ; General Zia Ul-Haq; twenty MI5 officials aboard the ill-fated Chinook helicopter; Ron Brown; John F. Kennedy, Jr., Mel Carnahan and Senator Paul Wellstone.
Oddly, at the time of Carnahan's fatal air crash Karl Rove was working for the Democratic Senator's opponent, John Ashcroft. When the brilliant progressive leader of the Senate, Paul Wellstone died in what some believe to be a suspicious air crash two years after Carnahan's death, Rove was the chief political advisor to the Bush White House and the Republican National Committee.
A new chapter in Rove's saga may be emerging. During a recent appearance on the Today show the man known colloquially as 'Bush's Brain' pledged to lead the fight against Michael Mukasey's replacement, Attorney General Designate Eric Holder.
President-Elect Obama has pledged to avoid any witch-hunts, but the last time Karl Rove was seen he bore no resemblance whatsoever to a witch; a warlock, maybe, but not a witch.

Follow Michael Carmichael on Twitter: www.twitter.com/alchemistoxford