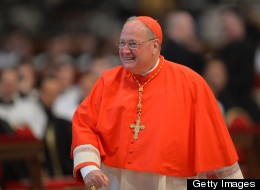 Having determined that "in the public square ... the days of fat, balding Irish bishops are over," Cardinal Timothy Dolan has chosen, as his stand-in, a woman who seems the very model of a modern media messenger from the political right. Head of the conservative Catholic Voices USA, Kim Daniels looks good on camera and speaks well. And her resume seems a perfect fit for a political action group determined to exert the power of the church in debates over affairs of the state.

An attorney with topflight credentials, Daniels has served as a key advisor to Sarah Palin and was long affiliated with the Thomas More Law Center. The center has taken-up many notorious causes including a failed defense of so-called "intelligent design" and a losing effort to force Planned Parenthood to tell patients that abortion is linked to breast cancer, which is a specious claim. Under Daniels' leadership, Catholic Voices has vigorously opposed laws that require health care plans to provide contraception and fought against marriage equality for gays and lesbians.
In her new post Daniels will serve the cardinal in his role as head of the United States Conference of Catholic Bishops. Dolan already has an official spokesman and press office serving him as cardinal archbishop of the church in New York City, and the conference will continue to employ its current communications staff in Washington, D.C. In other words, the cardinal is adding yet another layer to the official media bureaucracy. This seeming redundancy has already caused insiders to wonder if there is room enough in the organization to accommodate one office dedicated to Dolan and a second to his fellow bishops who make up the conference.
Perhaps the only way to make sense of Daniel's hiring is to accept Cardinal Dolan's own words on the status of fat, balding clerics. This view, which elevates style over substance, does focus attention of a very real problem for anyone who wants to sell a product, service, idea or belief. In today's world the competition for the public's attention is fierce and marketing experts will tell you that imagery matters. If it didn't, then we wouldn't see so much glamour on billboards and beauty on TV.
However, as Sarah Palin herself demonstrated, packaging can only take you so far. Eventually, people will examine the message, and if it is found wanting, they will reject it. And here lies Dolan's problem. He is burdened with a message of religiously inspired policies that is impossible to sell in a pluralistic nation that values the separation of church and state. A majority of Americans -- and, indeed, a majority of Catholic Americans -- don't want much of what he is selling, and a new wrapping won't change their views.
If Americans were predisposed to favor what Dolan is selling in the public square, he wouldn't need a spokesperson in the first place. Chris Christie, Rush Limbaugh, Barney Frank, Fred Thompson, Jesse Ventura and a host of other prove you don't have to be slim or hirsute to be heard. Within the church one of the most popular figures is Boston's bald cardinal Sean O'Malley, who is beloved for his humility and humanity. Clearly, it's the message, not the messenger. If Dolan had more confidence in his, he wouldn't need yet another stand-in.