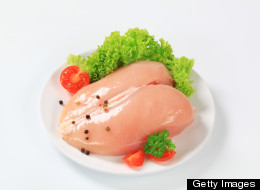 Everyone knows undercooked meat can be a risky proposition. For most Americans, a case of foodborne illness is a mild case of nausea or diarrhea that passes in a few days. Few of the 48 million people who are infected each year from tainted foods seek medical attention. But about 128,000 Americans go to the hospital to seek treatment for a potentially deadly infection caused by Salmonella, E. coli or other pathogen. And every year, about 3,000 die.
We decided to analyze outbreak data to answer the question: What are the riskiest -- and the safest -- meat and poultry products? Which foods are most likely to make us sick and cause the most severe cases of illness?
Our findings may surprise you. If you choose to eat meat or poultry -- and there are nutritional and ecological reasons why you might not -- there are things you can do to minimize your risk. And for some of these, the U.S. Department of Agriculture, meat and poultry producers, and restaurateurs could be doing more to ensure that these foods are safe to eat. Our complete findings are here.
Risky Meat: Will Your Meal Send You To The Hospital?
Highest Risk. The average American eats more than 65 pounds of chicken per year. Because we eat a lot of it and because it can harbor Salmonella, Campylobacter, and other dangerous bacteria, chicken is linked to more cases of illness than any other meat or poultry product (excluding nuggets -- more on that later). Consumers should use a meat thermometer and cook chicken at a temperature of at least 165 degrees and not rely on color to determine doneness. The USDA is considering increasing line speeds and reducing microbial testing in poultry facilities, which could make illnesses tied to chicken even more common. Photo credit: Fotolia.com

Highest Risk. Ground beef was linked to the highest number of severe illnesses of the foods in CSPI's "Risky Meats" report. That's because of E. coli O157:H7, a pathogen that hospitalizes nearly everyone who becomes infected. (Antibiotic-resistant Salmonella is another concern.) Again, using a meat thermometer and not eyeballing the color of the meat is critical to killing bacteria. Cook until it reads 160 degrees. When ordering burgers at a restaurant, ask for medium-well to well-done. Photo credit: Fotolia.com

High Risk. This category of beef excludes ground beef, steaks, and roasts but instead includes basically every other form of beef, including tacos, stroganoff, stew, and so on. A bacterium called Clostridium pefringens figures prominently in illnesses traced back to these dishes. That suggests that improper handling after cooking allows bacteria to grow to dangerous levels. Keeping hot foods hot and cold foods cold can help limit your risk. Don't let cooked meat sit out for more than two hours. Photo credit: Fotolia.com

High Risk. Steak warrants its own category of beef. The good news is that steak is often seared at high temperatures on both sides -- efficiently killing bacteria on the surface. But it is also linked to outbreaks due to Clostridium, E. coli O157:H7, and Norovirus. A practice called "mechanically tenderizing" with needles or thin blades can drive bacteria from the steak's surface to its interior, thus increasing risk. Unfortunately, you have no way of knowing which steaks have been tenderized in this way -- and restaurants don't know either. So cooking a steak medium-rare could be just as risky as cooking a burger that way. CSPI wants the U.S. Department of Agriculture to require labeling of mechanically-tenderized steak. Photo credit: Fotolia.com

High Risk. CSPI's researchers found an interesting trend in its food poisoning data. November and December are big months for turkey-related outbreaks linked to Clostridium perfringens, suggesting that big holiday turkeys are being left out on the table for too long, or that leftovers from these festive meals might be improperly stored or reheated. Break down leftover turkey into smaller pieces to ensure rapid chilling in the refrigerator. Turkey also carries lots of Salmonella and Campylobacter, so treat raw birds as if they are contaminated and handle them carefully. For starters, never rinse a turkey (or any meat) since the droplets of water can spread bacteria around the kitchen. Photo credit: Fotolia.com

Medium Risk. This category includes meat sliced at the deli counter such as roast beef, ham, turkey, salami, and pepperoni, as well as pre-packaged deli meat. While outbreaks are rare, deli meats can carry the most deadly foodborne pathogen of all: Listeria monocytogenes. People who are already ill, the elderly, and pregnant women are most at risk. Listeriosis hospitalizes almost everyone who becomes infected and kills 20 percent of the people it sickens. If your immune system is weak, consider avoiding deli meats altogether. Pregnant women should reheat deli meats to steam before eating them or simply forgo them, because Listeria can cause miscarriage and stillbirth. Photo credit: Fotolia.com

Medium Risk. Americans eat more than 30 pounds of pork per year, making it the third most consumed meat or poultry item after beef and chicken. Pork chops and roasts fall into the medium-risk category (as does barbecued pork and beef.) Salmonella is the top pathogen of concern with pork, linked to 630 illnesses in CSPI's outbreak database. Photo credit: Fotolia.com

Medium Risk. By roast beef, we mean cuts more than two inches thick, such as rib roast, brisket, or pot roast. These cuts are linked to far fewer outbreaks than ground beef or other types of beef. But once again, Clostridium, and not E. coli, is the prime concern with roast beef. That indicates meat held out too long at room temperature. Clostridium infections, characterized by diarrhea and cramps, usually pass within a day, but they can be more serious in older adults. Photo credit: Fotolia.com

Low Risk. What are the least risky meat and poultry products? Sausage, ham, and chicken nuggets. (Of course, some of those are the least nutritious.) Why the lower risk? For the most part, we're talking highly-preserved or processed foods here, cooked or cured under carefully monitored industrial conditions. That means there's less opportunity for home cooks or restaurant chefs to undercook them. Still, Staphylococcus aureus can manifest itself on improperly reheated ham. Norovirus -- linked to improper hand washing -- is a top pathogen for this otherwise low-risk category, suggesting it is not these foods themselves, but the lack of basic hygiene either at home or in a restaurant that can make people sick. Photo credit: Fotolia.com
For more by Michael F. Jacobson, click here.
For more health news, click here.
Follow Michael F. Jacobson on Twitter: www.twitter.com/CSPI