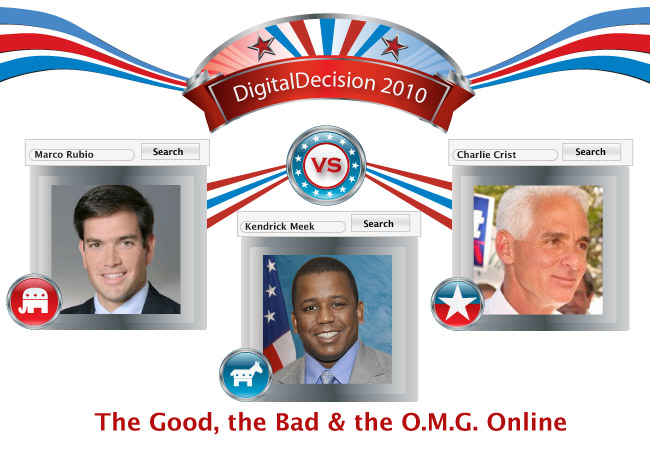 We've heard it all before, the Internet is a game changer, it brings transparency, it delivers immediacy, democratization of content, accessibility. What it also brings -- something we're just beginning to understand the significance of -- is measurability. The data sets we have at our keyboarded fingertips are nothing short of awesome, from Twitter mood maps to international economic indicators to advancements in medical recording.
The Web's measurability is front and center in the three-way Florida Senate race. Particularly for the two trailing candidates, Kendrick Meeks and Charlie Crist, the race has been a tight numbers game of how to capture the unclaimed ballots, discover undecided constituents and pivot messaging based on those findings.
The questions we ask today: How do the candidates measure up online? And how do measurements affect their campaigns?
Democrat Kendrick Meek is a 6'3", 250 pound former state trooper and current Congressman. He's got a large presence, but is it echoed online? Facebook followers: 23,276. Twitter followers: 5,812. Websites: 3. Meek is by far the least active in social media of all the candidates. He trails the frontrunner Rubio 22 points in the polls, compared to Crist's 14-point disadvantage.
Here's how Marco Rubio's play card looks: 39 year-old son of Cuban immigrants and a former speaker of the Florida House. Picking up 43% of the vote, Rubio has led in every published poll since August.
Facebook followers sum 130,088. Twitter followers: 17,402. Websites: 3. His Facebook fan base is more than double the size of Meeks' and Crists' combined. Television ads for Rubio urge viewers to sign onto his Facebook page instead of the campaign's website. Through Facebook, Rubio prompts a more direct conversation with his audience. Facebook also allows the campaign team to better monitor voter reaction and support.
Charlie Crist: 44th and current Governor of Florida, running on the Independent ballot. Facebook followers: 29,231. Twitter followers: 7,433. Websites: 4. Pragmatic, politically gifted and "always sporting a healthy tan," why isn't this long-time politician with a large network making the most of social media?
Crist could learn from his Republican opponent who beat him in the primary--a strong foundation of online support and engagement helps a candidate better understand constituents and make judgments based on real-time discussions.
In the case of the three-way Florida Senate race, the numbers highlighted are critical indicators of campaign health. The numbers also beg the question, are Crist and Meek focusing on the right measurements, are they tapping into the value and the analysis that can be derived from social media?
With online measurability we gather, we evaluate: how many individuals visit a site; how many people click an ad, an article, a link, a YouTube video; how many followers on Twitter. The Web also lets us measure that which isn't directly numbers-related; it provides a basis for qualitative analysis. We build an understanding of the intriguing individual from our distant past, using the sum of their online content to dictate who they are now in their adult life. We assess candidates (political, job, suitors) based on the social media networks they participate in or the revealing online images that make up their digital self.
Let's turn our qualitative lens on the race, focusing on the most contentious elements for the Florida Senate seat, message match. Here's the shakeout:
Message Match: Rubio 5, Meek, 4, Crist 1.
Charlie Crist is the odd man out, running on the Independent card, without the clear support of a single party. The arc of drama in Campaign Crist has been the spectrum of his political allegiances, from right to middle to left. Crist has changed so many times, the Internet thinks he's red, blue and purple. Campaign Purple is not coming across as a pretty color in this race.
Flogged for his allegiances to Obama as a Republican, Crist quickly changed camps when he lost the Republican nomination to Rubio. He then found his Moderate mojo and is now geared towards the left -- making for a confused constituent who knew Crist as a Republican just six months ago. Crist has changed his position on many platform issues as he tries to capture votes from Kendrick Meek.
Meek on the other hand has had focused and coherent messaging; he's a Democrat looking to represent the middle class working man and woman. His path to Congress was a relatively easy one, running unopposed in the Democratic primary and challenged only by a third-party write-in candidate in the general election. It's also argued that he was a shoe-in for his current position on the 17th Congressional District; the electorate is majority African-American and voted for the Democratic presidential candidate with more than 80 percent of the vote in 2000, 2004. The analysis -- Meek may have been accustomed to an uncontested battle and was not prepared with the necessary social media campaign chops for this heated race.
The measuring stick tells us: Rubio, you win this round with Meek a close second and Crist at your heels. From my stance as an online reputation expert, my advice for both the trailing candidates is to better engage your audience online and pull out all your messaging guns.
Michael Fertik is founder and CEO of ReputationDefender, the global leader and pioneer of online reputation management and privacy control.
SUBSCRIBE TO & FOLLOW THE MORNING EMAIL
The Morning Email helps you start your workday with everything you need to know: breaking news, entertainment and a dash of fun. Learn more