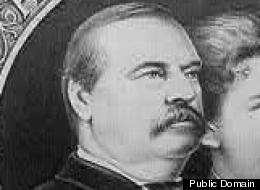 Michael Gerhardt is the author of The Forgotten Presidents: Their Untold Constitutional Legacy ($34.95, OUP)
The 43 different men who have been president of the United States are not all equal. Americans revere and know a lot about only a few of these men. Yet, many presidents whom we have forgotten have had an impact on the office and the Constitution. In fact, the thirteen men, whom I deem the most forgotten, demonstrate that no one who serves as president, even for just a few weeks, has left the office or our Constitution untouched.
Though once one of America's most prominent politicians, Martin Van Buren, our eighth president, is barely remembered. He has been overshadowed by the seven men who preceded him as president, all of whom had been notable founders, enjoyed greater popularity and success in office, or come from political dynasties. As the nation's second Democratic president, he was the popular Andrew Jackson's hand-picked successor but lacked Jackson's charisma and compelling personality and vision. Yet, Van Buren's presidency impacted the Constitution. Perhaps most importantly, he was the first president to address the scope of the federal government's power to tackle a national economic crisis. His plan, which was grounded in a belief that the federal government lacked broad authority to redress the effects of the nation's first great depression, did little to redress the nation's economic woes. As a result, he became the first president to lose reelection because of the economy. Subsequently, every president, including the next four Democratic presidents who entered office in the midst of economic crises – understood that, as an advisor to President Clinton famously quipped, "It's the economy, stupid." Each avoided Van Buren's example and read the Constitution as investing the national government with sufficient flexibility to address economic crises.

If people know William Henry Harrison, it is because he was the first president to die in office. In a foolish attempt to prove that, at 68, he was physically strong enough to be president, Harrison delivered the longest inaugural in history, but he did so while standing in an icy rain with no overcoat. Consequently, he caught a severe cold, which lapsed into pneumonia, which killed him. Thus, throughout his mere 31 days in office, Harrison was dying, and historians and others have dismissed him as the president who has had the shortest tenure of any chief executive in American history. Yet, in that remarkably short span, Harrison impacted his office. As the first Whig president, Harrison faced considerable pressure from the Whig party and its leaders in Congress, particularly Henry Clay in the Senate, to follow the party's line to defer to Congress and the cabinet on almost every matter. But, Harrison refused. After three tempestuous meetings with Henry Clay, the two men had stopped speaking to each other and Clay left the Capitol just two weeks into Harrison's presidency. At the same time, Harrison stood up to his cabinet, which had directed he should follow its will. Though Harrison died shortly thereafter, he had struck a critical blow against the Whig conception of the president as a weak minister who should follow the will of Congress.

When Harrison died, John Tyler became the first Vice-President to become president upon the incumbent's death. Clay had high hopes since he liked Tyler, but Democrats disliked Tyler because he had left their party to become Harrison's running mate and Whigs distrusted him because he had been a Democrat. Thus, he had no hopes of securing either party's nomination as president and ended his days blaming the North for the Civil War and serving as a member of the Congress of the Confederacy. Tyler's presidency was, however, as contentious as any in American history. Tyler battled with Congress – almost always successfully -- over his powers as president over appointments, removals, and executive privilege. These battles also established important precedents on impeachment, censure, and the scope of the Senate's power to approve Supreme Court nominations. In each battle with Congress, Tyler struck additional blows against the Whigs' conception of the presidency.

Zachary Taylor is one of America's most forgotten presidents. He died less than two years into his presidency, is one of a few presidents who made no Supreme Court nominations, made no memorable speeches, and got none of the legislation he wanted approved by Congress. When he died, his administration was mired in charges of corruption. Nevertheless, Taylor's presidency was constitutionally significant. As the second Whig president, he faced considerable pressure from Whigs in Congress, including Clay, to defer to Congress on everything important. He refused. Instead, he demanded Congress admit two anti-slavery States into the Union, which would have thrown the balance of power in the Senate against slavery. When Congress refused, he demanded nothing else. When the Senate declined to confirm many of his executive branch nominees, he made a record number of recess appointees. He even threatened to lead American forces into Texas to stop it from invading New Mexico to prevent it from becoming a new State. In these few actions, Taylor became a model for Abraham Lincoln and further buried the Whig conception of the presidency.

Millard Fillmore is America's most forgotten president. He became president because, as Taylor's Vice-President, he was entitled to become president upon the death of the incumbent. He was a terrible speaker and was easily overshadowed by the resistance in Northern States to his enforcement of one of the bills he signed into law, the Fugitive Slave Act of 1850. His defense of that law placed him on the wrong side of history. Fillmore, however, helped to bury the Whig party and its principles for good. Though he deferred to Congress in signing the Compromise of 1850, including the Fugitive Slave Act, he used his powers to push it through Congress. Moreover, the arguments he made against Northern States' claims that they had the authority to nullify the law were later adopted by Abraham Lincoln in his refusal to accept the constitutionality of secession.

Most historians dismiss Franklin Pierce as an inept, weak president. He is the only sitting president whose party refused to re-nominate for president. His complicity in helping to provoke a civil war in the state of Kansas between pro- and anti-slavery forces has merely lent credence to the belief that he is best forgotten. Pierce's problem was not that he was weak but rather that he was too strong. He vigorously attempted to implement a strict construction of the Constitution that was more radical than any variation prior to the Civil War. He used every power he had to force the territory of Kansas to accept a pro-slavery Constitution. The civil war he helped to provoke demonstrated the problems with using the Constitution and the presidency as instruments to strengthen slavery.

No president came into office with people expecting less from him than Chester Arthur. Arthur's only job before becoming Vice-President was Collector for the Port of the city of New York., a position he got as the political lieutenant for the powerful New York politician, Roscoe Conkling. Though President Hayes had fired Arthur from this position for corruption, he ended up as James Garfield's Vice-President in order to cultivate support from Conkling's wing of the Republican party. When Garfield died because of the incompetence of the doctors treating him after he had been shot by a deranged man, Arthur became president. Arthur's performance in office surprised everyone, including Conkling. Arthur was determined to rise above partisan politics and his history as a political hack to sign the nation's first civil service act into law. Presidents with greater stature than Arthur had promised such reform but never achieved it. He took great pains to make appointments based on merit, including two to the Supreme Court. Ironically, his efforts to champion merit over partisanship undercut the political forces that he had served most of his life and cost him any chance to be elected president in his own right. He accepted this as the cost for fulfilling his duties as president to execute the law fairly.

Grover Cleveland is the only man to have served two, nonconsecutive terms as president. Despite his disdain for public speaking and drama, Cleveland in his first term cast more vetoes than all previous presidents combined. Cleveland also surprisingly took the initiative when the Senate stalled hundreds of his nominations to retaliate against his decision to remove Republican appointees to create vacancies in offices that he could fill. Republicans complained that his actions violated the Tenure in Office Act, which constrained the president in filling certain federal offices. Cleveland rallied the public to his side and persuaded Congress to allow the Tenure in Office Act to lapse.

Although Benjamin Harrison is the only grandson of a president to become president, he is otherwise forgotten. He did not suffer fools gladly, was uninterested in public speaking, and had a penchant for alienating the people who served in his administration. When his wife died shortly before the end of his reelection campaign, he lost interest entirely in the office and his reelection to Cleveland. Yet, Harrison made his mark on the Constitution. First, he authorized the Sherman Anti-trust law. Second, he reorganized the federal judiciary, including creating the federal courts of appeal that have become a fixture of the judiciary. Third, he made four Supreme Court appointments, which helped to solidify a working, conservative majority on the Court. Only a few other presidents have made more in a single term. Last, the Supreme Court's decision to uphold Harrison's appointing a marshal to protect a Supreme Court justice whose life had been threatened established an important precedent on a president's inherent authority to take necessary action even in the absence of statutory authorization to do so.

Grover Cleveland's second term is frequently overlooked though it was quite different than his first. In his second term, he inherited one of the worst economic downturns in American history. He was pro-active in pushing Congress to enact a law that favored the gold standard. At the same time, he successfully battled the Senate for primacy over Supreme Court appointments and the State of Illinois over whether he or its governor had the authority to enjoin a major railroad strike. The Supreme Court eventually agreed with Cleveland. This became the second time during Cleveland's presidency the Court had sided with him in a constitutional controversy. He is the only president to have his authority upheld twice by the Supreme Court while he was still in office.

Many people may know William Howard Taft as the only person to have served as President and Chief Justice of the Supreme Court. They are unlikely to know more. Regrettably, Taft's single term as president has been overshadowed by his stretch as Chief Justice and the tempestuous relationship he had with Teddy Roosevelt, who had selected him as his successor and then ran against him as the nation's first serious third-party candidate. In fact, Taft's single term as president was eventful. Especially important was the fact that he made six appointments to the Supreme Court, which transformed it into a conservative bastion to protect private property rights. Only two presidents have matched or exceeded that many in a single term. Taft was also the first president to urge Congress to implement a scheme for monitoring the national budget regularly. He went further to successfully oversee the ratification of two constitutional amendments, including one providing for the direct election of senators by popular vote.

The prominence of Calvin Coolidge comes and goes. He was the popular president Warren Harding's little known Vice-President. When Harding died, Coolidge took the reins of office and gradually became popular in his own right, won the 1924 election handily, and could have won another term easily. President Reagan revered Coolidge and hung his portrait prominently in the White House. Subsequent presidents removed the portrait, and Coolidge, who took pride in saying and doing as little as possible, left a record that is easily satirized. Yet, in six years in office, he significantly impacted the Constitution. Inheriting a scandal-ridden administration, he worked with Congress to rid it of all corruption. His single Supreme Court appointment, Harlan Fiske Stone, was the first – in a long line – to testify before the Senate Judiciary Committee. Coolidge also was the first president in the 20th century to have a cabinet nomine rejected by the Senate. He authorized the nation's first regulations of civil aviation and broadcasting and helped to create the World Court and an international treaty to outlaw war. The failures of his international initiatives and laissez faire policies destroyed his legacy. Correction: The text originally said that Coolidge "helped to create the World War" instead of "the World Court." This has been corrected.

Jimmy Carter has much in common with other forgotten presidents. He was an uninspiring orator, and his single term in office was sandwiched between two memorable eras (Watergate on the one side and the presidency of Ronald Reagan on the other). He is the only president to have completed a full term in office without making a Supreme Court nomination, and he lost control of the narrative of presidency. Carter achieved, however, most of his ambitious legislative agenda including progressive laws on the environment, national security, and government ethics. He diversified the federal judiciary to an unprecedented degree. The Camp David accord he forged remains a rare success among Middle East peace negotiations. The facts that he was the first president to teach Sunday school and ground his foreign policy in his faith made it easier for subsequent presidents to embrace their religious values openly. But, other events, including the failure of a mission he authorized to save Iranian hostages, overshadowed his achievements. Winning the Nobel Peace Prize after he left office helped, like the rest of his active, long post-presidential career, to diminish his accomplishments in office.