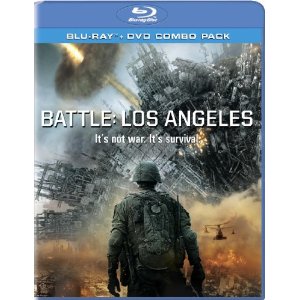 BATTLE: LOS ANGELES ($28.96 regular or $38.96 BluRay; Sony) -- Hoo-rah! You get absolutely no points for predicting any of the plot twists or the gung-ho finale of this enjoyable B movie. It's a by-the-numbers war movie and well served by not trying to be anything more than that. Aaron Eckhart is the battle-scarred veteran who is ready to clock out after 20 years. If nothing else, he's haunted by the memory of his last time in battle, when he lost all the men under his command, for which he received a medal and a lifetime of guilt and pain. But wouldn't you know it? Just as he's set to retire, a bunch of aliens decide to attack Earth, forcing Eckhart to join another group of soldiers including a green commander straight out of military school, a dorky virgin from down on the farm, a bad-ass woman (Michelle Rodriguez) and the bitter, suspicious brother of one of the men Eckhart lost. Their mission is to rescue some civilians trapped at a police station and get them away from the coastline before the Air Force gets all medieval on the aliens.
Like a good drive-in movie, Battle: Los Angeles does a clever job of introducing world-wide attacks via TV news reports that make the story seem epic even if we stay close in on this one group of soldiers. Plus, for quite a while the aliens are glimpsed in brief flashes or lost in the shadows of some smoke to keep them both mysterious and less expensive. I was exactly in the right mood for this movie, which features some smart "John Wayne" action from our hero as he wins the grudging respect of his fellow soldiers. The finale is so fist-pumping and manly you'll be headed towards the nearest recruitment center before you know it. Eckhart does a fine job as a square-jawed soldier, even when he's saddled with lines like "Marines don't cry" and a hoary call to arms. Fun stuff as long as you don't expect a whit more than they're going to give you.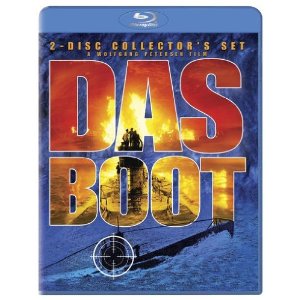 DAS BOOT COLLECTOR'S SET ($35.99 BluRay; Sony) -- From pretty good B movie to a genuinely great film. Das Boot is a modern classic about Germans involved in submarine warfare during World War II. It's a tense, thrilling film of combat and also deeply moving. This BluRay contains the 2 1/2 hour feature film version and the 3 1/2 hour director's cut, which includes more footage used in a German miniseries version. It's great to have the original theatrical cut here; you'll wince and shiver over every single ping and pop during the underwater games of cat and mouse. Director Wolfgang Petersen never came within a mile of this ever again.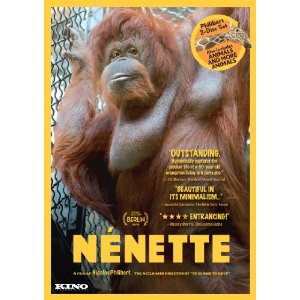 NENETTE/ANIMALS AND MORE ANIMALS ($39.95; Kino) -- I know documentary filmmaker Nicolas Philibert for his classroom masterpiece To Be And To Have, which is one of the warmest and richest films ever made. Films like that don't come out of nowhere so it's no surprise he has a strong filmography. Nanette is a sad, minimalist look at an orangutan who has spent most of her life in a Paris zoo. You'll either be bored by its unflinching focus on her or roused to free any and all creatures from captivity. It's paired with Animals & More Animals, a look at the stuffed animals at the Paris Natural History Museum being brought out of storage. American audiences can also catch up with Louvre City, a day in the life of the museum that focuses on its workers and how it operates; In The Land Of The Deaf; and Every Little Thing (all $24.95 each; Kino), which examines the members of a psychiatric clinic who mount a stage production every year. Clearly, Philibert is a major documentary filmmaker who deserves to rank alongside the best.
SPORTS ILLUSTRATED SWIMSUIT 2011 3-D EXPERIENCE ($19.95; Sony) -- I don't have a 3-D compatible TV so I glanced at this in 2-D but the models seemed pretty darn curvy to me. The women chat away about what an honor it is to be included and how you can't really define beauty (this while rolling around on the sand in a bikini) but it proves just as pretty with the sound off. Why get just the magazine when you can get this? Maui, by the way, looks amazing. Yes, I noticed the background.
SHOT IN THE DARK ($19.98; HBO) -- Actor Adrian Grenier's heartfelt exploration of fatherhood and his attempt to reconnect with his biological dad comes out just in time for Father's Day. Extras include updated interviews with the people involved done via Skype along with unreleased footage.
HAIR
PRISCILLA, QUEEN OF THE DESERT
NEW YORK, NEW YORK ($19.99 each; MGM) -- Three musicals come to BluRay. Hair always seemed like an artifact of its era but the recent Broadway revival has given it new life. If you can't catch the show when it returns to New York City this summer, check out the DVD. Priscilla is also on Broadway as a new musical, which is no surprise since this heartwarming comic drama was practically a musical in the first place. Only Martin Scorsese's New York, New York has failed to make it to the Great White Way, but don't count it out yet -- it does have one of the greatest 11 O'clock numbers of them all when Liza Minelli belts out "New York, New York" at the end, the title song written specifically for this film by Kander and Ebb. Can you believe it wasn't even nominated for the Oscar? Amazing.
BEST GAY SHORTS VOL 1/BEST LESBIAN SHORTS VOL 1 ($24.95 each; First Run Features) -- Many minorities tell their stories via film shorts -- they're cheaper and easier to make on your own when the mainstream media refuses to represent you. But even though LGBT storylines have taken root in TV, film, theater and books to a tremendous degree, their stories continue to be made into short films at a higher rate than most other minorities and they certainly get seen in commercial movie houses more often. I'm not quite sure why this is so, but it seems true to me. Hence these collections of shorts from around the world, seen at film festivals or on TV, ranging from the poem-like adaption of a Dennis Cooper work called simply "After" to the Twilight Zone-twists of "Steam" in Gay Shorts and a similar range in the lesbian shorts collection.
KORKORO ($29.95; Lorber Films) -- Dirctor Tony Gatlif avoids his usual formula of a Romany tale ending in an ecstatic musical eruption by delving into this period piece about the people then persecuted as Gypsies trying to avoid capture in Nazi-occupied France. A welcome change of pace for him.
HALL PASS ($28.98 regular or $35.99 BluRay; New Line) -- The Farrelly Brothers have become so passe their movies aren't even notable anymore as flops or successes. (This one made $83 million worldwide, but who would have known?) They just come and go, like this would-be tale of woe about two married men who discover that getting a free pass for a week from your wife is not exactly a dream come true. Owen Wilson looks much happier in Woody Allen's new comedy Midnight In Paris.
RED RIDING HOOD ($28.98 regular and $35.99 BluRay; Warner Bros.) -- Director Catherine Hardwicke of Twilight sexes up the violent fairy tale about Little Red Riding Hood in this critical disappointment. This DVD contains an alternate ending, video commentary and glimpses of various auditions.
SHOESHINE ($19.98; E One) -- Italian director Vittorio De Sica is best known for The Bicycle Thief and perhaps Umberto D by U.S. audiences. They should know Shoeshine as well, which tells the story of two boys tossed into juvenile detention with such heartbreak that the Academy Awards gave it a special statue in 1947 almost a decade before it began naming a Best Foreign Film of the year award.
THE LONG RIDERS ($19.99 BluRay; MGM) -- A passion project of actor Stacy Keach who starred, worked on the script and was an executive producer, this Western gets a footnote for casting real-life brothers as brothers in the film, notably Randy and Dennis Quaid, Christipher and Nicholas Guest, Stacy and James Keach and not one, not two but three Carradines. Director Walter Hill does his usual balletic presentation of violence in this somber affair about the James-Younger gang. Good stuff.
BHUTTO ($27.95; First Fun Features) -- As Pakistan continues to make headlines in countless frustrating and complex ways, it's worth taking a look at this documentary about the late Benazir Bhutto, a woman embroiled in corruption, the daughter of privilege and yet perhaps that country's best hope for a time at genuine democracy instead of the military dictatorship it suffers under today. Gripping, no-holds-barred, this film captures Bhutto and her country in all their complexity.
SUBSCRIBE TO & FOLLOW ENTERTAINMENT
THE spot for your favorite fan theories and the best movie recs. Learn more