Books: Olympic Marathons, Scandalous Divorces and Kirk Douglas Is Still Spartacus!
I AM SPARTACUS: MAKING A FILM BREAKING THE BLACKLIST By Kirk Douglas *** 1/2 out of ****
SHOWDOWN AT SHEPHERD'S BUSH By David Davis *** out of ****
MRS. ROBINSON'S DISGRACE By Kate Summerscale ** out of ****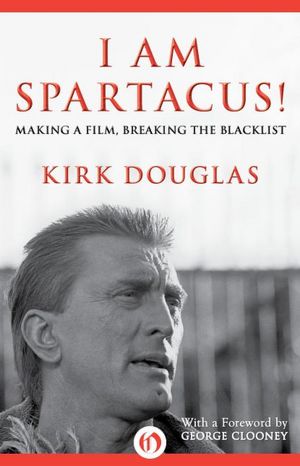 I AM SPARTACUS: MAKING A FILM BREAKING THE BLACKLIST By Kirk Douglas *** 1/2 out of ****
$16.99; paperback
Open Road
Kirk Douglas is the author of numerous best-selling memoirs and works of fiction, especially his acclaimed first work, The Ragman's Son. I've read none of them but that will change after I devoured this breezy, entertaining, and fascinating look at the making of Spartacus. The 95 year old actor, producer and writer has presumably expanded on earlier tellings of the making of one of his most significant hits. It's available as a paperback but is an ebook, which frees up Douglas to tell the story at just the right length. Movie buffs shouldn't hesitate.
It begins with a look at the House Committee on Un-American Activities and ends with President Kennedy slipping into the back of a movie theater to watch the film. In between Douglas charts the movie's torturous path, from facing off with another similar project, hiring and firing a director, hiring and firing a leading lady, dealing with the egos of Laurence Olivier and Charles Laughton AND Peter Ustinov, not to mention a young Stanley Kubrick, risking his personal fortune and the fate of a studio (Universal), all while clandestinely using the skills of screenwriter Dalton Trumbo who had been unofficially blacklisted by Hollywood.
Douglas turned 41 in the midst of all this and he isn't shy about showing his own less pleasant side, whether it's getting angry over editing, squaring off with Kubrick when the director didn't want to shoot the "I am Spartacus" scene or playing hardball with the suits. But he seems the sort of fellow who loves telling a story that rebounds on himself more than anything. Douglas is polite but not -- at 95 -- unduly circumspect. He's not looking to make anyone bad but he's going to tell the truth. So this book is the best sort of Hollywood memoir, one that focuses on the business and art, brings talented people to life with a telling anecdote and dishes up the dirt when appropriate.
I loved the scene where Douglas is asking Olivier if he'd like to star (as Crassus) and direct the film, thinking the offer to direct would entice the actor into the secondary role. Instead, Olivier assumes he would direct and play Spartacus (a role he was hopelessly ill-suited for) and accepts readily. Douglas wisely stays mum, figuring correctly that Olivier would reconsider one or the other and ultimately Olivier has to back out due to theater commitments but suggests himself for Crassus, the role Douglas had in mind for him all along.
Similarly, Douglas doesn't ever paint himself as heroic in putting Trumbo into the credits of the film, breaking the blacklist once and for all. He just spells out how it happened, with each step leading inevitably to the next until finally it just seemed silly NOT to put Trumbo in the credits (it was an open secret at that point) but without ever downplaying the importance of it either.
Spartacus happened to be the first film I saw when I moved to New York City (a restoration given a grand premiere at the Ziegfeld) but it's not even remotely close to my favorite of Douglas or Kubrick. (I'll take Ace In The Hole and 2001: A Space Odyssey, thank you). But the making of it has produced an even better book all these years later.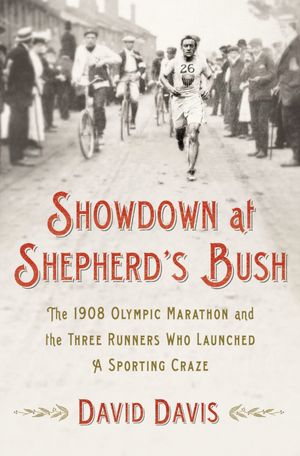 SHOWDOWN AT SHEPHERD'S BUSH By David Davis *** out of ****
$25.99; hardcover
Thomas Dunne Books/St. Martin's Press
I don't know if I would have the strength to watch a marathon, much less run one. But I have two sisters who have conquered it repeatedly. The fact that they can compete in marathons all over the country is directly due to the modern Olympics, a proposition that was struggling until the revival/invention of the marathon sent the public into a frenzy, produced the first world famous Olympian and sparked a craze that endures to this day.
The story of the marathon is well told in this model of a sports book by David Davis. Subtitled "The 1908 Olympic Marathon and the Three Runners Who Launched A Sporting Craze," it does just that, taking well-timed jaunts off the beaten path to give vivid descriptions of the three runners who would battle most fiercely for the top prize, the promoters who created and fought over the Olympics, the nutty ideas about fitness that prevailed at the time (Drink water while running? Not so much. Beer or liquor? Yes!)
The three runners who converged on the 1908 Olympics (and would then square off against each other in various permutations for the next few years while fans breathlessly bet on the winner and wondered if one of them might die in the attempt) are all fascinating characters. Johnny Hayes is an Irish American racing through the streets of New York City. Dorando Pietri is an Italian who was frustrated when Italy failed to host the Olympics and the venue was switched to England. Tom Longboat is an Onandaga Indian from Canada both celebrated and patronized by his own country.
The entire book was filled with suspense for me since I didn't know the first thing about the race. But it's one of the most famous moments in Olympic history: Dorando staggered into the stadium, punch drunk with weariness, staggering towards the finish line in front of a packed audience and the Queen Of England. He fell and got up and fell again and got up again, literally unclear in which direction he should crawl to reach the finish line.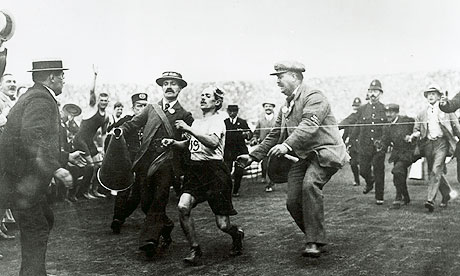 This was the first Olympics -- virtually the first sporting event of its size -- to be covered so thoroughly by the press, with movie cameras and photographers lined up, so Dorando's hapless, brave, heartbreaking progress would be seen the world over in one form or another. When the Irish American runner Johnny Hayes appeared (remember, the host country was England), Dorando was literally helped across the finish line by officials. He was later disqualified but became the most famous runner up in history.
There is much more to this tale, including the tug of commercialism, the tension between "amateur" and professional athletes, the science of nutrition, pr hoopla and more. Davis is both blessed and cursed with three compelling heroes. None of them are villains; indeed there isn't a villain in sight. So the book lacks a certain satisfying counterpoint that other sports books enjoy, the sort of clear rivalry that might turn it into a bestseller. Combine that with an okay but dull title and an uninspired cover and I fear this book will get lost in the shuffle. That would be a shame for any runner or lover of the genre. it's sure to be one of the best sports books of the year.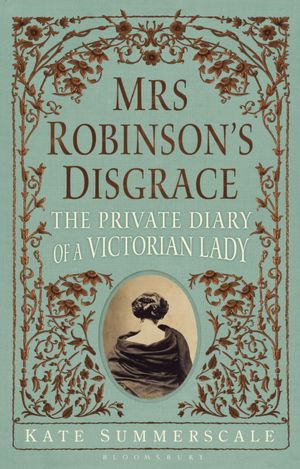 MRS. ROBINSON'S DISGRACE By Kate Summerscale ** out of ****
$26.00; hardcover
Bloomsbury USA
What a delicious story. One of the first divorces in England after changing of the laws turned out to be one of the most scandalous. When the hateful Mr. Robinson discovered the diary of his wife detailing her disdain for him and desire for a number of other men and the consummation of that desire with a handsome young doctor, he determined to divorce the harlot.
Diary writing had become all the rage in England and author Summerscale throughout does a decent job of placing this story in the context of the times: Madame Bovary was too shocking to be printed into English but British newspapers loved the excuse of trials in order to publish the most explicit of outrages, all in order to "inform" a public ravenous for tales of wayward women and despotic men. Indeed the lurid stories of husbands who beat and ignored and otherwise taunted their wives were so frequent that even the Queen worried it might be damaging to the institution of marriage. Note the disconnect: it wasn't the despicable actions of the men that might damage the institution of marriage but the revelation of what exactly marriage was like for women, who in most cases were chattel and little else.
This work is filled with detours that sometimes inform but often seem like padding to turn a slim tale into a book. Newspapers quoted the diary excerpts made available extensively, but I often felt Summerscale didn't quote Mrs. Robinson enough. Perhaps she made the best use of excerpts that she could but that would argue even more that this would have been better as a shorter book or lengthy magazine article.
The scandal here is hilarious to modern sensibilities but should have been even starker. In essence, it was widely accepted that the idea of a woman WANTING to have an affair was beyond the pale. But wanting to have an affair and then having an affair and then detailing the affair in her diary? This would mean Mrs. Robinson was the most vile creature that ever lived (I am not exaggerating the condemnation). And this was too much to bear. It was easier for all involved to simply believe Mrs. Robinson was either mentally deranged or lying, using her diary for a nascent literary effort. The possibility that it could be true was inconceivable. So the diary was dismissed as the ravings of a lunatic and Mrs. Robinson herself claimed it was all fantasy to protect the man and family she had dragged into this scandal despite their many kindnesses to her. And society breathed a sigh of relief.
The tale sometimes brings laughter over how backwards the attitudes towards women were in those not-so-distant days. But the vivid peeks into the Victorian sensibility are few and far between. It's a slow beginning and a slow finale with numerous side-trackings along the way. Mrs. Robinson's disgrace deserves the pulse-pounding pleasure of a melodrama but it's been delivered here in measured, dry tones.
BOOKS I'VE READ SO FAR IN 2012
1. The Underneath by Kathi Appelt ***
2. Jack Holmes and His Friend by Edmund White ***
3. The Last Unicorn by Peter S. Beagle **
4. Fun Home by Alison Bechdel ***
5. Death Walks In Eastrepp by Francis Beeding ***
6. Lumious Airplanes by Paul La Farge ***/
7. The Professionals by Owen Laukkanen ** 1/2
8. Unterzakhn by Leela Corman **
9. The Child Who by Simon Lelic ***
10. Hinterland by Caroline Brothers ***
11. The Yard by Alex Grecian *** 1/2
12. The Alienist by Caleb Carr ***
13. On The Wings Of Heroes by Richard Peck *** 1/2
14. A Princess Of Mars by Edgar Rice Burroughs *
15. The Gods Of Mars by Edgar Rice Burroughs **
16. The Warlord Of Mars by Edgar Rice Burroughs ** 1/2
17. Undefeated: America's Heroic Fight For Bataan and Corregidor by Bill Sloan ** 1/2
18. Stoner by John Williams ****
19. The Sisters Brothers by Patrick DeWitt *** 1/2
20. The 500 by Matthew Quirk **
21. The Age Of Innocence by Edith Wharton ****
22. The Alienist by Caleb Carr ***\
23. Crispin: The Cross of Lead by Avi **
24. Rogue Male by Geoffrey Household ***
25. The Perks Of Being A Wallflower by Stephen Chbosky **
26. Traitor's Gate by Avi ** 1/2
27. Cogan's Trade by George V. Higgins ***
28. 2312 by Kim Stanley Robinson *** 1/2
29. The Twelve Rooms Of The Nile by Enid Shomer ** 1/2
30. Bring Up The Bodies by Hilary Mantel *** 1/2
31. In One Person by John Irving **
32. A Million Heavens by John Brandon ***
33. The Case Of The Deadly Butter Chicken by Tarquin Hall ***
34. Seward: Lincoln's Indispensable Man by Walter Stahr *** 1/2
35. The Kings of Cool by Don Winslow ***
36. The Case of The Missing Servant by Tarquin Hall ***
37. Savages by Don Winslow ***
38. The Case Of The Man Who Died Laughing by Tarquin Hall ***
39. The Trillion Dollar Meltdown by Charles R. Morris ***
40. Mrs. Robinson's Disgrace by Kate Summerscale **
41. The Age of Miracles by Karen Thompson Walker **
42. The Panic of 1907 by Robert F. Bruner and Sean Carr ***
43. The House That Ruth Built by Robert Weintraub *** 1/2
44. I Am Spartacus: Making A Film, Breaking The Blacklist by Kirk Douglas *** 1/2
45. Showdown At Shepherd's Bush by David Davis ***
46. Alif The Unseen by G. Willow Wilson ** 1/2
Thanks for reading. Michael Giltz is the cohost of Showbiz Sandbox, a weekly pop culture podcast that reveals the industry take on entertainment news of the day and features top journalists and opinion makers as guests. It's available for free on iTunes. Visit Michael Giltz at his website and his daily blog. Download his podcast of celebrity interviews and his radio show, also called Popsurfing and also available for free on iTunes. Link to him on Netflix and gain access to thousands of ratings and reviews.
Note: Michael Giltz is provided with free galleys and/or final copies of books to consider for review.
Follow Michael Giltz on Twitter: www.twitter.com/michaelgiltz