If you have adventurous ears and like music from all sorts of genres, keep checking in. This week, I've got a gem from Ron Sexsmith, which is redundant at this stage. His albums come in two flavors: good and very good. His new CD -- Long Player Late Bloomer -- is very good.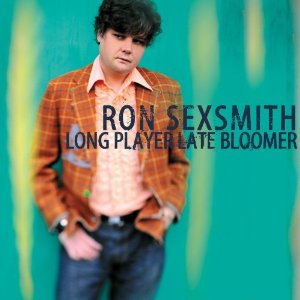 Like Richard Thompson and other perennial favorites of critics and fellow musicians, every album or so by Ron Sexsmith is touted as "the one" -- the album that's going to break him out and finally get Sexsmith the commercial rewards he so richly deserves. I'd love to think so, but don't you believe it.
Chances are, if you're smart and daring enough to lay some money down on a CD by a man who crafts brilliant pop music for adults, Ron Sexsmith will become a new favorite of yours AND a well-kept secret you can feel special for sharing with the likes of Sheryl Crow, John Hiatt, Elvis Costello, kd lang and more rock music writers than you can shake a stick at. On the plus side, this means you can continue to see Sexsmith perform in venues around the country where intimacy rather than spectacle is the watchword and -- hopefully -- where fans are there to hear him perform, rather than just there to be seen and heard by everyone around them.
But maybe I'm wrong. Maybe the planets are aligning to give him the audience he deserves. A documentary film about him just debuted on TV in the UK. Love Shines -- also a track on his new album -- will play at the SXSW event this month. The acclaim for his new CD is certainly deafening. And with most of his albums, the more I listen to it the more it sinks into my brain and won't let go.
Sexsmith has a McCartney-esque gift for melody, but they're not the sort of hooks that grab you by the throat. They're sneaky, slithery things that slide into your subconsciousness -- always hummable, always memorable but in a very low-key manner. First you listen, then you sing along, then you start hearing the melodies in your head all the time. By the fourth or fifth listen to Long Player Late Bloomer, you'll swear you've known these songs all your life.
For Sexsmith, it's also quite a forceful album. His voice always brings a melancholy air, a blue-ish tinge to all he sings. But here the arrangements practically rock out, especially for an act whose mellowness is one of his chief attributes.
"Get In Line" is an amusing opener about everyone trying to bring him down or explain to Sexsmith what he's doing wrong in his career. Heaven? Peace and love? He'll "Believe It When I See It." "Middle Of Love" is probably the key radio track -- the song that seems like the winner that can finally get him played on the air. And the title tune is his forceful statement of purpose -- he's not driven by the need for commercial success, but it sure would be nice. Sexsmith isn't depressed by having more clippings than album sales and he doesn't feel beaten yet. If anything, he's coming into his own. "I'm a late bloomer/ I'm a slow learner/ And I've heard the penny drop/ I'm a small player/ With a tall order/ To come out on top."
As I've said, this is pop music for adults. Some people write songs about passionate first love, wild-eyed romance. Sexsmith delivers the even more romantic sound of someone who appreciates more and more what they have every day. Some pop songs are for wooing on a first date. Sexsmith's tunes will break your lover's heart with their beauty on your anniversary. On "Miracles," he sings, "It's a miracle/ Here in this hand I hold/ Here in this band of gold/ How even the silence/ Seems to say more than enough." A song about a happy marriage? Now that's romantic.
His list of great albums is long and growing, from the notable breakthrough Ron Sexsmith -- touted loudly and widely by Elvis Costello -- to peaks like Whereabouts and Retriever to the one-off collaboration with drummer Don Kerr, Destination Unknown. I've been obsessed at times with tunes like "Gold In Them Hills" and "Snow Angels" and his holiday tune "Maybe This Christmas" is always part of my December music mix. Simply trying to decide who to compare him to let's you know the depth of his talent. An American Prefab Sprout? A happier Elliott Smith? A Paul McCartney who bizarrely can't score hits? A less quirky Joni Mitchell? Here's Elvis Costello weighing in with high praise indeed.
Here's Sexsmith dueting with Chris Martin of Coldplay on "Gold In Them Hills."
And hey, why not buy Long Player Late Bloomer and turn it into the unlikeliest/likeliest hit of the year? I'd love to be proven wrong.
NOTE: Michael Giltz is provided with free copies of CDs or digital downloads by numerous labels to consider for review and feature coverage. He typically does not guarantee any coverage in exchange for these CDs and indeed receives far more albums than he ever comes close to covering in his various outlets.
SUBSCRIBE TO & FOLLOW ENTERTAINMENT
HuffPost Entertainment is your one-stop shop for celebrity news, hilarious late-night bits, industry and awards coverage and more — sent right to your inbox six days a week. Learn more