Is there something in the air? Not since the Sixties has there been such an explosion of duet albums (at least in rock and roll). Robert Plant and Alison Krauss. Zooey Deschanel and M. Ward with She & Him. Kasey Chambers and Shane Nicholson. Mark Knopfler and Emmylou Harris. And of course Matthew Sweet and Susanna Hoffs of the Bangles with their second duets album, Under The Covers Vol. 2.
"That's true," says Sweet, who chats away by phone, excited to be talking with Huffington Post since he's a political junkie. (Not to mention a tech junkie, he can talk at length about software and is already itching for an iPod tablet.) "I immediately thought of Robert Plant and Alison Krauss because what they did was so interesting. As far as Sue and I, if we thought about all the other people doing duo work, we would be horrified at our lowly status," he laughs. "And beyond duets albums, in general there's just more great music out there than anyone realizes."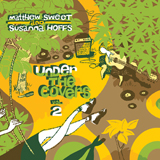 And Sweet should know: he's been in a creative resurgence the last few years. Touring as The Thorns with Shawn Mullins and Pete Droge really freed up Sweet, who initially kept behaving like a solo artist who could call all the shots but finally learned to collaborate. Thus, the Thorns album led to Sunshine Lies, perhaps his best solo album since his breakthrough Girlfriend, which was named one of the 100 best albums of the 90s.
Plus, he mentored the country rock band The Bridges (they're sort of a cross between Fleetwood Mac and the Dixie Chicks), recorded his two duets albums with Hoffs and is now producing the new Bangles CD at his home studio. But first he's on tour with Hoffs, trying to get the word out about their delightful collaboration. (They're performing in New York City tonight.) They certainly don't think about all the other acts doing duet albums when diving into their favorite songs.
"We make things in our own little world and we cover records as much as we cover songs." Indeed, Under The Covers Vol 2 is a different beast than Vol. 1, which had famous tunes but also a lot of offbeat choices. Vol. 2 covers the Seventies -- when Sweets and Hoffs were coming of age and their defenses were down. They don't need to search record bins for obscurities. They lived these songs.
"For some reason, when we got into the Seventies, it hit this time -- Sue was in high school and I was 12 in 1976 -- we have all these memories about this stuff kind of before we were cool, before we knew what was cool, in a way. For instance, Yes. Some of the first records I bought in 5th grade were Yes because kids three years older than me, that's what they were listening to and they seemed cool to me."
So popular hits like Mott The Hoople's "All The Young Dudes," "Rod Stewart's "Maggie May," and Fleetwood Mac's "Second Hand News" are presented in all their glory, without any attempt to reinvent or reinterpret the tune musically. In fact, Lindsey Buckingham appears on the Fleetwood track with his trademark guitar work, not to mention Steve Howe on a show-stopping Yes cover and other artists on their respective tracks.
So the music is faithful without fear because just having both their voices changes up the tunes immediately.
"We really hated to give up what was so cool about the record," explains Sweet. "And we sound so different anyway, with a lot of harmonies."
So "Maggie May" is given a Sapphic spin with Hoffs rasping her way through that tune. And the Raspberries gem "Go All The Way" is sent into orbit when -- instead of a man singing how he wishes his girl would urge him to "go all the way" -- you suddenly have Hoffs responding to Sweet by cooing those very words.
"I know! Isn't that great?" enthuses Sweet, who can talk for hours about Hoffs' talent, not to mention his love of the artists they're covering. (Ask him which Lindsey Buckingham solo album is his favorite and you can sit back for a while.)
The album features 16 tracks, another ten on the deluxe edition and Sweet is pondering putting up a single or two down the road just because it's so easy. As he lists the numerous tracks they recorded but didn't include, it becomes clear he's not an artiste obsessed with capturing a certain sound in the studio.
"People fix everything. They make it so perfect. I'm much less of a perfectionist than anybody thought, I think," says Sweet. "I'm less of a craftsman. I just like whatever and I don't plan a lot."
He also politely disagrees with his Wikipedia entry, which states that Sweet intentionally turned his back on the growing fame that greeted him with the release of Girlfriend.
"I never willfully have tried to not be popular," says the 44 year-old Sweet. "My thing with popularity is that I didn't crave popularity for its own sake really ever. I wanted to make music and I was interested in recording songs. To some degree, I wasn't willing to be shaped the way I would have needed to be I guess to theoretically be more commercially successful. I didn't feel like there was anything I could write that would make sure I was commercial so I just never did it."
Matthew Sweet talked with me about his entire career, working with the Bangles, his love of technology and other topics in a 45 minute interview. Download my free podcast from iTunes. It's the first episode of my interview show Popsurfing. Search iTunes for Popsurfing or go right here.
SUBSCRIBE TO & FOLLOW ENTERTAINMENT
HuffPost Entertainment is your one-stop shop for celebrity news, hilarious late-night bits, industry and awards coverage and more — sent right to your inbox six days a week. Learn more