The flood of fascinating, well-made, jam-packed DVD sets can get overwhelming sometimes. In trying to figure out what to highlight in my last few columns, I had about a dozen different sets vying for attention. So here's a DVD column devoted entirely to highlights.
THE HONEYMOONERS LOST EPISODES 1951-1957 ($129.98; MPI) -- What a treasure trove for fans of one of the greatest sitcoms of them all. Along with I Love Lucy, this Jackie Gleason treat laid the groundwork for every half hour comedy to come. And unless you were alive and watching TV in 1951, it's never been easier to watch the characters grow and develop from their first appearance to their finale. This set is a companion piece to the boxed set that contains the one and only season of The Honeymooners as a weekly half hour show. If you're a fan, you already own the "Classic 39," the shows that have aired in syndication and kept it famous. Here you'll find 107 live performances and sketches, with 30 that have never been on DVD and 18 that haven't been since they were performed some 60 years ago. Despite their best efforts, 21 sketches remain lost. Some day, hopefully they'll turn up. Eventually, there will be an omnibus containing these plus the Classic 39. But this nicely restored set has good sound and picture given the source material (kinescopes recorded while the show was being performed) and loads of extras. Hard to beat.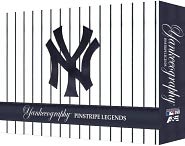 YANKEEOGRAPHY PINSTRIPE LEGENDS ($179.99; A&E) -- This doorstopper of a boxed set is handsomely made and impressively heavy. It's like a deluxe yearbook, with very thick and sturdy cardboard pages that feature impressive color photography of Yankee Stadium and the legends who played there. it contains 16 DVDs with 46 full episodes of the documentary series that is catnip to Yankee fans. You can catch these shows on the YES network if you're patient, but if you want to declare your love of pinstripes and need a display worthy book for your coffee table, this does the trick nicely. On the downside, the DVDs are awkwardly held inside sleeves on those very thick pages and sliding them in and out (not to mention figuring out which is which) can be a pain and raises the issue of scratching them. I always prefer compact packaging that fits nicely alongside other DVDs and preserves the discs as nicely as possible. But this large format book has the sort of flash and heft that George Steinbrenner would have loved. So will a lot of their fans. It's not a DVD set so much as a statement.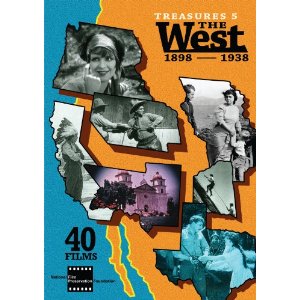 TREASURES 5: THE WEST 1898-1938 ($59.98; Image) -- It's hard to overstate what an Aladdin's cave of precious jewels the Treasures series from the National Film Preservation Foundation has become. The latest edition maintains the highest standards of scholarship and seriousness while its focus on the American West might just make it the most fun yet for casual movie buffs. You get 40 films in all, ranging from tourist shorts and newsreels to a brief look at a cowboy demonstrating rope techniques to entire movies like Salomy Jane (1914), Victor Fleming's Mantrap with Clara Bow (1926) and outlaw turned evangelist Al Jennings playing himself in the cautionary tale The Lady Of The Dugout (1918), which was directed by W.S. Van Dyke. Merely tracking the depictions of various Indian tribes from the respectful and authentic to the embarrassing can keep you fascinated for hours. A very substantial booklet is filled with informative details by Scott Simmon. A treasure indeed.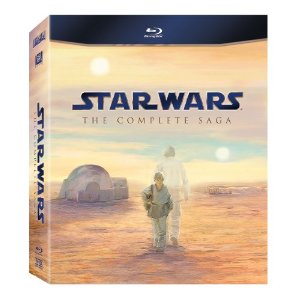 STAR WARS: THE COMPLETE SAGA ($139.99 on BluRay; FOX/Lucasfilm) -- Okay, take a deep breath. We could complain for days about what is and isn't contained in this BluRay boxed set, from the classic original editions (the only ones available for decades and which should be preserved and presented with care) to various tweaks to this and that scene. Since they're preparing 3-D releases of the entire six film series, it is also surprising this BluRay set apparently doesn't even include remastering for the latest up-to-date quality. But put all that aside. Despite all these misgivings, the simple truth is that right now, if you want to see director George Lucas's latest version of his films, the picture and (especially) the sound quality of this set is the best you'll find anywhere. If you're an extras fanatic, you can't get rid of your last purchase because not all of them have been imported into this one. But boy do these movies look and sound fantastic. (Though not as good as they might have.) Besides, if we keep moaning, I'm certain it will just make Lucas dig in his heels more and refuse to do what any lover of film should do: present the original theatrical cuts in as deluxe a set as possible.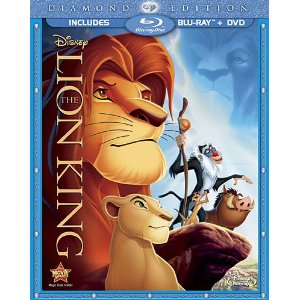 THE LION KING DIAMOND EDITION ($39.99 BluRay and DVD combo; Disney) -- If Disney's massive success with its 3-D reissue of The Lion King is any indication, George Lucas will be raking in big bucks with his Star Wars 3-D releases beginning in 2012. Thanks to its reissue, The Lion King is again one of the 10 highest grossing movies in North American history. It's never been my favorite modern Disney animated movie (Beauty and the Beast has a much better score; Aladdin and Tarzan are more fun, and The Little Mermaid is fresher). But boy does it wow you on BluRay. Disney has known for a long time how valuable its animated library was. But I don't think even they realized how impressively it can adapt to new technology like 3-D and BluRay. The extras are not overwhelming, but the movie is presented with care.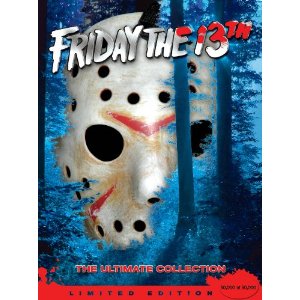 FRIDAY THE 13TH THE ULTIMATE COLLECTION ($55.98; Paramount) -- About $60 for eight films is pretty cheap, so if you don't own any of Jason's slashing adventures and you're a big fan (an unlikely combo, perhaps) this boxed set looks tempting, with its nicely designed outer box (very murky and spooky) and a replica of that hockey mask that is more substantial than typical for a DVD set trinket. However, the DVDs themselves are contained in those dreaded cardboard sleeves that make it very difficult to pull them out and often give the DVDs scratches, no matter how much care you show. When someone has to post a YouTube video online to demonstrate how to remove a disc, you really should concede that your packaging (and the cardboard sleeves in general) is a disaster. Why ANYONE continues to offer elaborate DVD sets with sleeves that force you to slide discs in and out is beyond me. Finally, this is certainly not the ultimate collection since it doesn't contain four movies in the series, from Jason Goes To Hell: The Final Friday, Jason X, Freddy Vs. Jason and 2009's remake of the original. Strictly for fans who must have every iteration of a movie's release.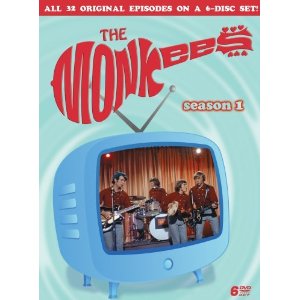 THE MONKEES SEASONS 1 AND 2 ($39.98 each season; Eagle Rock/Rhino) -- The Beatles led a truly charmed existence: even the rip-offs of them were memorable. The Monkees were surely the most famous, dubbed the Prefab Four. But their show proved ground-breaking in its own, modest way and as we know contained a lot of great singles. It even won the Emmy for Best Comedy in 1967, beating out The Andy Griffith Show, Get Smart, Hogan's Heroes, and Bewitched. (The slapstick Get Smart would win it twice but The Andy Griffith Show never won TV's top prize.) This reissue of their two seasons in two separate sets contains all 58 episodes. (The packaging on Season Two proudly declares it contains all 25 original episodes but in fact there were 26 and they're all here and properly listed on the discs themselves. This is not a remastering and there are no new extras, so if you bought the more lavish Rhino sets years ago, there's no need to upgrade. But it's nice to have them in compact, inexpensive sets for newer fans.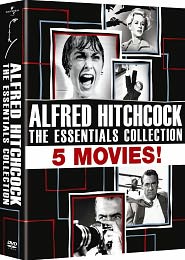 ALFRED HITCHCOCK THE ESSENTIALS COLLECTION ($49.98; Universal) -- More elaborate boxed sets of Hitchcock have come out in the last few years. It's not clear what inspired this set, but since stores like WalMart only stock "new" releases, you have to keep reissuing your catalog titles to get them carried in the stores, if only briefly. Maybe that explains this set boasting five of his most popular films: Rear Window, Vertigo, North By Northwest, Psycho, and The Birds. Hitchcock has such a remarkable career, that you could easily name another five movies that can match these for sheer entertainment value, such as Shadow Of A Doubt, Notorious, The Lady Vanishes, The Man Who Knew Too Much and The 39 Steps. I could go on, but what an amazing career. They don't appear to be remastered, but these films are in very good shape here and will please casual fans who aren't desperately waiting for a BluRay boxed set of his films to appear. If you don't own any of these films, what the heck are you waiting for? If you do, there's no need to snap them up again.
QUEER AS FOLK UK: THE COMPLETE COLLECTION ($49.99; Acorn) -- The American remake had its good points. But for sheer sexiness and smarts, you can't top the original UK ground-breaking drama Queer As Folk. it launched the careers of actors Aidan Gillen and Charlie Hunnam and sent creator Russell T. Davies straight on to revitalize Doctor Who and take that iconic show to new heights. Unfortunately, music rights issues kept them from keeping the original club hits used in the show and substituting more generic tunes. Also, it seems like there are a few minor edits, such as in the sex scenes. So if you've got the Uk release, like me, hold on to it. If this is your only choice, it'll have to do for now.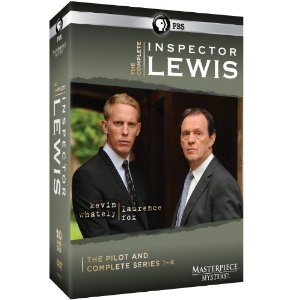 THE COMPLETE INSPECTOR LEWIS ($129.99; PBS) -- A spinoff from Inspector Morse seemed an awful idea at the time. Surely Lewis, as much as I liked him, was the very definition of a sidekick. But Inspector Lewis managed to convincingly build on that character and turn him into a leader; indeed, in some ways it is the story of the series. If you're like me, you wisely refuse to watch UK series broadcast on PBS because they invariably chop them up by 10 or 15 minutes to squeeze them into their pre-ordained time-slots. When of when will they learn? So DVD is the starting point for me when it comes to shows like Lynely, Foyle's War and Inspector Lewis. Happily the DVDs do contain the complete original UK episodes, the only ones real fans will want to see. This boxed set contains the pilot and all four seasons of Lewis. Morse himself might grudgingly concede Lewis hadn't completely botched the job after all.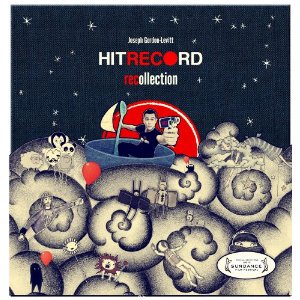 HIT RECORD RECOLLECTION VOL. 1 ($29.95; New Video) -- Actor Joseph Gordon-Levitt can do no wrong in my book. Even his website is cool. Dubbed HitRECord, it's a collaborative venture in which Gordon-Levitt invites people to submit stuff like poetry or a short story or illustration or song or whatever. If someone likes your poem, maybe they'll draw an illustration for it. If someone likes that, maybe they'll animate it and then someone else will come along and write a score and suddenly you've got yourself a nifty piece of art. It takes a wiki-village! It's fun and cool and the site can be addictive. Some of the short films created there debuted at the 2010 Sundance Film Festival and now this book/CD/DVD combo collects some of the site's greatest hits. It's nicely designed and generally cool and a thrill for the people involved. That said, I must confess that much of this material is more enjoyable in the context of stumbling across it online for a few minutes than presented in final form here. Much of the delight is seeing how this stuff evolves, really. Still, you're sure to uncover some gems that really appeal to you among the 36 shorts, 17 original songs and 64 page book. Some day this incubator is gonna spin off something genuinely classic; why not say you were there first?
NOTE: Michael Giltz is provided with free copies of DVDs to consider for review. He typically does not guarantee coverage and invariably receives far more screeners and DVDs than he can cover each week.
SUBSCRIBE TO & FOLLOW ENTERTAINMENT
HuffPost Entertainment is your one-stop shop for celebrity news, hilarious late-night bits, industry and awards coverage and more — sent right to your inbox six days a week. Learn more