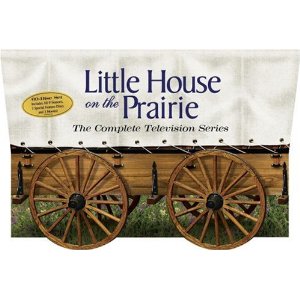 LITTLE HOUSE ON THE PRAIRIE COMPLETE 9 SEASON SET ($234.98; Lionsgate) -- What is TV's greatest family drama? 7th Heaven ran the longest. You could certainly make a strong argument for The Waltons. The Canadians did a marvelous combination of miniseries and TV series and movies in retelling Anne Of Green Gables. But it might just be Little House On The Prairie, the 1970s smash that like all those other shows ran too long and got a little schmaltzy and soap opera-ish by the end. But it started very strongly and created some of the most memorable characters in TV history. Now here's some heresy: ABC already tried to relaunch the show with a pretty good miniseries that flopped. But I think they should remake the show again. Why not tackle all the books -- one book per year, with the Ingalls uprooting and moving on at the end of every season, just like they did in the Laura Ingalls Wilder series? But for now let's celebrate this massive set which contains 55 discs and all 203 episodes (plus the pilot) from Michael Landon's classic. This is not a lavish box -- it's just simple cardboard with a photo album of sorts. But I love the fact that the DVDs are housed in soft, individual sleeves rather than the horrible scratchy cardboard sleeves so many boxed sets use. It's very easy to thumb through and go right to the DVD you want. At barely $1 per episode, it's also a good deal. So what's your pick for the best family drama of them all?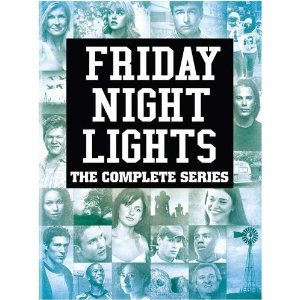 FRIDAY NIGHT LIGHTS THE COMPLETE SERIES ($129.95; Universal) -- Like a football player scratching and clawing his way to the end zone, this scrappy series somehow fought off low ratings, a disastrous drop in quality for season two and a weird release pattern (with new episodes ultimately appearing on Direct TV and reruns popping up months later on NBC) to survive and flourish for five years. The first season is nigh on perfect and should have won the Best Drama Emmy, along with a clutchload of awards for the excellent cast. Who knows what might have happened with that attention? As it was, the show enjoyed a Cinderella finale by winning a writing Emmy and long overdue Best Actor Emmy for Kyle Chandler, which will have to be the symbolic victory for Connie Britton, Scott Porter, Zach Gilford (especially for his meltdown in season four) and all the rest. The set is compact and fits right alongside your other DVDs (something I believe most DVD collectors prefer.) It's beautiful to look at and features lots of colorful photos. The DVDs are housed inside slipcovers you must slide them out of (generally a bad thing that can lead to scratches) but the cardboard is so glossy and smooth, I think they're going to be well-protected. A very fun show (I never watch football, by the way) and a strong family drama with a loving marriage at its core. Just skip season two!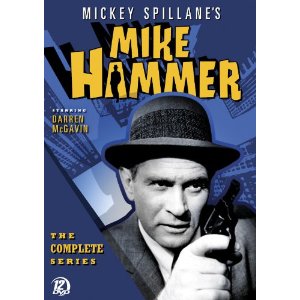 MICKEY SPILLANE'S MIKE HAMMER ($89.95; A&E/New Video) -- Enough with the warm and cosy shows. Mike Hammer was definitely NOT made for the whole family. It was violent for its day -- sexy, envelope-pushing and thanks to Darren McGavin, fun. He played Hammer with a twinkle, the only way to approach a lurid, tough guy like Spillane's private eye. If he wasn't busting you, he was bedding you and this half hour drama served up hardboiled action with no muss or fuss. The set features all 78 episodes from the show's two season run in syndication with solid but not spectacular picture quality.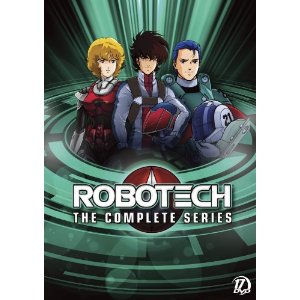 ROBOTECH: THE COMPLETE SERIES ($99.95; A&E/Harmony Gold) -- The origins of this "US" series are so low-rent and absurd, it boggles the mind. A US producer bought up the rights to three completely different Japanese anime series. Then he re-edited and re-dubbed them and packaged these three different shows as one long TV series called Robotech. The gimmick was that Earth is in a titanic struggle against alien invasion and each different series (which made up one season each) depicted one generation's battle, with season two naturally featuring an entirely new cast (explained away by setting in a future generation and season three a third. Somehow, it worked in a crazy way and the fans of this show (which include machines that transform from one sort of vehicle or robot into another) have forever been in the shadow of the fans of Transformers, even though they know Robotech is much smarter and cooler. People who don't know anime are usually surprised when they see how complicated and sober the plotlines can be for a show watched primarily by kids. The animation here is fairly rudimentary and this latest iteration of the series on DVD won't wow you with quality. But it's serviceable and affordable and keeps the show in the spotlight for new fans who might be anticipating Tobey Maguire's planned film adaptation which is still very much in the early stages.
BEAVIS AND BUTT-HEAD: MIKE JUDGE'S MOST WANTED ($14.98; Paramount/MTV) -- Yes, they're back. If you're dying to see the new Beavis and Butt-head episodes on MTV starting October 27, you can get a sneak peek in the extras on this DVD containing 20 classic cartoons. Of course, if you're that big a fan, you already own all the episodes contained on this two hour set. Hardcore fans surely would have preferred finally getting some of the other missing classic episodes put out on disc. But if you want a quick fix, this is ideal for renting or buying and should be everything a casual fan needs to be back in the sub-moronic groove of Mike Judge's creation.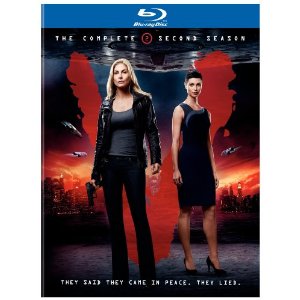 V: THE COMPLETE SECOND SEASON ($49.99 BluRay or $39.99 DVD; Warner Bros.) -- That's the heartbreak of TV. Great shows often stay on the air too long and wear out their welcome. And promising shows with low ratings get cancelled without notice and can't wrap up their storylines with any sense of finality. It's very very rare that a show with a continuing story gets to say goodbye the right way, like Lost or Breaking Bad (which is making 18 more episodes and calling it quits). V is one of those sad cases of a show that stumbled out of the gate. It started to find its footing creatively but by then the disastrous programming move of airing a few episodes (ABC called it "an event") and then pausing for weeks or months before airing more and the clear lack of faith by cutting back the season two order before the show even began meant it would grind to a halt without any fitting conclusion. But that's the case for most shows in TV history. If you like the show, what are ya' gonna do?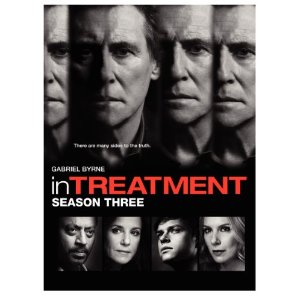 IN TREATMENT SEASON THREE ($59.99; HBO) -- If you're like me, you probably latch onto certain therapy sessions and watch only them in this series about Gabriel Byrne's Dr. Weston and his clients. This season, the only sessions that interest me are the ones between Weston and HIS therapist Amy Ryan. Watching him spar using all the knowledge at his disposal is fascinating and fun. As for his patients, there's a reason therapists get paid to sit there. No, that's not fair -- it's a fine concept this show, but it's tricky to pull off and their stories just didn't do it for me.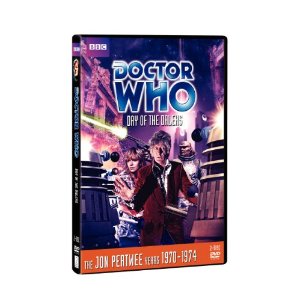 DOCTOR WHO: DAY OF THE DALEKS ($34.98; BBC/2Entertain) -- The Daleks are the archest of arch-enemies in the world of Doctor Who. This two disc set with the Jon Pertwee Doctor and Katy Manning as the sidekick features a storyline that first aired in 1972. Now I know that the Doctor Who reboot features much improved budgets and effects (though I'd still argue the emphasis is on imagination). But surely the charm of this period was the rock-bottom budgets they worked with. And yet, this set contains a second DVD devoted to a special edition featuring re-recorded Dalek voices and extra special effects to make it more exciting and modern. (Granted, the effects are retro, but still.) What a terrible, terrible idea. Thank goodness the original version is offered and they have some strong extras throughout. But adding in new effects and the like is a horrible waste of money and deeply misguided.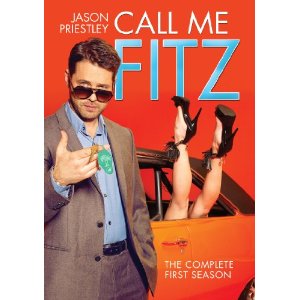 CALL ME FITZ SEASON ONE ($39.98; EOne) -- Okay, cut me some slack. TV offers such a remarkable array of programming these days, it's hard to keep up. Make that "impossible." Every channel knows the only way to stick out is with original shows, so everyone from VS to satellite networks like Direct TV are investing in new series. So even though I'm a fan of Jason Priestley, I have to admit that I didn't know a thing about this show until the DVDs showed up on my door. This comedy stars Priestley as a sleazy car salesman who seems to prefer to close the deal with the ladies in the backseat rather than in the front office. Season Two starts in November on this half hour black comedy and hey, I'm ready to dive in. As soon as I catch up with Sons Of Anarchy.....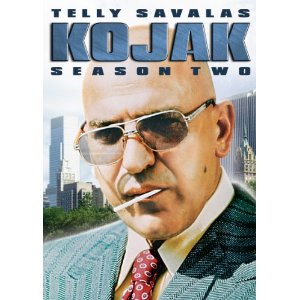 KOJAK SEASON TWO ($44.99; Shout) -- Who loves ya, baby? Now it might seem a little silly -- a cop with a catch phrase? -- but at the time Telly Savalas and his show were hailed by police departments as pushing forward the authenticity of cop shows. it celebrated Kojak's Greek heritage, showed the Lieutenant as a man who knew the streets and at times bent the rules but without any nefarious or crooked reason. It began as a Top 10 smash hit, dropped to #14 this season and was soon out of the Top 30 altogether, despite a switch to shooting on the streets of NYC for added color. This set contains all 25 episodes of season two.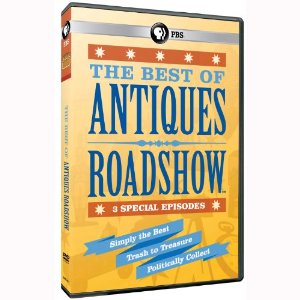 THE BEST OF ANTIQUES ROADSHOW ($19.99; PBS) -- What's the opposite of appointment TV? I don't mean TV you avoid, but TV that you don't necessarily DVR or make a concerted effort to watch but when you stumble upon it or need a diversion, it's always there for you. Like Cops, but for the more sophisticated, Antiques Roadshow is good "stumble-upon" TV. Each episode has a soothing, rambling pace. But let's face it: the moment we love is when the person discovers that grandpa's doodad is wildly valuable or that the painting they secretly believed was an unsigned masterpiece is in fact a cheap reproduction. This single DVD set contains almost three hours of such moments, including "Simply The Best," "Trash To Treasure" and the slightly less fun "Politically Correct."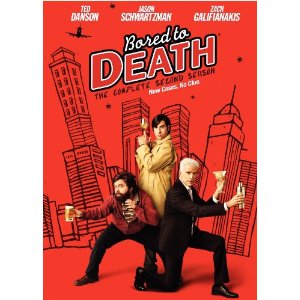 BORED TO DEATH SECOND SEASON ($39.98; HBO) -- Thank God for DVRs and DVDs. It used to be that if you missed the beginning of a TV series, you either had to jump in and remain a little lost until years later when syndication filled in the blanks or you just stayed away for good. But now you can dive in at any time. So I admit this quirkier than thou HBO series about a failed writer and amateur detective (Jason Schwartzman) and his oddball friends (Zach Galifianakis and Ted Danson) put me off with its oddball pacing and what I perceived as its desire to be so strange you had to love it. But its third season has just begun and fans insist it's improved every step of the way. So now I can sample a new episode or two and if I'm intrigued enough, jump back to the start and see it the right way.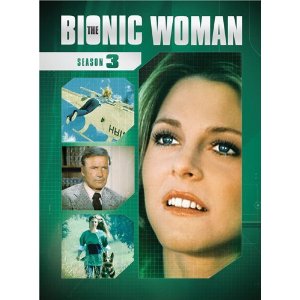 THE BIONIC WOMAN SEASON 3 ($39.98; Universal) -- Okay, even as a kid I knew the show was over when the bionic dog showed up. Lindsay Wagner was a fine actress (she even won the Emmy in season two) but her show had been abruptly (and rather bizarrely) cancelled by ABC even though it was ranked #14 for the season. That is almost inconceivable today for a new show (even a spin-off). Yes, ABC realized the bionic gravy train was over, but most networks would still have squeezed out every bit of ratings they could. NBC snatched the show up but dumped it on its moribund Saturday night at 8 p.m. slot, where they hadn't had a real hit since Get Smart a decade earlier. (When Adam-12 and Emergency showed life, NBC quickly moved them to better nights.) Of course, Jamie was kept apart from her true love Steve Austin because she was now on a different network. So she had a new boyfriend, that darn dog and by the end she was tired and ready to retire and got her wish.
Now tell me, what is TV's greatest family drama of all-time? My personal favorite is I'll Fly Away, which I still eagerly await on DVD. What about you?
NOTE: Michael Giltz is provided with free copies of DVDs to consider for review. He typically does not guarantee coverage and invariably receives far more screeners and DVDs than he can cover each week.
SUBSCRIBE TO & FOLLOW ENTERTAINMENT
HuffPost Entertainment is your one-stop shop for celebrity news, hilarious late-night bits, industry and awards coverage and more — sent right to your inbox six days a week. Learn more