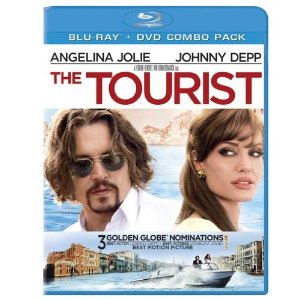 THE TOURIST ($38.96 BluRay or $28.95 regular DVD; Sony) -- This Johnny Depp and Angelina Jolie romantic thriller is curiously mellow, if not downright sleepy. I blame Venice. In Paris, you might careen around the city in a snazzy sports car, tires squealing. In Venice, when Jolie rushes to a new location via canal, the boat of course slowly slides next to the dock and Jolie calmly walks onto the pier. You just can't create a sense of excitement when gently parking a boat. Jolie is the lover of a dashing, mysterious man who has ripped off a Russian mobster for billions and is wanted by both the bad guys and the cops. Jolie is being followed by everyone, so she lures a vacationing math teacher (Depp, the most dashing math teacher since at least Russell Crowe in A Beautiful Mind) and fools everyone into thinking Depp is the mysterious man they want. Depp remains bizarrely calm throughout the entire film. "Why are people shooting at me?" he might ask, in a low murmur that barely rises above a whisper. Jolie spends the entire film posing and looking back over her shoulder with movie star aplomb. The director's first film was the quiet German drama The Lives Of Others but he is sorely out of his depth here. It's the type of film you probably skipped in the theaters but might just rent or buy on DVD, thinking with these stars, how bad can it be? Pretty bad, actually.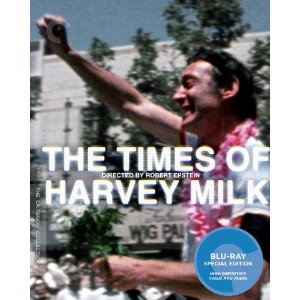 THE TIMES OF HARVEY MILK ($39.95 BluRay; Criterion) -- I'm glad the Oscar-winning drama Milk exists. It was made with love and surely reached a lot more people with the inspiring, fascinating story of pioneering gay activist Harvey Milk. But artistically, there's no comparison between that film and this classic documentary. Everything was said here, and better. Indeed, the best moments of the film included real footage of memorial services for Milk that you can see here in a way that makes them all the more moving. This 1984 was groundbreaking for discussing modern gay life in such a matter of fact manner and Milk is colorful and hilarious and best of all, effective in getting his message across about dignity and respect for all Americans. Criterion can be trusted to provide an excellent print and insightful extras, including bonus interview footage, a piece on the film Milk, a panel discussion on the trial of Milk's killer (which employed the famous Twinkie defense) and more. Landmark.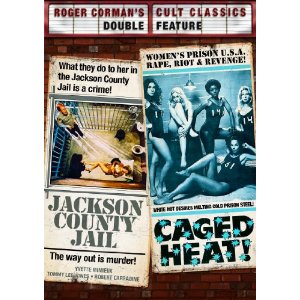 JACKSON COUNTY JAIL/CAGED HEAT! ($19.93; Shout) -- Most of producer Roger Corman's movies are -- how should I put this? Bad. But they often have a B-movie silliness about them and Corman did give so many talented young filmmakers a break (though not much of a salary) that genuinely fun bad movies appear more than you would expect. This double bill is a perfect example, with the women-in-prison genre getting two feverish workouts. Caged Heat! in particular was directed by Jonathan Demme and shot by Tak Fujimoto, who have fun sharing their stories on the audio commentary. Who knew these drive-in flicks would ever get treated with such respect?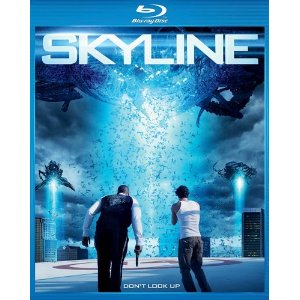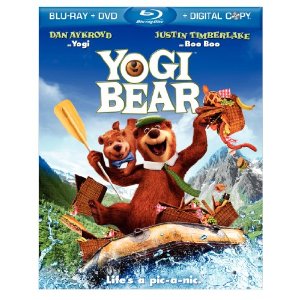 SKYLINE ($39.98 BluRay and $29.98 regular DVD; Universal)
YOGI BEAR ($35.99 BluRay combo and $28.98 regular DVD; Warner Bros.) -- These two movies have nothing in common except that they're both among the worst-reviewed movies of the year and both made a good amount of money. Yogi Bear in particular had solid legs, so somebody must have liked it. Skyline was made by people who were also involved with Battle: Los Angeles. They finished that bigger budget movie and then ran off and made a similar film for pennies. The lawsuits have all gone away, probably because both movies did well and made money for everyone involved. Yogi Bear is a classic kid's property ripe for revival but the weird mix of live action and the animated bears just looked off-putting from the get-go. Both have modest extras; I think everyone was just glad to get their payday and move on.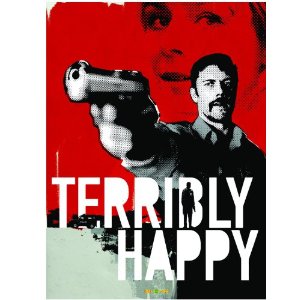 TERRIBLY HAPPY ($29.98; Oscilloscope) -- This Danish film is a stylish bit of noir, handsomely mounted and well-acted. If it's not entirely convincing, it's still a good genre piece that signals genuine talent. Our hero is a cop banished from Copenhagen for personal reasons (he drew a gun on his wife in anger) and stuck in a town terrorized by a bully who beats his wife and has father numerous bastard children. The bully's wife pleads for help but rarely accepts it, have teasing our man with her desire and frustrating his attempts to keep her safe. Is she really in danger? Crazy? Or just setting him up? The look and feel of the film is what I admire most, even when the plot contrivances became too much. Above all, it proves yet again that Beastie Boy Adam Yauch's Oscilloscope label has very good taste, always picking interesting films and packaging them nicely.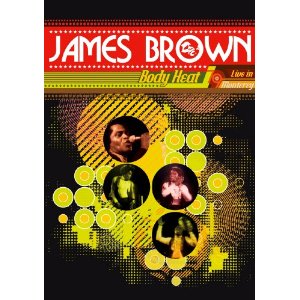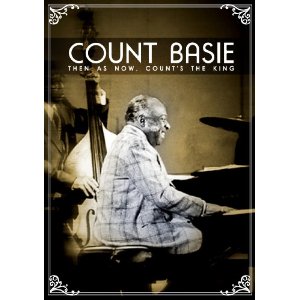 JAMES BROWN: BODY HEAT LIVE IN MONTEREY 1979 ($19.95; Gravity/Wienerworld)
COUNT BASIE: THEN AS NOW, COUNT'S THE KING ($14.95; MVD)
DUKE ELLINGTON: REMINISCING IN TEMPO ($14.95; MVD)
A HISTORY LESSON PART 1: PUNK ROCK IN LOS ANGELES ($14.95; Historical Records) - Here are four pretty shoddy music releases, all subpar in audio and picture and of only minimal interest for even hardcore fans of the genre or artist involved. The James Brown concert footage comes from a show in 1979 when he did the first of many comebacks. It's poorly shot and has worse sound; most of the time you're just staring at Brown's head while he sings. The Count and Duke are just glorified roundtables with artists that played with them, interspersed with old footage and (mostly) old stills. it's fun to see these artists chat but their casual anecdotes and some stills do not a documentary film make. History Lesson contains interviews and very poorly shot concert footage, covering bands like The Meat Puppets, Red Kross, The Minutemen and Twisted Roots. Some major acts who deserve better.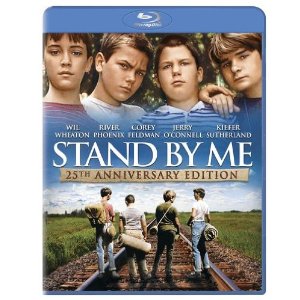 STAND BY ME 25TH ANNIVERSARY ($24.95; Sony) -- One of the best adaptations of a work by Stephen King, director Rob Reiner's film still works thanks to great, great casting. River Phoenix, Jerry O'Connell, Corey Feldman, Wil Wheaton and Kiefer Sutherland? Good job all around and they keep the sentimentality at bay. A BluRay exclusive is a video commentary with Reiner, Wheaton and Feldman. Surely this sort of option will supplant the audio commentary in years to come? It's just too much fun to watch them chat and interact.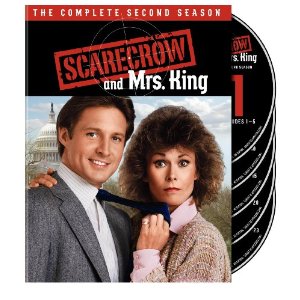 SCARECROW AND MRS. KING SEASON TWO ($39.98; Warner Bros.) -- Similr in tone and style to Remington Steele (which debuted one year earlier), this light-hearted TV series showed the burgeoning romance between a housewife and a spy who found themselves traveling the globe on assignment. Sure it could happen! Neither show can hold a candle to Moonlighting, but they're silly fun, thanks to the chemistry here of star Kate Jackson (the smart Angel) and Bruce Boxleitner, one of those actors that constantly makes you wonder, how come he never had a bigger career?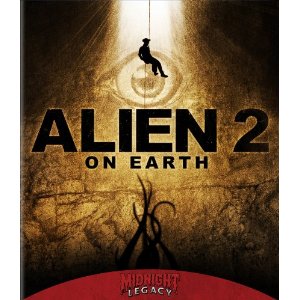 ALIEN 2 ON EARTH ($29.95 BluRay; Midnight Legacy) -- This Italian horror quickie was designed to slipstream off the success of Ridley Scott's Alien and serve as a defacto sequel for those not paying close attention. Though never released in the US, this tale of spelunkers facing horrible creatures under the earth's crust developed a cult following and here is decently restored. It's truly trashy rip-off basement type horror stuff strictly for hardcore fans. You know who you are.
NOTE: Michael Giltz is provided with free copies of DVDs to consider for review. He typically does not guarantee coverage and invariably receives far more screeners and DVDs than he can cover each week. Also, Michael Giltz freelances as a writer of DVD copy (the text that appears on the back of DVDs) for some titles released by IFC and other subsidiaries of MPI. It helps pay the rent, but does not obligate him in any way to speak positively or negatively of their titles.
FOLLOW HUFFPOST