If you look at the numbers from the US Federal Highway Administration (FHA), you'll find that Americans drove 9.6 billion fewer miles in May 2008, biggest drop in 66 years. The drop is even more impressive when you consider that pretty much since stats are compiled, the number of miles traveled has been going up. Sometimes it stalled when things were really bad, but it rarely really went down.
So what do these numbers tell us?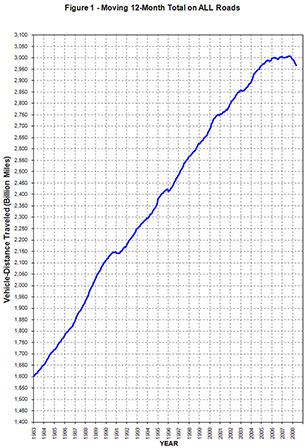 That fossil fuel consumption isn't as 'inelastic' as some thought. That incentives do make a difference, even if the relationship isn't linear and even if there's a time lag in the reaction.
This tells us that maybe we should consider taxing 'bads' instead of 'goods'. After all, when you tax something, on average you get less of it. So why tax work? Why not tax carbon. This could be done in a revenue neutral way: You pay $1000 more in fuel per year, and you pay $1000 less in taxes per year (it's not quite that simple to do, but it's not like the current tax code is simple either).
So your choice now is to take that extra $1000 and plug the $1000 hole in your fuel budget, or to decide to buy a more fuel efficient vehicle and keep the difference in your pocket. Those who don't have a choice to drive big vehicles a lot will probably end up with no net benefit from this measure, but the vast majority of people could easily do all they want to do with a more efficient vehicle, and I'm ready to bet that they'll choose to keep the money in their pockets and use it for other things rather than put it all on fuel.
This would also be a great incentive for automakers -- especially those in Detroit -- to bring over to North-America their European models that are fun to drive, well equipped, and also happen to get much better fuel economy than most US cars. For example, see the Ford ECOnetic Fiesta. If US companies don't do it, others will: Toyota has already announced that it will increase Prius production by 70% and Mitsubishi has announced that its i MiEV electric car will come to market one year ahead of schedule.

More from Michael Graham Richard on Huffington Post
The Split Personalities of Ford (USA vs. Europe)
Ludicrous Lawns, Wasted Water, and Solid Solutions
Electric Cars Take Over: 17 Electric Cars You Must Know About
4 Fun Green Stories and 2 Sad Ones
Can We Power the Whole World with Solar Power?
Wind Power Success Stories
Wind Power Success Stories, Part 2
Water-Powered Cars: Possible or Impossible?
Will 2010 be the Year of the Green Car?
SUBSCRIBE TO & FOLLOW THE MORNING EMAIL
Start your workday the right way with the news that matters most. Learn more