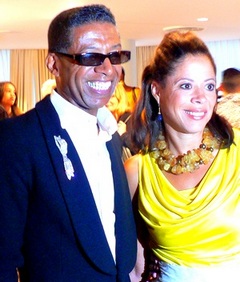 Designer B. Michael and Mrs. David Paterson smile at Christie's
With fashion week at an end, many things go on. One is the exhilarating tumult of social events focused around charitable or commercial causes near and dear to African Americans, and more specifically, to the black elite, the group that certain people sometimes profess does not exist. A good sign that you're dealing with the 'right people' is the presence of Bill Cunningham from the Times.
Michael: I think your readership would be interested in this fresh, new sophisticated t-shirt collection?"
So wrote Lenn Shebar of Harlem's N Boutique on Lenox Avenue. The shirts are handsome. But, just what makes somebody a member of the city's black upper-crust? Is it shopping at deluxe new Harlem stores featuring designer apparel devised by talents like Malcolm Harris, shops like N, Montgomery or Swing? Is it the ability to dine, on a regular basis, at swank uptown restaurants, like Mojo or Chez Lucienne?
Now then, whatever you have, no matter what one has done, if one is black, the humiliation of abuse, offense or arrest remains always in the background as an ever-present threat to tranquil well-being. How the black aristocracy abhor this lurking potentiality! But ironically, what a blessing and check on elitists' arrogance this reality is!
Tracy Reese and a few other black designers held 'spring showings' during the first week of September. Knowingly, B. Michael waited until Tuesday to hold his dramatic presentation at Christie's. What a night to remember! The glory of Mr. Michael's collections is not some avant-garde spectacle of the bizarre, but instead homage to classical tradition, a sensual evocation of the most elegant and urbane fashions of the recent past which popular culture has transformed: from high-art, into iconic style!
Over and over, from acclaimed actress Cicely Tyson, to Michelle Paterson, the New York governor's wife, to both lovely blond Lou Ann Moore, wearing white, accompanying dark and lovely Joyce Jackson, wearing black, spectators repeated, again and again, "it's from Breakfast at Tiffany's!" ...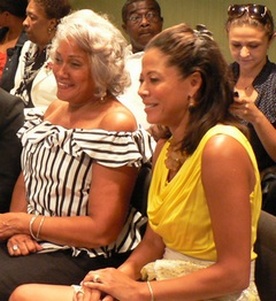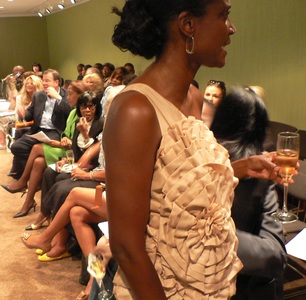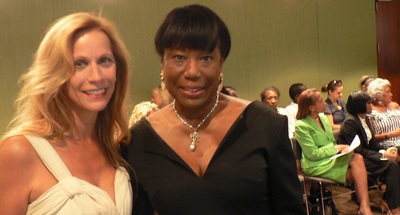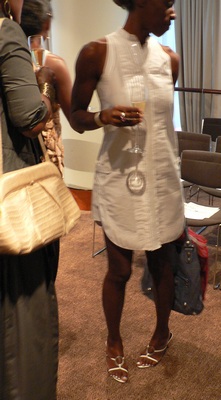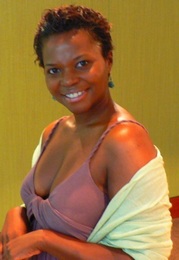 ... comparing Michael's frocks to costumes worn by Audrey Hepburn in the beguiling movie based on Tennessee William's haunting tale. Soulful vocalist Gregory Generet, young journalist Ludget Delcy, and Reginald Canal, the handsome and generous financer, each concurred.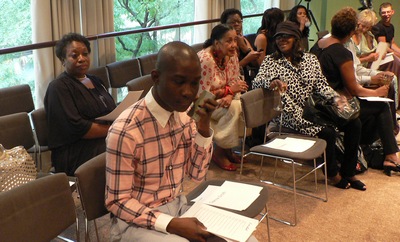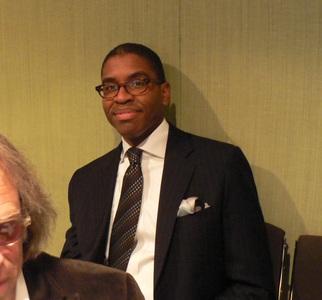 Ah, how sublime was the Cecil Beaton-like hat, wide brimmed, and piled high with lush red roses, featured with that first, deceptively simple dress. How exquisite was an evening ensemble with a trailing of ripped, striated, green and brown silk, which fluttered so enchantingly, it seemed to be composed owl's feathers!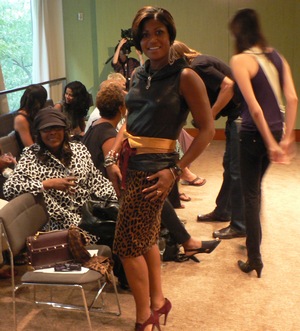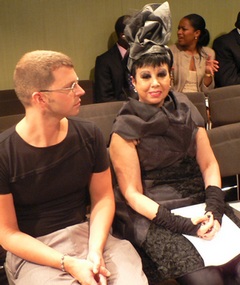 That the charity, theme or 'guest of honor' of New York's best events is secondary, even insignificant, in contrast to the beauty, stylishness and or generosity of those in attendance, is a 'dirty secret' that's routinely denied. Yet, it's still the case, irrespective of race among throngs out to simultaneously enhance life in the city and their social standing. Indeed, it's this truism that's so closely allied to black high-society being, in contrast to its 'mainstream' counterpart, foremost a meritocracy. White ancestry, and the relative privilege that goes with it, is no longer an important factor in distinguishing the position of African Americans. However, as in the past, one's academic accomplishment remains at least as important as mere wealth among blacks in determining someone's status.
So does personal style or how one comports oneself. That's how my Aunt Cora and her friends in Akron, Ohio, in the 1940's, who were only maids, waiters and porters, could constitute the town's black bon ton.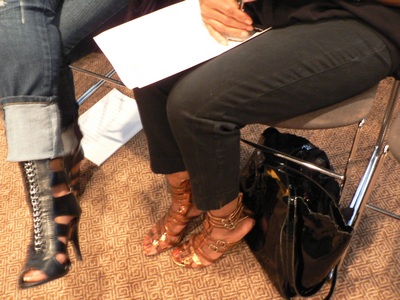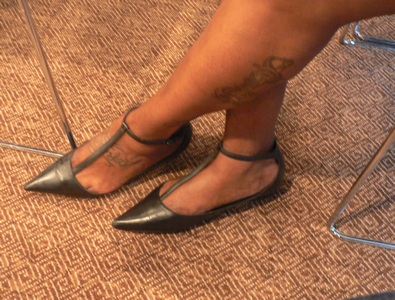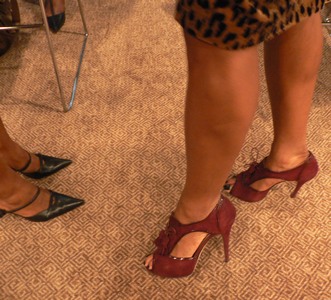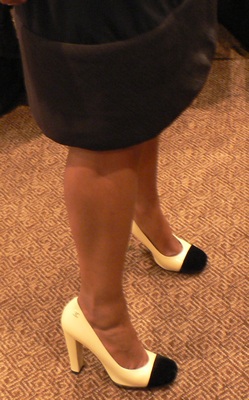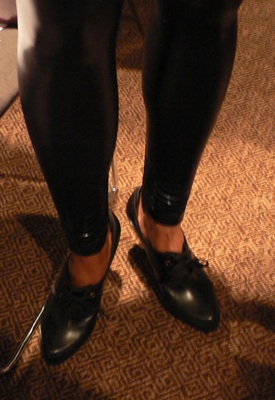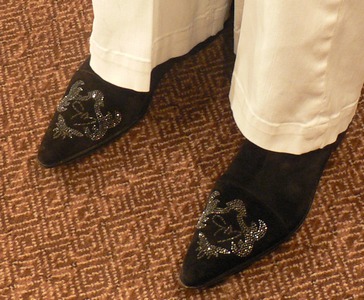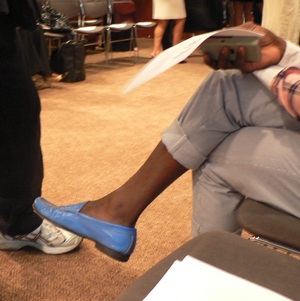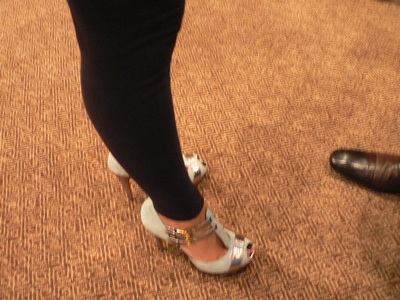 Whenever elite blacks gather, a certain number of fun, generous, elite whites are always present as well. Apart from the augmentation of the fortunes of entities like the Dance Theatre of Harlem, the Studio Museum in Harlem, or the Evidence Dance Company, this diversity is beneficial in another way as well. Blacks, who are well-to-do, make a point of dressing up. In New York, the footwear of affluent African Americans is particularly exceptional. So, invariably, whites in attendance at parties hosted by blacks, make a serious effort to attempt to 'keep up'!
Thanks to caterer Norma Darden's crew, at the B. Michael showing at Christie's the champagne kept flowing all evening long. It was also due to wonderful Norma, a former high-fashion model, that a profusion of tasty tidbits kept appearing to accompany one's refreshing drinks, courtesy of Moët Hennessy, that never let up at Reginald Van Lee's drinks party for the celebrated Evidence Dance Company on Thursday.
Janine Dorsette and Lorrie King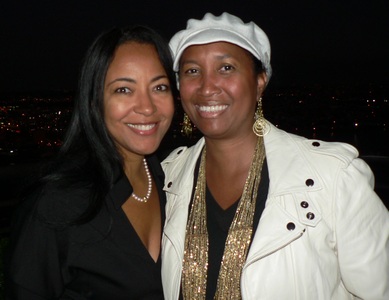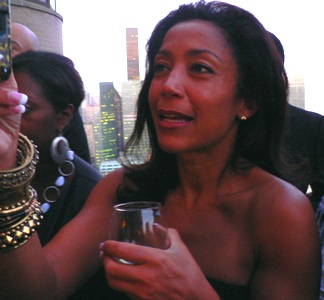 What a spectacular view of the swirling East River one gets from Reggie's spacious flat on the 55th floor! What fun everyone seemed to have assembling again to discuss which dresses they had liked best on Tuesday. Congratulating B. Michael, a few, inquiring in whispers, ask what sort of 'deal' they might arrange to freshen their wardrobes? Many were preoccupied with talk of the forthcoming Evidence January gala at the Plaza, commemorating their 25th season! Others worried, how might they secure sufficient funding, this year.
"Don't worry," said Mr. Van Lee calmly, "I'm probably not supposed to say, but we're slated to perform for the Obamas, at the White House. Everything is going to be just fine!" Sounds great, right? But, better still, what smashing shoes one saw!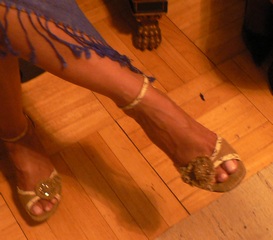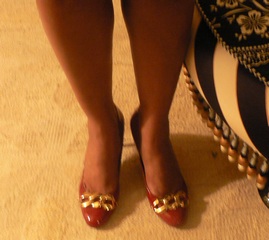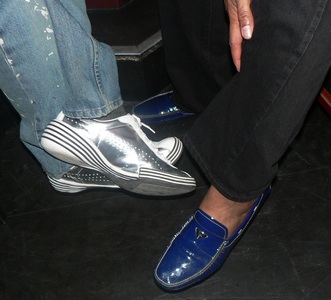 SUBSCRIBE AND FOLLOW
Get top stories and blog posts emailed to me each day. Newsletters may offer personalized content or advertisements.
Learn more