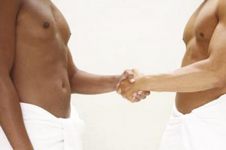 For generations in America, to say that someone was gay, was deemed comparable to identifying them as a bigamist or in some way criminal. And even today, young people admiring one's sweater, lest any unintended inappropriate hook-up be inferred, end their compliment with the disclaimer, "no homo." In the recent past, the 'bad old days' before gay liberation's Stonewall rebellion in 1969, many well-off gays and lesbians were as much on the DL as young closeted queers in the hood are today.
"We liked it that way. Our lives, like everyone else's, were much more dignified then: appreciating one's own sex was like belonging to an exclusive and select private club. It was far more exciting..."
The speaker was my friend, Alexander C. Robinson, III. The late dean of Cleveland's architectural community, Alex was well past 80 and I was 20 when we first met in 1976. Newly a widower, the father of three daughters, with nearly a dozen grandchildren, he was 'privately' gay just the same, persistently offering attentions as unwelcomed as they were astonishing, coming as they had, from a great-grandfather!
Fabulously rich Leonard Hanna, photographer Jerome Zerbe, Cleveland Art Museum Director William Milliken and several other socially prominent residents of the Western Reserve were also 'gay blades'. But if they were reasonably discrete, unlike Winsor French, Kenyon Bolton or Alec Robinson, they hadn't resorted to the expedient of marrying or having childern. Instead they either moved to, or lived a part of each year in, Europe and New York, meeting and befriending in the process other young pilgrims escaping the intolerant provinces.
The lure of the relatively greater freedom offered here continues. Relocating to Manhattan in 1985, three years after I'd come out, to myself, I immediately met a succession of celebrated men whom I'd read about in books and magazines.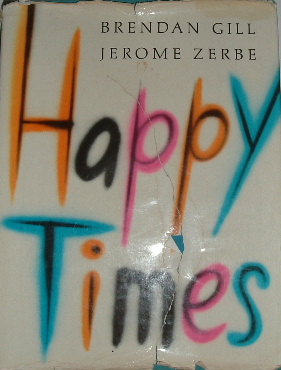 It began with the still raffish Mr. Zerbe, who regaled me with gay tales of glamorous old New York. Like perfect pearls strung on a grand necklace, one marvel leading to the next, Jerry's friendship led to my meeting Luther Greene, which coincided with my calling and introducing myself, as a fan, to Mario Buatta. It's thanks to both Mario and Luther that I went to work as a cook for incomparable interior designer Tom Britt. Oh, how I wish I'd taken better notes when I was young.
Sequestered in a subterranean railroad flat on the eastern end of 58th Street near Sutton Place, Luther Greene's home might have gone totally unnoticed by passersby. To prevent the tragedy of anonymity though, this Virginia-born-and-reared mid-western transplant, who was first a brilliantly innovative theatrical producer-director, and then a creative landscape architect and florist, took decisive action.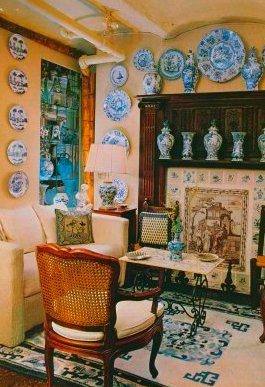 Beyond the the entrance and the living room all decked out with Delftware,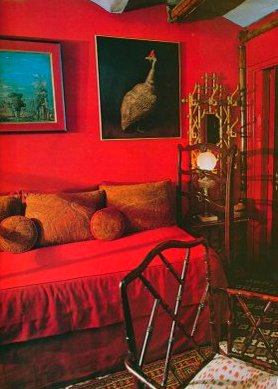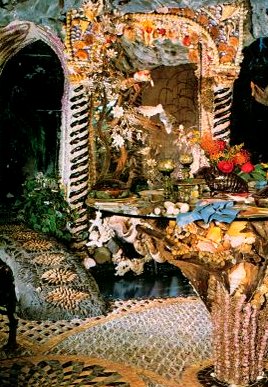 behind his vermilion-walled bedroom, at the very back of the apartment, he spent ten years creating a sea shell-encrusted grotto with a pool and waterfall, where he liked to serve meals to awe-struck guests.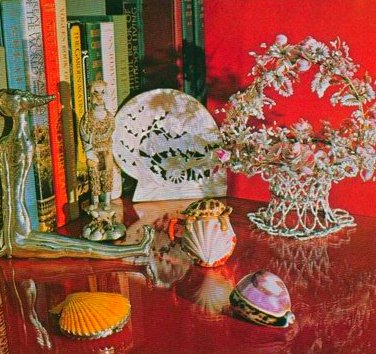 Patently illegal, the greenhouse addition that Greene erected on the façade of the one-time tenement where he lived, encroached well into the public right-of-way. It's been removed since his death in 1987. But how ingeniously it helped to illuminate otherwise gloomy digs. It also dramatized one's descent into the special, eclectically decorated realm of a gifted artist: across a stream, past a waterfall, amidst a jasmine-scented semi-tropical garden.
The first Mrs. Luther Greene was painted by Salvador Dali, the director-producer's good friend. Greene's lesbian second wife,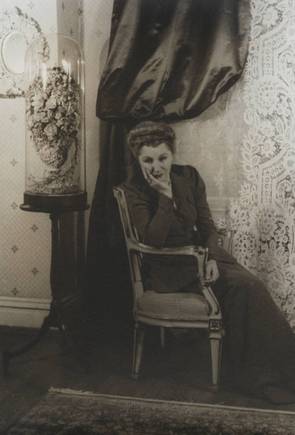 Judith Anderson, is best remembered for a series of first-rate performances in movies that have become gay-cult-classics. "Big Mama",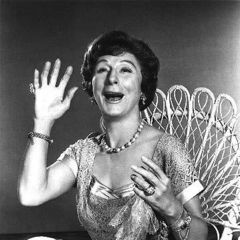 in Tennessee Williams, Cat on a Hot Tin Roof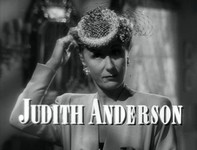 , and "Ann Treadwell", in Otto Preminger's Laura, each stands out, but it was as "Mrs. Danvers",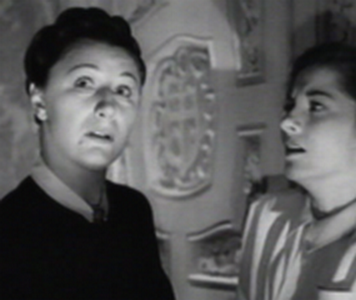 one of the screen's most memorable and sexually ambiguous female villains, directed by Alfred Hitchcock in Daphne du Maurier's Rebecca, that the Australian stage actress achieved true Hollywood stardom.
Appreciating what extreme snobs some gays can be, it hardly comes as a shock that among his well-turned-out wives, and a host of furtive short-term companions, of the type sometimes referred to derisively, as 'twinks', the great love of Luther Greene's life was a genuine royal prince, a son of exiled King Amanullah of Afghanistan. Prince Hussein, a younger son, born of a second wife, grew up in London where he was known teasingly as, "Princess Anne." Married as a youth, he had a large family.
When I knew Hussein, he lived on Fordham Road in the Bronx and worked giving test drives to VIP-customers of Budget-Rent-a-Car. In a solitary room adorned with framed invitations to the coronations of every British monarch from Victoria to Elizabeth, he lived with six rescued formerly stray cats. A one-time boy friend, too fat and too old at thirty, lived next door with his young wife and kids. But none of this, and nothing else from an eventful life grown quite ordinary, was ever permitted to interfere with either Hussein's steady pursuit of muscular young men or his unfailing commitment to the steadfast Luther.
It was because I wanted to write that Mario Buatta persuaded me
to go to work for Thomas Britt.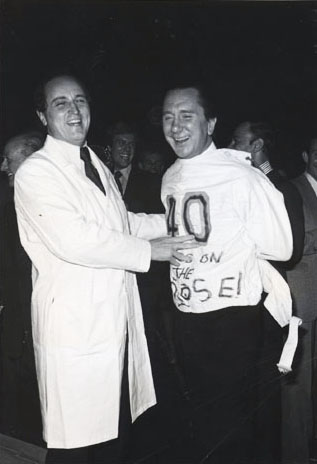 Mario had met the artsy, brazen and antic native of Kansas City while both were students of indomitable aesthete, connoisseur, and decorative arts scholar Stanly Barrows.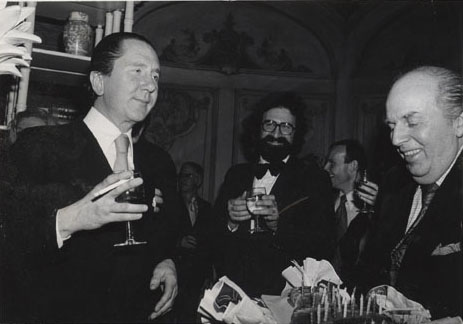 When their class at Parsons went abroad to study in Paris in 1956, Tom Britt met Julie Schenck. They were later to marry at St. Patrick's Cathedral.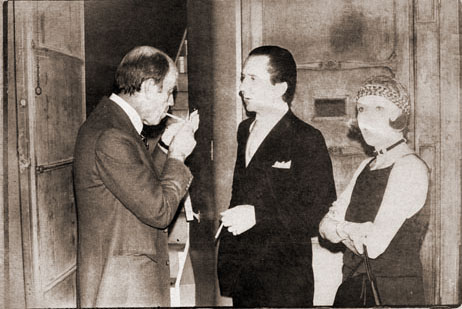 Slender, blond, demure but elegant, Julie Britt was descended from early Dutch settlers who had immigrated to New Jersey in the 17th century. Creatures of their time, the ultra-smart Britts became darlings at Studio 54 and at the private club at the Hotel Sherry-Netherland, called Doubles.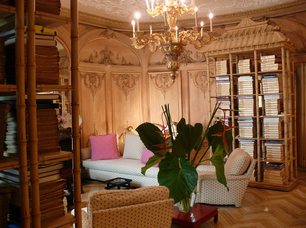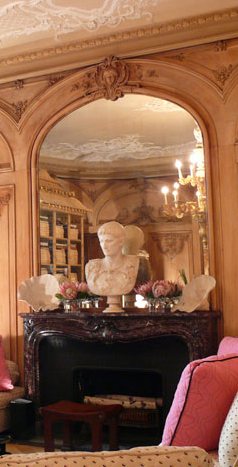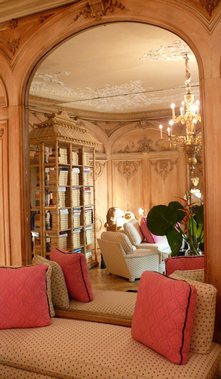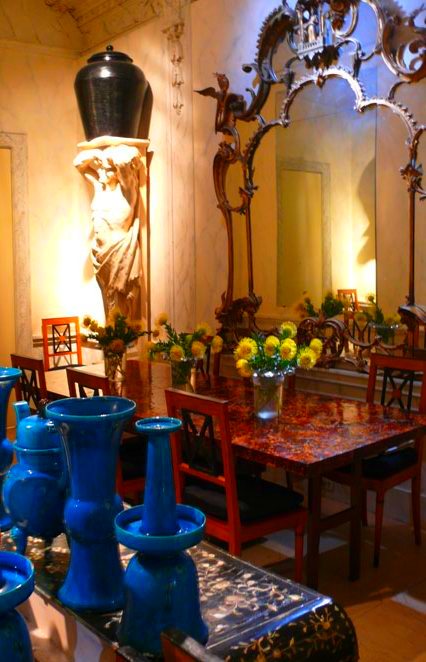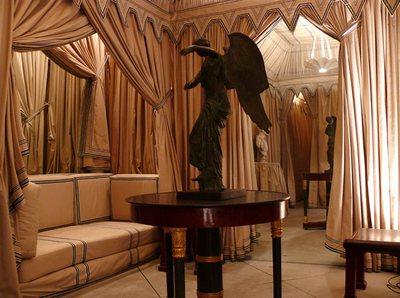 Tom Britt's East 63rd Street apartment in a century-old town house is as grand as his country house at Watermill, Long Island is serenely simple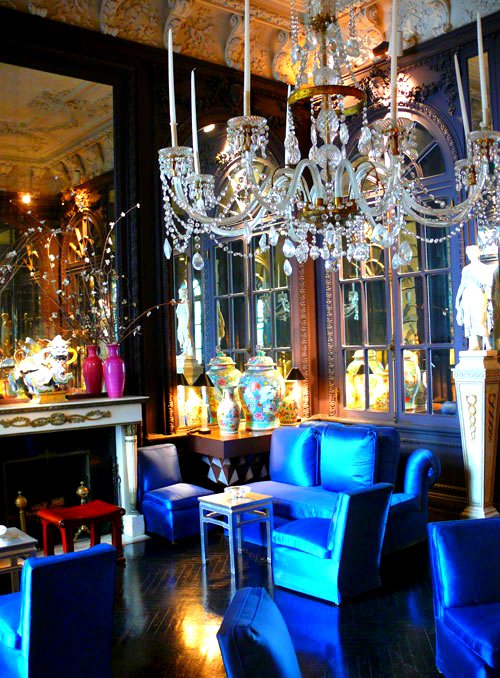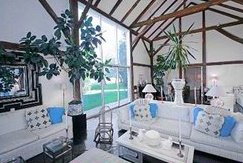 Despite ups and downs, including alcoholism and drug addiction, they are still very close. "Our friendship is hard to describe," said the editor, who worked for
Glamour
(where she put an unknown teenager named Cheryl Tiegs on the cover) and
Harper's Bazaar.
She was also a stylist for Richard Avedon. A couple of years ago Julie explained her unexpected life in New York to Mitchell Owens in a
Time's
profile. Recalling the intensity of their courtship, she reflected how, like a latter-day Zelda and F. Scott Fitzgerald, they too, had cavorted in a fountain and danced as Karl Beiter's personification of abundance drenched them in an allegorical shower of 'gold'. Smiling, with what? Yes, incredulity, Ms. Britt said of her former husband to Owens,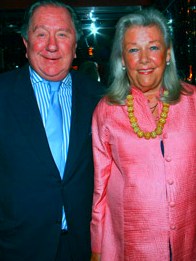 "He changed my whole life."
Scion of one of America's first families James Biddle, who insisted on always being addressed as Jimmy, seems a typical candidate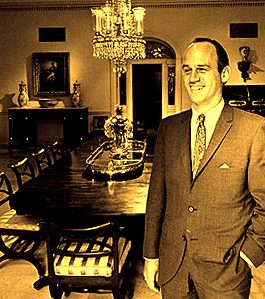 for an old-fashioned 'lavender marriage'. This seems even more to be the case, as his wife, the mother of his heirs, Louisa Copeland Biddle was the daughter of DuPont president Lammont du Pont Copeland. "Alas," confides an old friend, one might wish that it was so straightforward. But nothing, ever, was exactly straightforward, not where Jimmy was concerned".
His wife, as well as many of their friends, several different sources stress, was well aware that he was 'different'. "Only his family, particularly his parents, retained complete and deliberate ignorance. That was how he inherited Andalusia, his family's remarkable estate that was built from 1794 to 1836," insists his friend,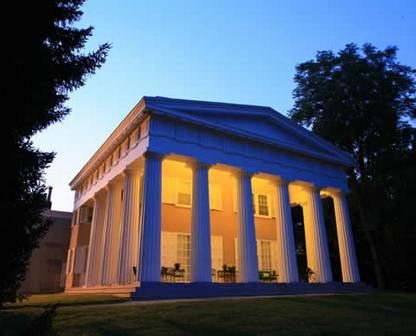 "It's a superb house, like a Greek temple above the Delaware River in Bucks County.
When one is gay, as we are, one so strives to please and inspire admiration. It's a feminine trait we aren't afraid to show. In our case it included making an advantageous match, producing descendants and saving the ancestral family homestead, should one be fortunate enough to possess one that's still worth saving. On the other hand, one often acts out somehow, just because one can sometimes, it shows one is a man to be defiant. I suppose that was what Jimmy's black 'friend' must have been all about?
The 'friend' in question, just a 'boy' when he came to Andalusia long ago to clean the pool, and met Jimmy, is now a popular dinner guest, attentive host and retired dentist. "He simply knocked me out, I could hardly help myself" Jimmy said as I listened in disbelief. I was seated beside the immense Gothic revival mahogany four-poster bed where he reposed in his high ceilinged-room in Andalusia's dower house, the imposingly large Gothic Cottage. The only black guest at a house party, I was stunned by this revelation, but not a bit surprised that neither Jimmy's marriage nor his then-controversial black lover had worked out.
Curator of the Metropolitan Museum of Art's American Wing, Jimmy went on to lead the National Trust for Historic Preservation.
"Exquisitely garbed, always in gowns, jewels and furs carefully selected by her husband, Louisa Biddle, ever gracious and smiling, played the part of a curator and philanthropy director's wife, one on the lookout for needed funds, to absolute perfection,"
Remembers their friend.
"Toward the end, relinquishing those beautifully tailored Saville Row suits he'd sported as dutifully as any prisoner wears his uniform, Jimmy ultimately graduated to custom-made attire that resembled a cross between a caftan from the Levant, and a shift from Lilly Pulitzer in Palm Beach. In the end, no longer sublimating his flair for fashion by dressing Louisa, he was finally, mostly, done with pretending, I think.
"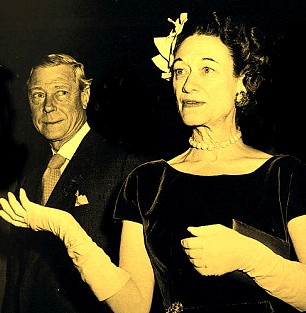 How much was the marriage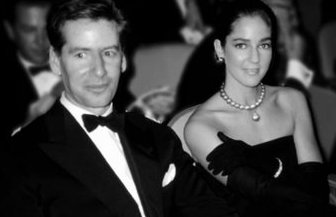 of Calvin and Kelly Klein a game of let's-pretend? Quite apart from the 'style magnate's' gift to his wife of superb pearls that had previously belonged to the Duchess of Windsor and Queen Mary,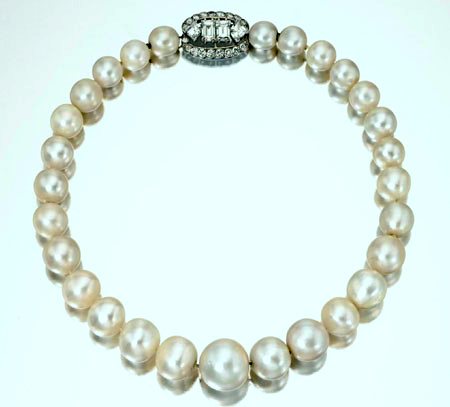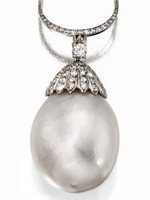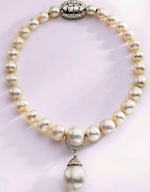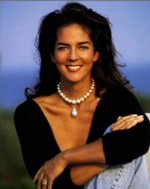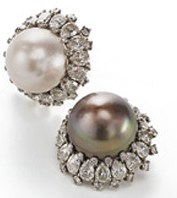 did Klein regard Kelly much as some adoptive gay parents treat their children , like a doll or a must-have new accessory? Will we ever really know for sure? As with many lavender unions, now the principals have 'called it a day.' Acquired for nearly $800,000, the duchess' pearls were sold by Ms. Klein for more than five times as much.
In a press release prior to the sale, Kelly Klein is quoted as saying that she hoped the pearls might be "given again, as they have been in the past, as a gesture of love and worn often and proudly." It's a nice sentiment, isn't it? Yet I, for one, hope that the next owner will not be a mere trophy, indicative of how enough money can buy all things, including a beautiful wife or a handsome husband, whose very presence shouts loudly and clear, 'Hell, no, I'm not gay, only, my, you do have a great ass---no homo!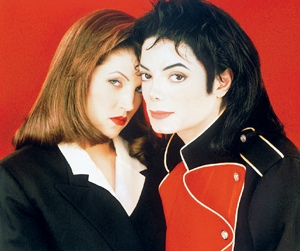 Mr.and Mrs. Michael Jackson