Meeting living legends who have always fascinated from afar is certainly exhilarating. But probably even more satisfying are those rarer occasions when one realizes that one is encountering a force of nature, one which most of the rest of the word has yet to discover!
Nonetheless New York has a way of continually affording one with opportunities to ask questions like, "What becomes a legend most?" Last evening when Jean-Claude Baker, the faun-like proprietor of our favorite mid-town restaurant, Chez Josephine, hosted a press party to promote Looking For Josephine, a theatrical tribute to his adoptive mother, one felt one knew for sure! For what, after all, could be better than for a celebrated star like Josephine Baker, dead for a generation, to be revived today?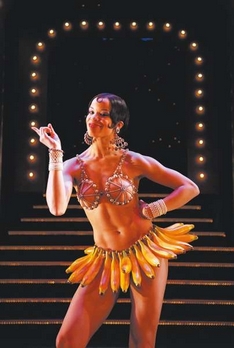 Channeled into the lithe form of a vibrant soubrette, Nicolle Rochelle, delighting old fans again, while winning scores of new admirers, Josephine has managed the impossible feat of rebirth! And, this is the second time now. More than a dozen seasons ago she was first reintroduced to the world through lovely Lynn Whitfield. So brilliant was the charming actor's portrayal that she literally made innumerable wary TV viewers believe in reincarnation.
How miraculous, that again one might dispense with the 'old ennui,' to thrill to the expertly executed arpeggios and trills, to marvel at the athleticism and grace, to submit, happily aroused, to the artful seduction of an as yet undiscovered luminary!
Three years ago, having wowed them at Paris' l'Opéra-Comique, winning the French equivalent of a Tony award, the saucy Miss Rochelle, much like her alter ego, next conquered the remainder of Europe on tour.
"So," I asked her, "is it a let-down to schlep to a venue in Montclair, New Jersey to present the American debut of Looking For Josephine? Talk about off-Broadway!" I said. "Heavens, no! Haven't you looked at your press-kit? Don't be deceived by the costumes or hype, I'm from Jersey, I'm a Jersey girl, so it's great for my friends and my family, and compared to Paris or New York prices, the show is an incredible deal too, despite the 'schlep'!"
We laughed -- quite apart from several glasses of deliciously cold champagne accompanying our enormous shrimp, Miss Rochelle makes laughing easy. Moreover, if from the final reverberating moments of her rendition of la Baker's signature song, "J'ai deux amours," which had Jean-Claude Baker applauding louder than anyone, except for Tommy Tune, I became an instant Rochelle-enthusiast. Such was our rapport, that within half an hour, already, we were old friends.
Urging me to join her when she next came to Harlem to Lindy Hop, I stood in disbelief. How could there still be such a person: a multi-talented performer, clever enough to win honors at Brown, where she studied Linguistic Anthropology, so utterly unspoiled, friendly and fun?
In order to personally learn something of the great pleasure to be had spending a few hours with Nicolle Rochelle, I urge everyone: make the 'schlep' to New Jersey. You'll be happy you did! Curtains for Looking For Josephine are September 17, 18, 24 and 25 at 7:30 PM, and on the 19th and 26th at 8:00 PM. Matinees are featured on the 20th and 27th at 3 PM, proceeded by an 11 AM brunch at Chez Josephine with a special round trip bus to Montclair. The festive eatery is handily located at 414 West 42nd Street. Brunch is a mere $19.26 and the bus is $10.00. All Looking For Josephine performances are $15.00, with tickets available at the theatre box office at number one Normal Avenue, Montclair, New Jersey 07043, or by telephoning: 973-655-5112. Brunch and bus reservations can be secured by calling: 212-594-1925.
SUBSCRIBE TO & FOLLOW THE MORNING EMAIL
The Morning Email helps you start your workday with everything you need to know: breaking news, entertainment and a dash of fun. Learn more