Imagine, a passel of divinely dressed southerners in New York to have a party. How festive is that? Very! On Thursday, January 14, 2010, New Orleans' Preservation Resource Center held their annual New York gala fundraiser on Fifth Avenue, at Saks, honoring New Orleans Saks emporium, whose store was destroyed during Hurricane Katrina, but is now rebuilt better than ever. Jennifer DeWinter, Executive Vice President of Stores, accepted the PRC's 2010 Citizenship Award on behalf of the famous retailer.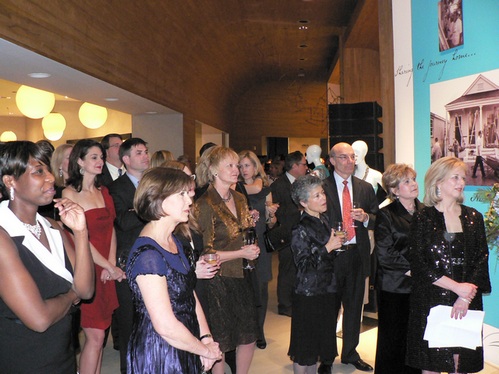 We lucky guests all generally enjoyed ourselves with cool but potent libation, provided by Cafe Adelaide's Swizzle Stick Bar, mellow music to dance to by Irvin Mayfield and the Derek Douget Band and a light supper of soul-satisfying jambalaya, red beans and spicy sweet-corn relish.
Ah New Orleans! As the band played sweetly, "Do You Know What it Means, to Miss New Orleans?" thinking back to an earlier natural disaster, disproportionately impacting blacks, unavoidably reminded one of Haiti now. One wanted to weep, but knew that would hardly do at a party.
I'm so glad that my beloved friend, Martha Chandler Dolly,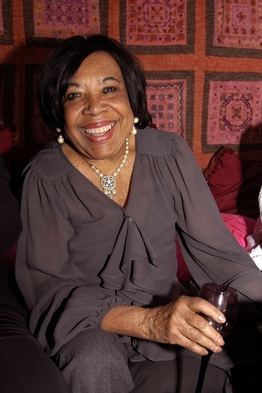 who grew up in Haiti and was educated in New Orleans, lived long enough to see Obama elected, but avoided this latest tragedy to befall her native land.
"When white American planters encountered disobedient and rambunctious slaves in the old days, they used to ship them to Haiti to be broken in..." Martha insisted to me and even to Mrs. Astor, with some pride on several occasions speaking of our hemisphere's second republic and the world's first modern government run by people of African descent. "We defied the white world and defeated Napoleon, who had nearly conquered the globe. Whites despised our independence, and we have been paying for this effrontery to injured white pride ever since!"
Speaking with Martha, one felt that perhaps the same sort of dynamic must have been at play in New Orleans during Katrina and even afterward, when it seemed as if a natural calamity was embraced as a means of employing public policy as social engineering, to remove poor African Americans from the city and to make way for the well to do.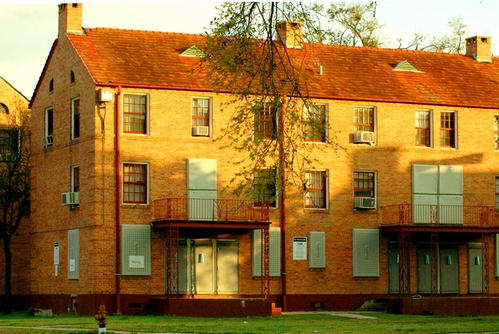 'Have they really been able to destroy New Orleans' handsome brick Lafitte Public Housing Project with cast-iron railings and fireplaces, from 1941,' I asked my friend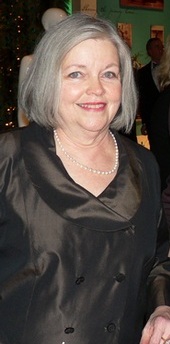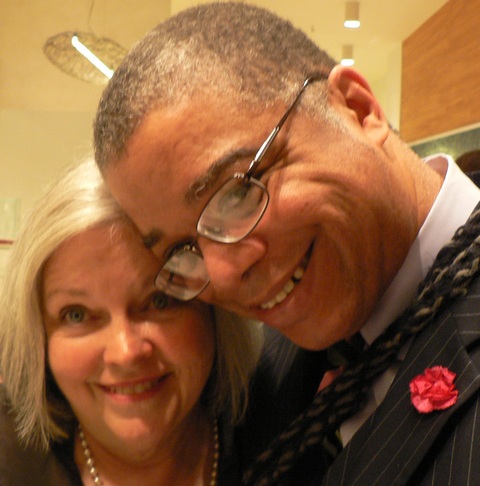 Patty Gay, the human dynamo who heads the Preservation Resource Center? "We couldn't save them, it's so frustrating! We've suffered some tragic losses," she sighed, with nary a mention of all the fantastic strides the Center has made, restoring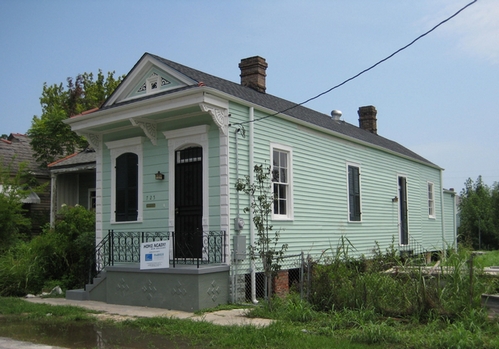 modest but historic shotgun-houses in the Ninth Ward, with the same high standard employed to renovate palatial houses on St Charles Street.
An elegant woman friend, who has relations in New Orleans, joined me. She goes to these things hoping to meet the elusive charming, handsome, solvent, unattached, heterosexual, man, much as I am on the lookout for lovely gay blades. The help are often the best bet for my quarry, my friend, is less egalitarian.
One thing one can say for southern gentry is that they certainly make an effort to be gracious and to look absolutely smashing. Ordinarily, I photograph lots of shoes, as the most reliably arresting element of many women's toilet. Here this practice was a superfluous exercise, as there were glamorous hats, frocks and jeweled ornaments galore in evidence.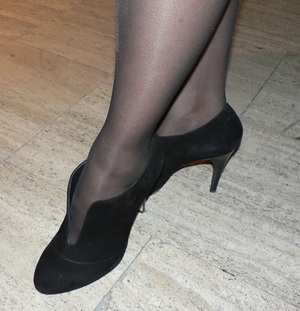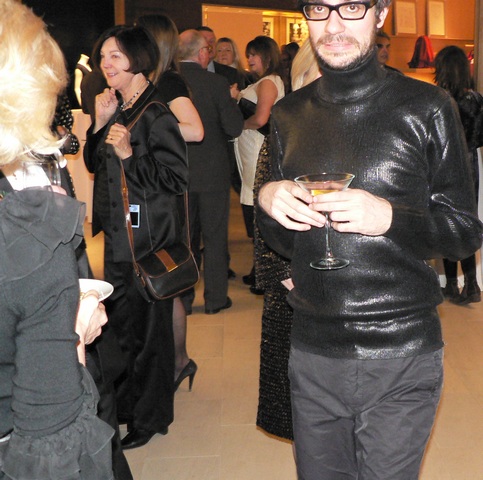 True, mindful that they were in the world's most sophisticated city, many dressed entirely in black.
They included Laura Weil, who wore a distended necklace, Nico Kean and E. S. Camp.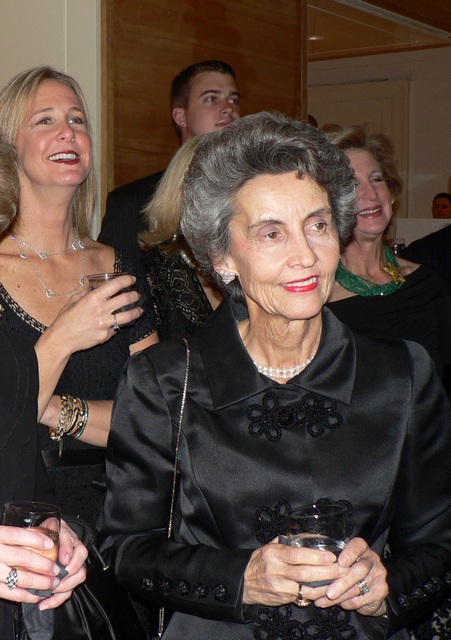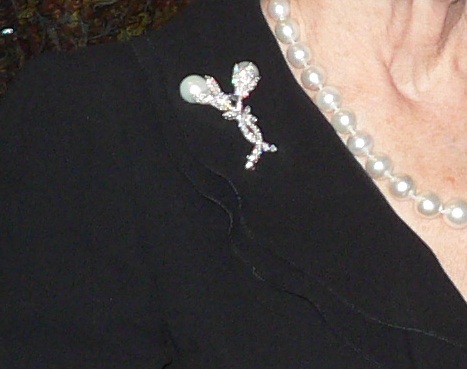 Dottie Charbonnet and Betsy Nulty augmented black with opulent pearls, just as party chair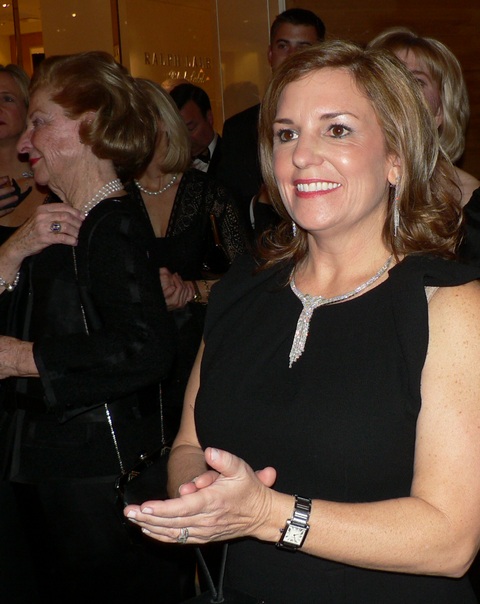 Susan Wormser wore a fringe of diamonds.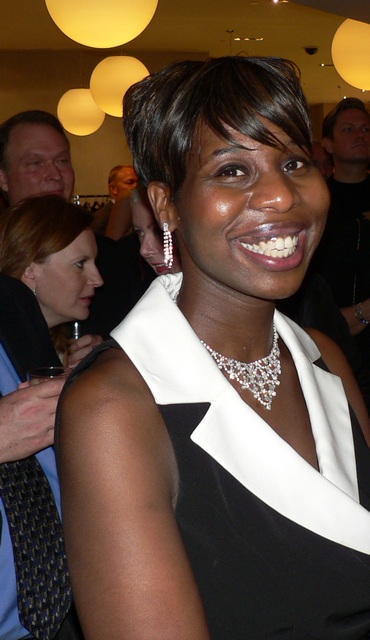 Amanda Brown wore black with a smart white collar and a glittering necklace and earrings.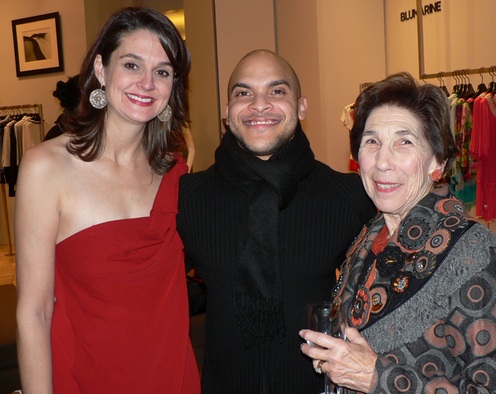 Stacy Head in scarlet and Rosemarie Fowler in a magnificent coat and coral ornaments both bucked the black trend, but not Irvin Mayfield standing between them.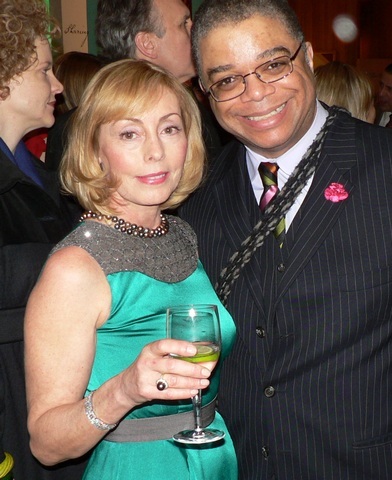 Gail Bertuzzi, a center stalwart with a house in New Orleans and a pied-à-terre here as well, was exquisitely arrayed in aquamarine accented with silver.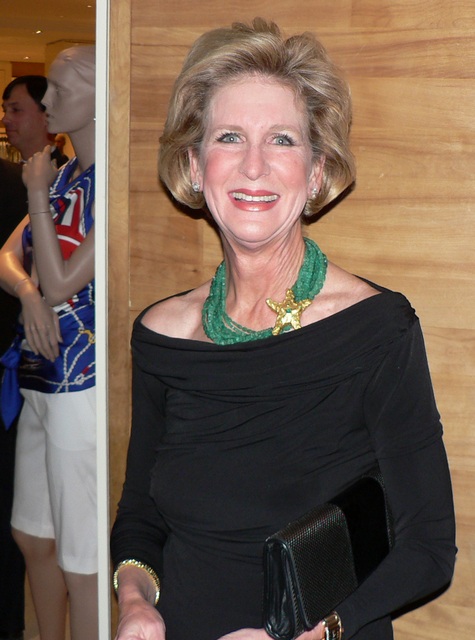 Susan Johnson, though sheathed in black, was hardly somber. Her deceptively simple dress was a perfect foil for a lovely necklace with a gold starfish and glistening beads that echoed her luminous eyes.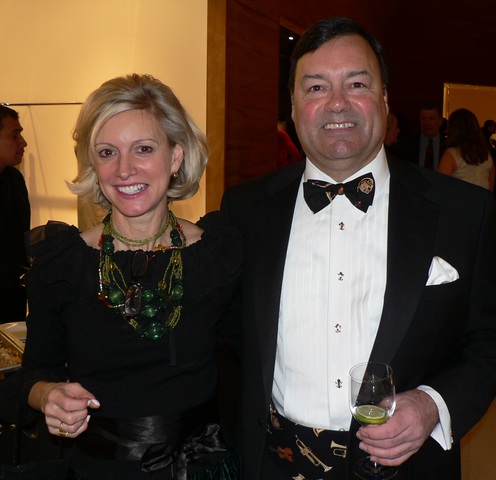 Helen Marie Rodgers wore a splendid necklace as well. Not to be outdone,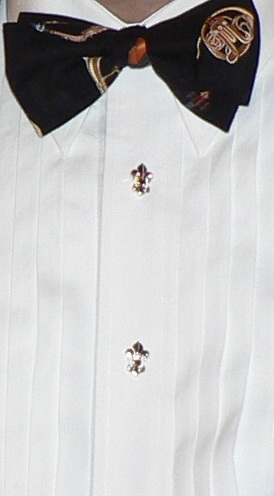 Geoffrey Snodgrass sported a horn strewn tie and cummerbund and fleur de lis-form shirt studs. His lovely wife,

Holly Snodgrass, wore a lovely spangled variation of the 'little black dress' and delicately dangling diamond earrings, impossible to miss.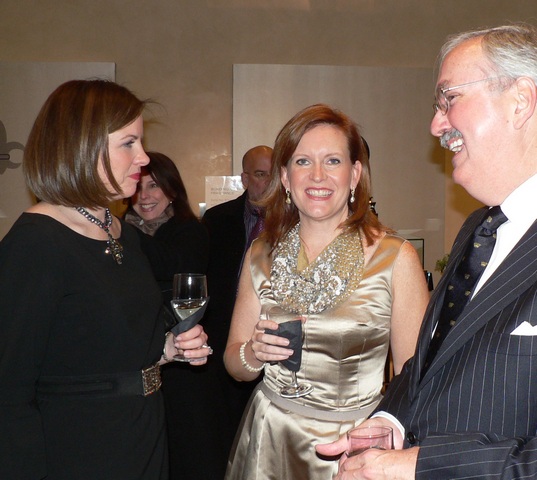 Jane Scott Hodges wore basic black with a dramatic pendant, but not Anne Redd in satin and beads.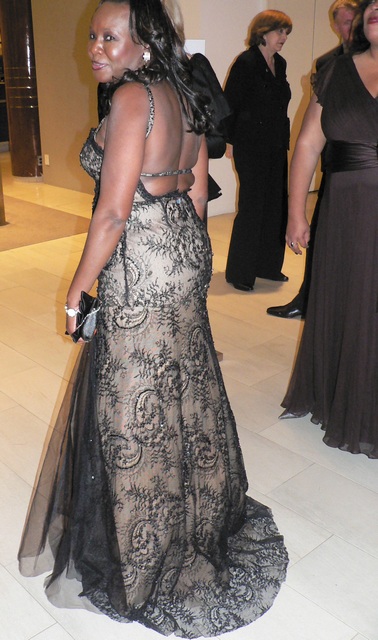 Audrey Medill wore a ball gown with a train, made of exquisite lace.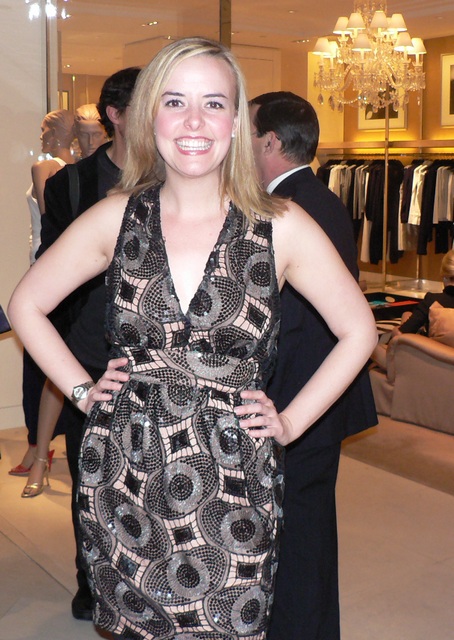 Jennifer Mestayer had donned a lacey black confection as well, only hers was short.
Daniela Rivero, dazzling in a chic tube of asymmetrically slashed black and white silk, was accompanied by Clay Bryant in gray. Latter they dined at Le Bernardin, where heads must have turned!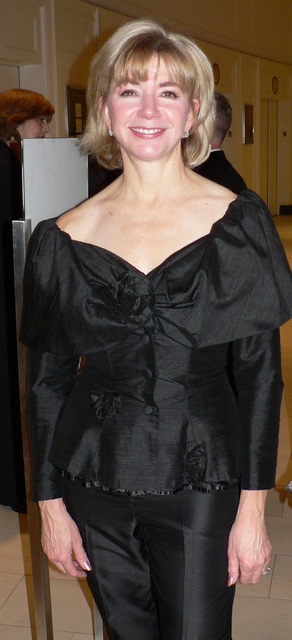 Carolyn Elder's black satin pants were the very embodiment of great élan.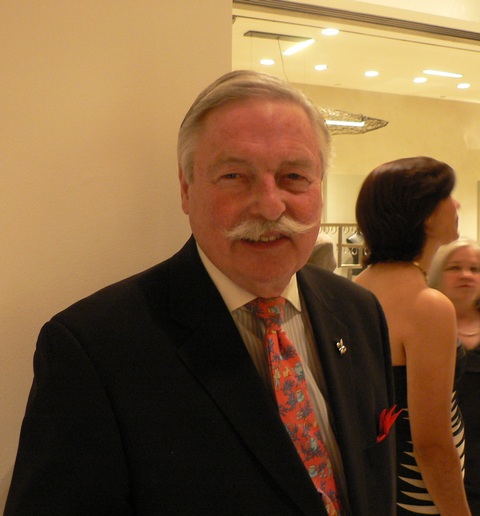 So was Jules Jackson's jaunty cravat. Seeming to stick together, so as to best set off their ensembles, one black, the other white,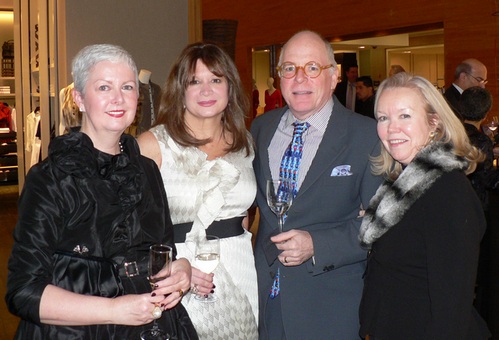 Debora Shriver and Meredith Wagner, seen with Jerry Shriver and Bryce Reveley in a jazzy fur collar, were a vision.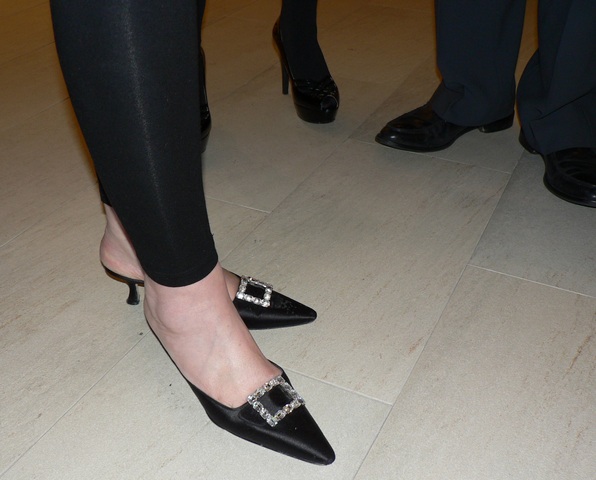 Mrs. Shriver's shoes, the most wonderful at the party, gave her added distinction. To earn such an accolade here, most might agree, was quite some accomplishment, given the competition.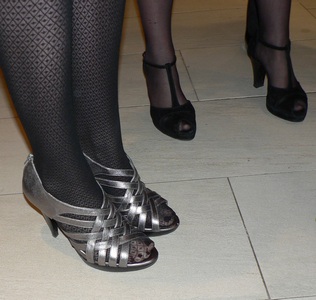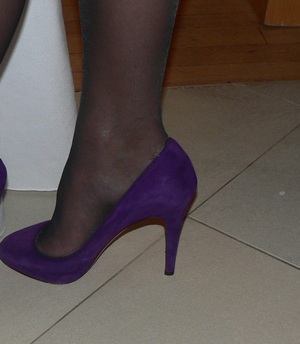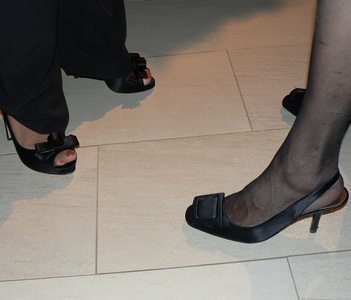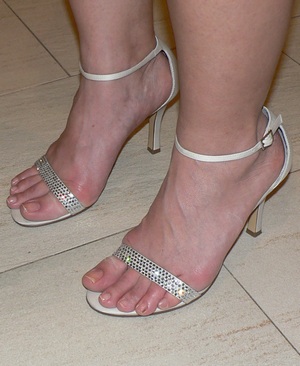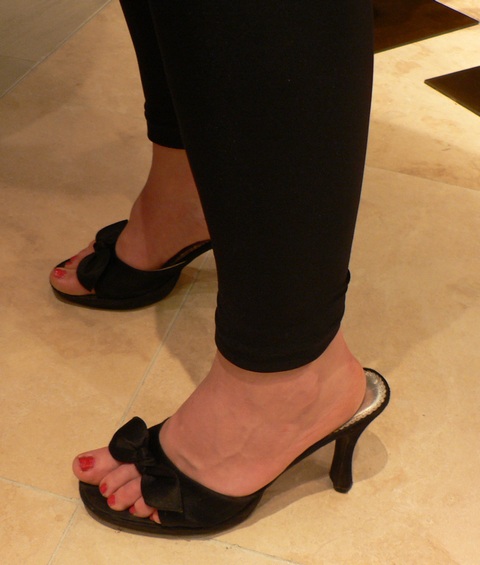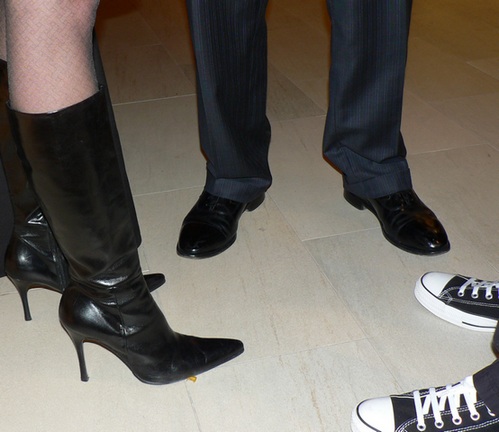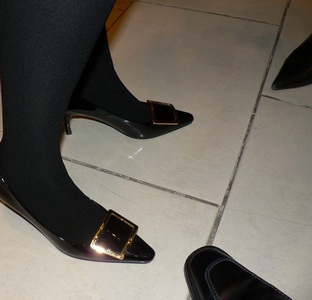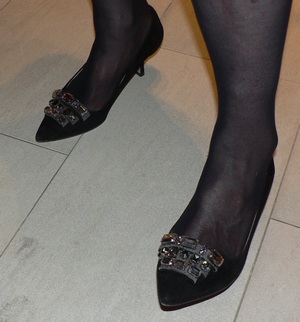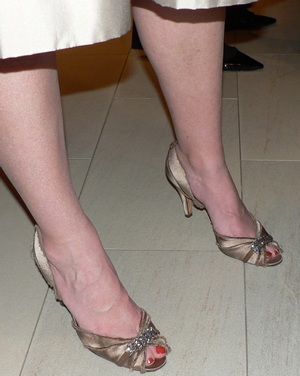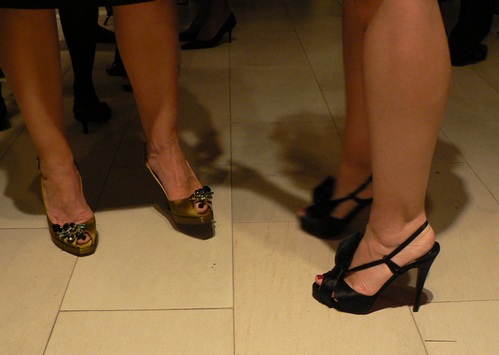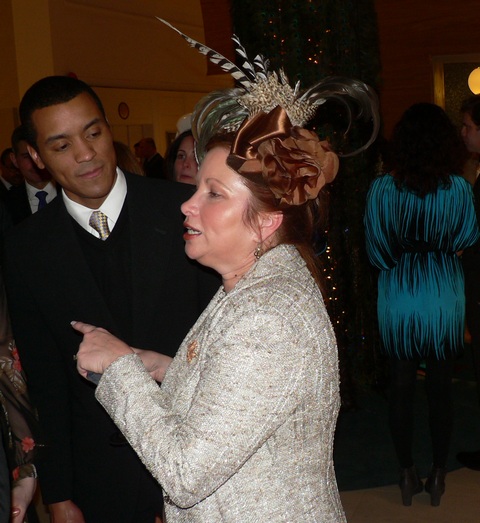 The best hat with a profussion of feathers was worn by Gail Wall,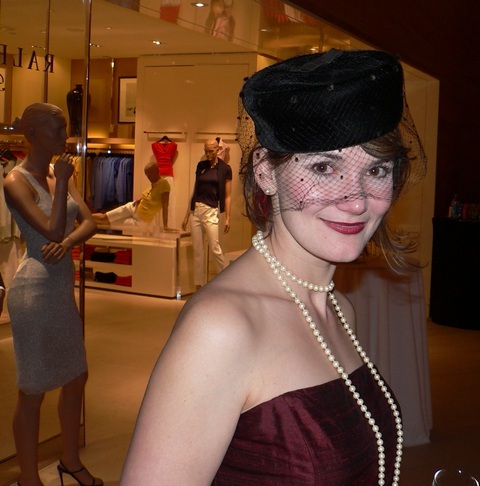 but Brandi Couvillion wore an extremely fetching hat as well.
Why, in a world beset by suffering do such frothy occasions even matter? For me they are as essential as taking time to talk with toddlers, to view the sunrise after a night of dancing, to listen to Sarah Vaughn love songs or to trouble to read Edith Wharton. Working hard to try to help to make the world a better, more just, lovelier place, to call attention to our diverse human heritage, it's important to keep in mind that, sorrows notwithstanding, the world is and remains filled with delight!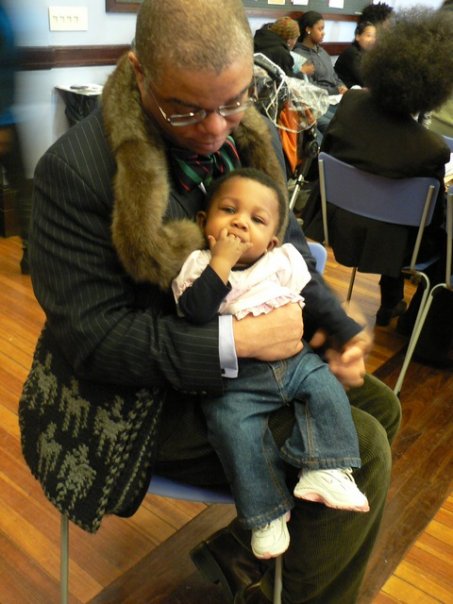 SUBSCRIBE TO & FOLLOW THE MORNING EMAIL
The Morning Email helps you start your workday with everything you need to know: breaking news, entertainment and a dash of fun. Learn more