Last week, on January 22nd, the 56th annual Winter Antique Show, benefiting the South Bronx's East Side House Settlement, opened with the usual, packed, but pleasurable cocktail reception. Attending each year, having fun while helping out young people who can use a hand, always seems to afford one the best of all possible worlds, one of the things that makes New York among the most attractive places to live on the globe.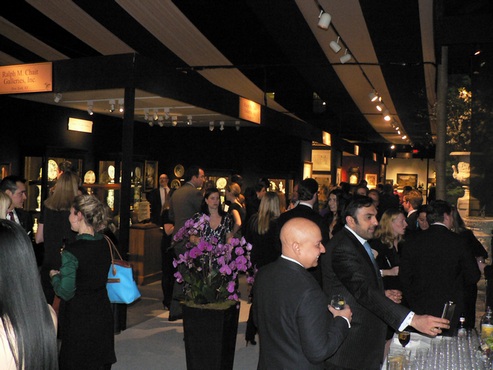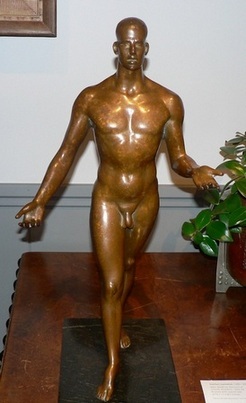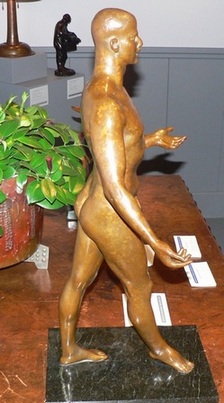 Lincoln Kristien by Gaston Lachaise ca.1932
For any devoted aesthete, much like the city sometimes, the antique show offers almost too much that's elegant, exquisite or delicious. What legitimately, ought to most claim one's attention here: a profusion of perfect flowers, an outpouring of refreshing drinks and delectable nibbles from incomparable Taste Caterers, a treasure trove of the finest artworks, furniture and precious objects ever made, from around the world, or pretty people, of every description arrayed in their best?
Firescreen by Hunt Dietrich ca. 1927
Inasmuch as the show goes on until the 31st, and given that, in addition to the opening gala, there's a 'young collector's' night too, fortunately one is spared from ever making so tormentingly a Solomonic choice . And, in light of my mechanical ineptitude, it's a good thing too. For enjoying a delightful opening night, seeing and photographing one marvelous friend and old acquaintance after another, including debonair Renault White, decorating diva Jayne Michaels, high society's suave chronicler David Patrick Columbia, Donna Williams, Chief Audience Development Officer at the Metropolitan Museum of Art, preservationist Ronald Lee Fleming with Barbara Russell, Mario Buatta, and Tony Victoria, who helps to vet the show, inadvertently, somehow, I erased every single image, some of the best I've ever made! So much for the 'fool-proof' digital camera! Herewith I apologize to all my irretrievably lost stylish subjects, so grateful that at least a few returned last night for another dose of cheer and charity,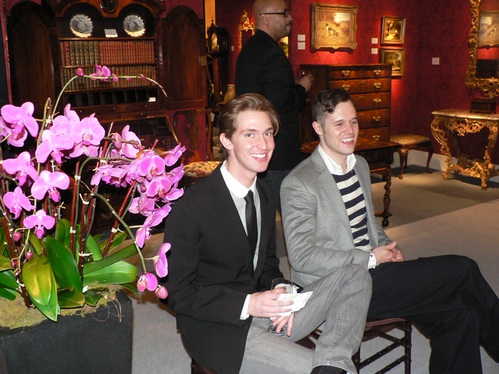 All in all, as extraordinary as the artifacts might be, the wonderful Winter Antique Show ultimately serves the same function as the horse show at Madison Square Garden or the yearly inauguration of the opera did a century ago. The elite meet their friends there, and so too do the rest of us. Adjunct to such reunions is one of the foremost fashion fetes seen anywhere.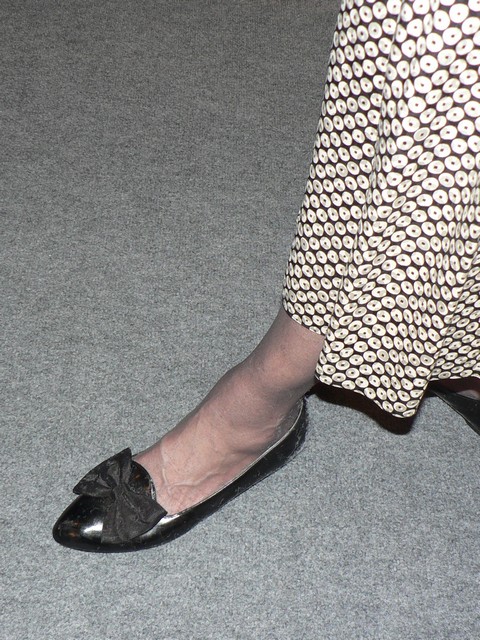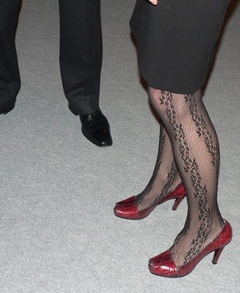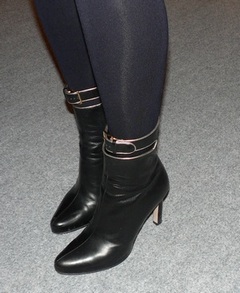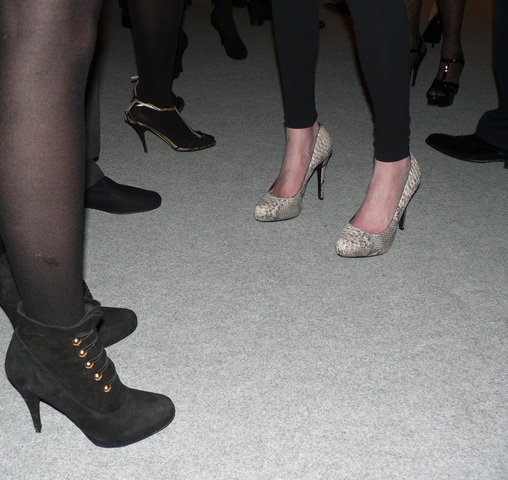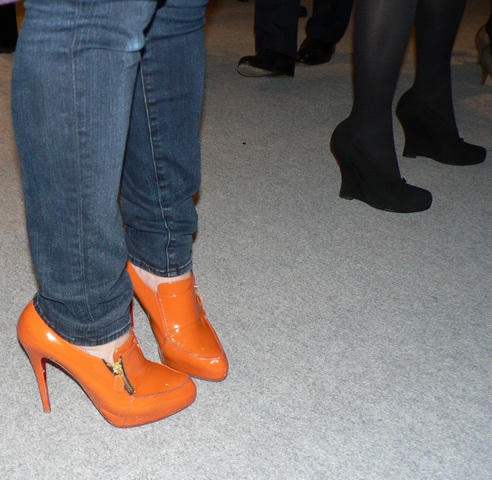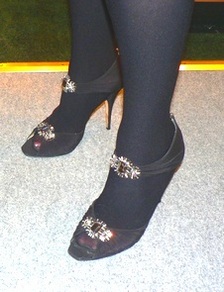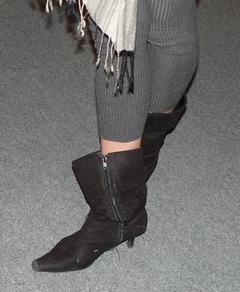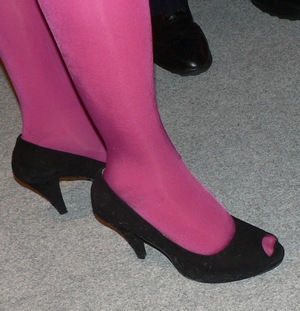 One encounters an exceptional level of creativity among these throngs and, it goes without saying, some spectacular shoes!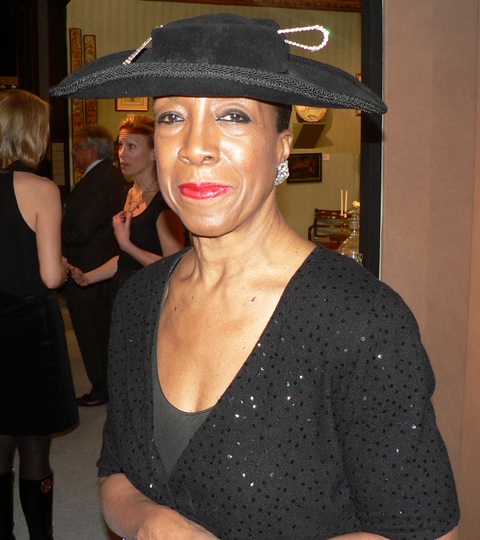 Eula Johnson, responsible for coordinating all the makings of enchanted evenings spent at the antique show, unfailingly wears hats exhibiting the kind of dash and brio that few would dare to imitate.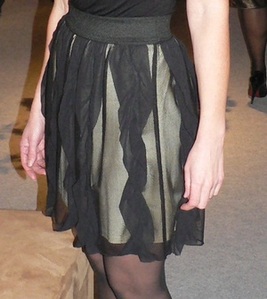 Smart Jennifer Stebbins, also of East Side House Settlement, enlivened her chic chiffon-skirted dress with a necklace of gold coins.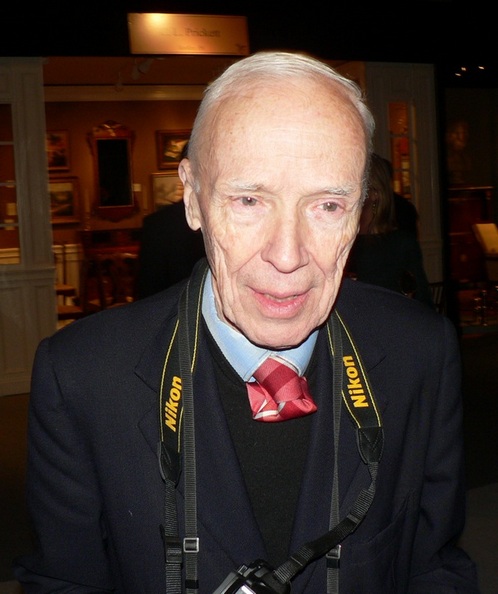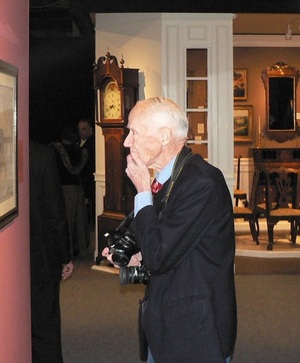 Bill Cunningham of the Times society page, unobtrusive and decisive is the lure, beyond doing good works, who motivates crowds to appear which are so well turned out
Antique show dealers always set a good example. Otherwise quietly dressed,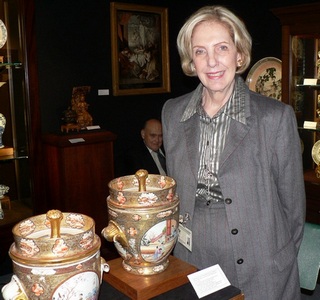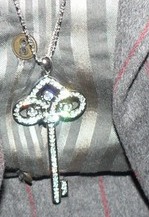 Jocelyn R. Chait endeared me completely with the whimsical diamond key worn on a chain around her neck. Does it release the combination to her wall-safe or is it the key to her husband and lover's heart? Certainly her prim ensemble befits an owner of Fifth Avenue's 100 year old Ralph M. Chait Galleries, purveyors of sumptuously gilded Chinese export porcelain and monochrome and flambé Chien Lung period ceramics. Ah, but her tiny key-pendant shows, here is a woman of charm as well as intelligence.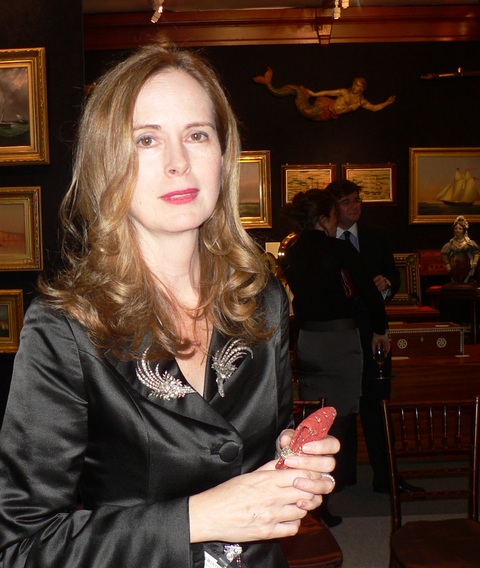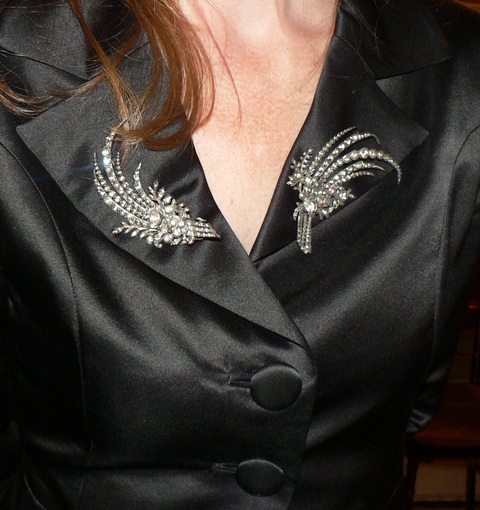 Ms. Lesley Hill, a principal of Hill-Stone, observed the general preference of attendees to wear black clothes. But there was nothing whatever commonplace about them. Who but a resourceful antiquaire would have thought to convert 18th Century diamond aigrettes, or hair ornaments, in the form of trembling sprays of flowers, into brooches? Who else would also know enough to wear shocking-pink colored stockings with their black satin?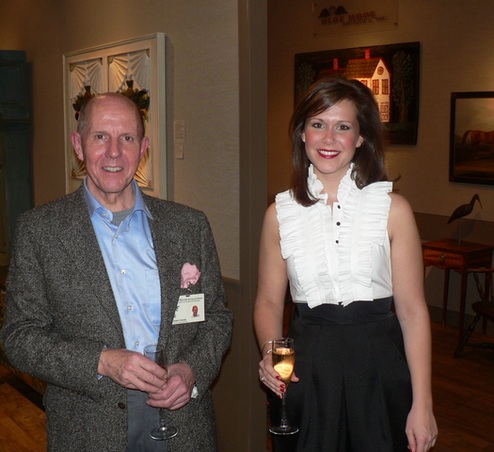 Ashley Rettenmaier, of Olde Hope, a shop that specializes in superlative early American folk art, wore a great ruffled shirtwaist. Her companion is Simon Edsor of London's Fine Art Society, my favorite exhibitors at the antique show. Jaunty though Mr. Edsor's pink handkerchief surely was, he might just as well to have gone naked. For, always offering such sublime works by late Victorian masters like Sir John Everett Millais,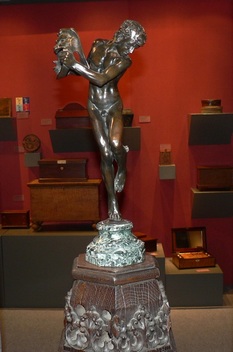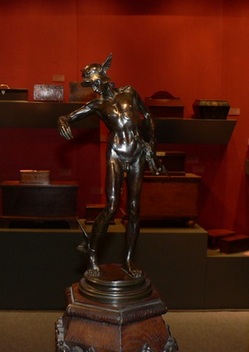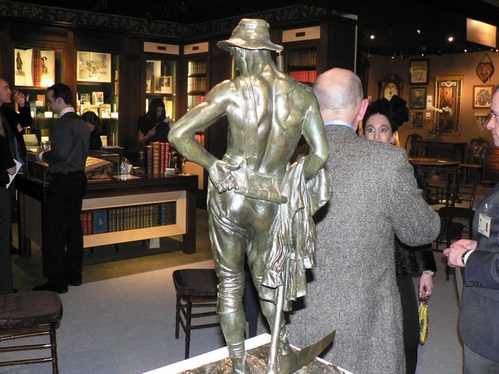 and William Hamo Thornycroft, entirely entranced, no one could possibly notice what Edsor might, or might not, be wearing.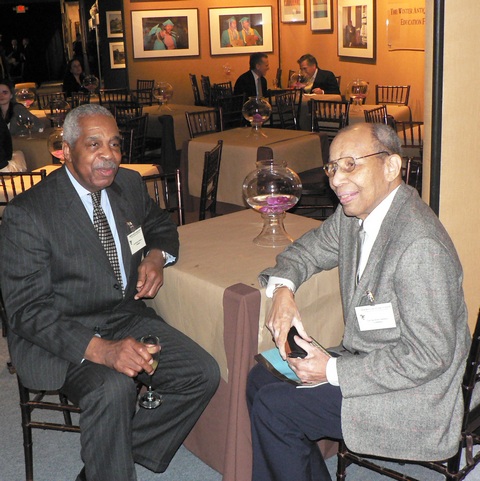 As always, combinations of black, blue, gray and white appealed to most men, like John Holmes and the Harlem bon vivant Harry Duggins.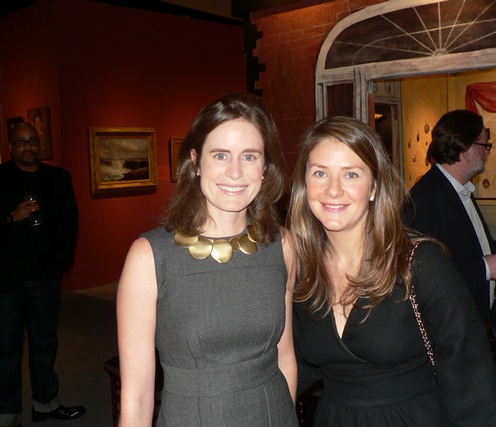 Patricia Livingston was très distingué in a gray dress with a gold necklace. Her friend Martha Busconi wore the ubiquitous black, but with an arresting décolletage.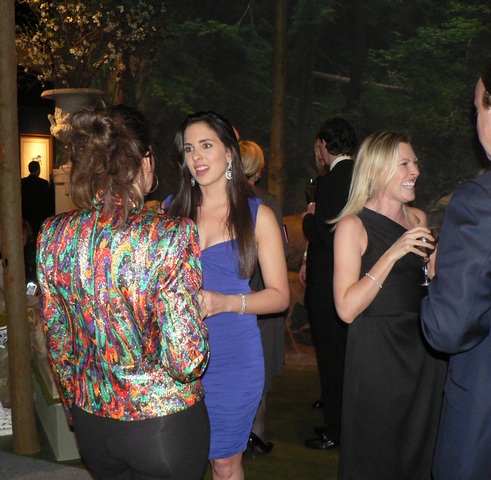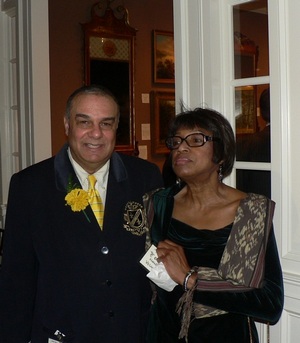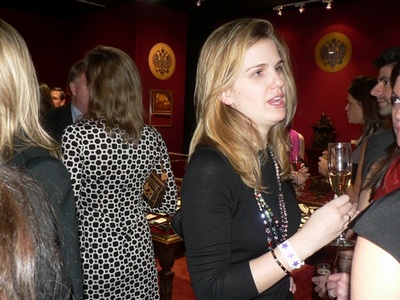 With so many chic ladies choosing to don black dresses, how could they otherwise be expected to distinguish themselves? Some did so with jewelry, some with jackets, and some with scarves or handbags.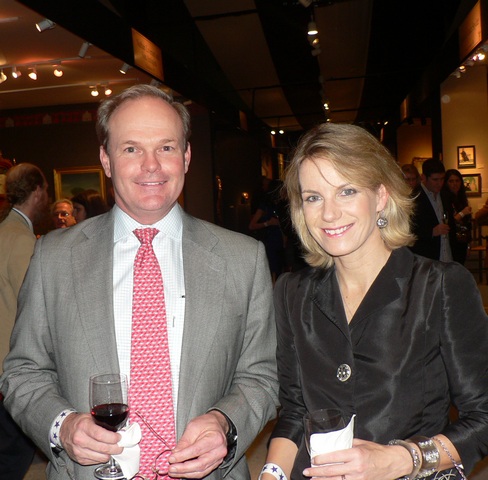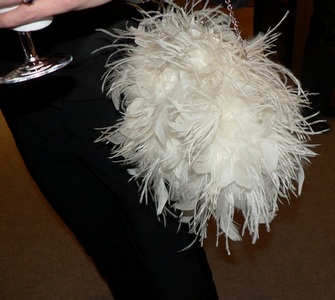 -
Meg Touborg, wearing black, was talking with Ted Darden. She won the prize for the antique show party's most frivolously charming purse.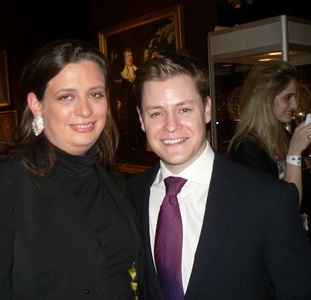 Pictured with Kipton Cronkite, Georgine Schaeffer set off her black frock with knockout earrings.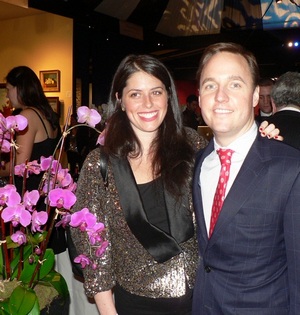 Risa Heller, with Ryan Toohey, stood out in a silver-spangled jacket.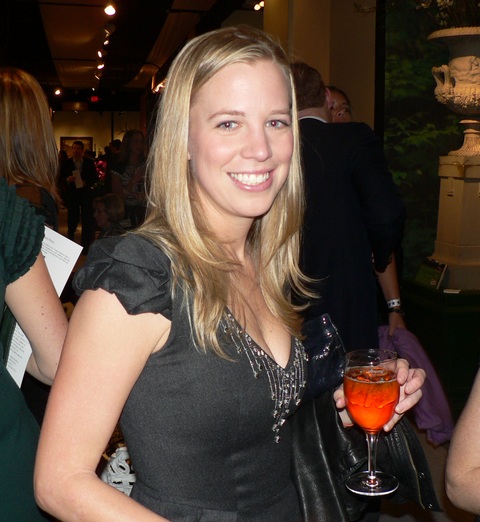 Anna Vietor, graced a black gown with a crystal fringed corsage,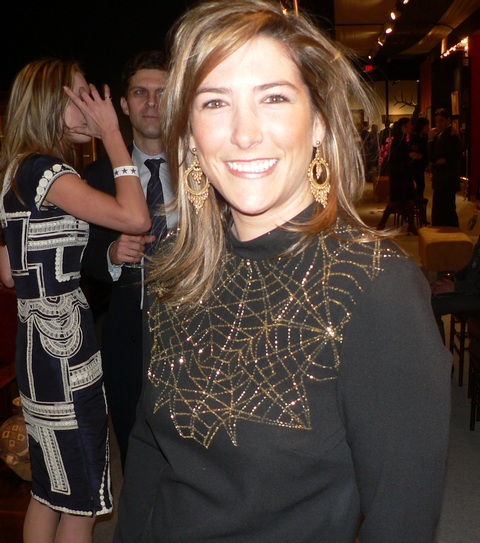 while Torie Ross' black bodice was enmeshed by a glittery, golden spider's web.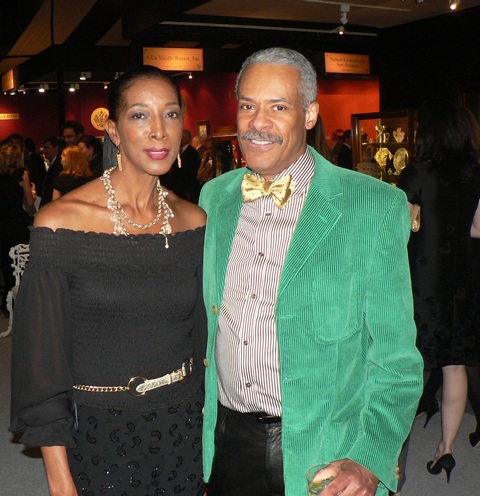 Olivia Wright, garbed in black subtly contrasted by sparkle, was accompanied by Gary Alexander in an Emerald green coat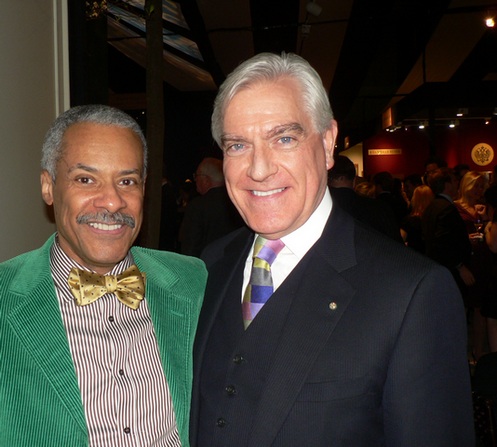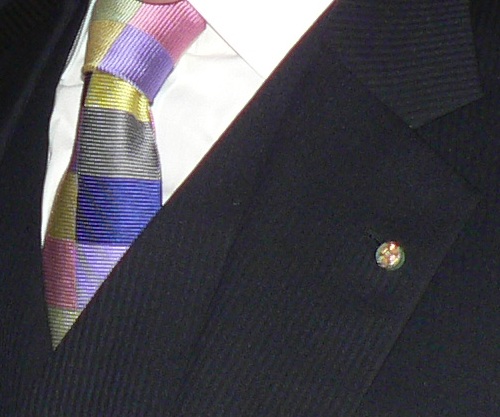 and Sir Mark Fehrs Haukohl, the celebrated connoisseur, sporting a splendid cravat and the cockade of a chivalrous order.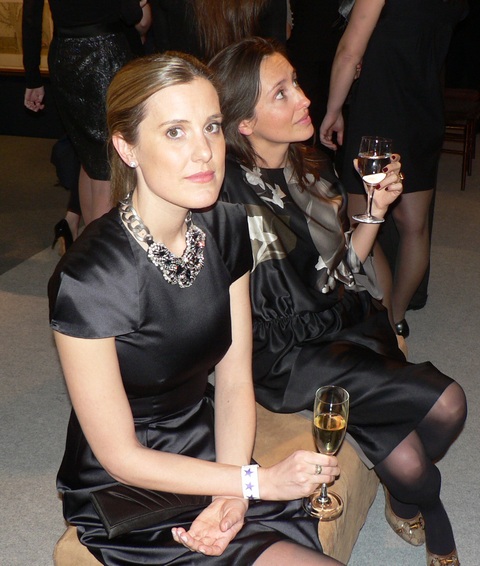 Carolyn Miner, who had a black dress from Prada, wore a most handsome necklace. Sophie Richard, beside her, wore a black dress by designer Dries Van Norten.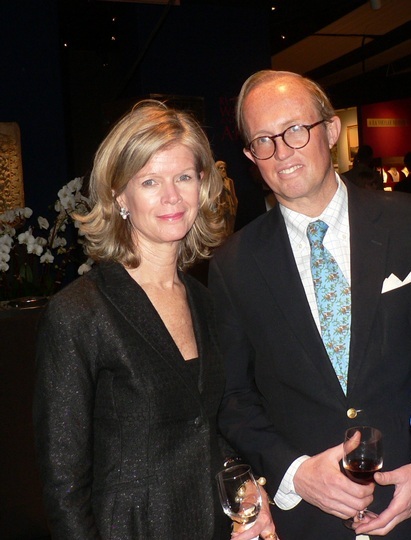 Lisa Arliss, predictably clad, in fashionable black, unpredictably adopted the fashionable New York woman's most sought after accessory, the ever elegant Mr. Mark Gilbertson, wearing a pale blue necktie.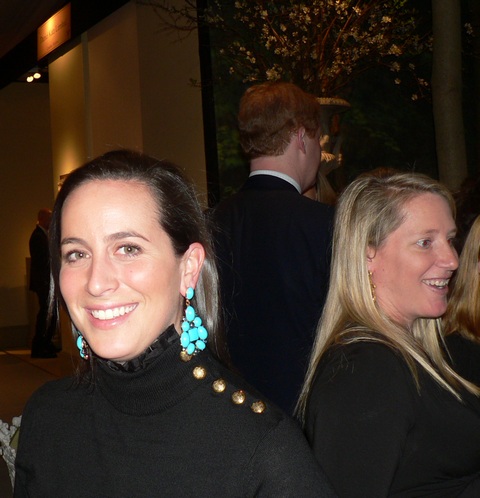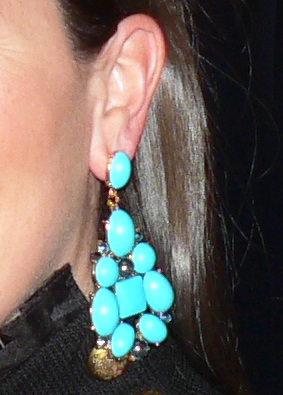 Crstin Decker paired her black dress with dramatic pendant Turquoise earring.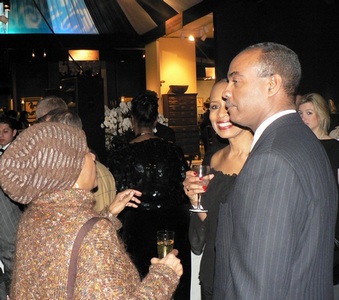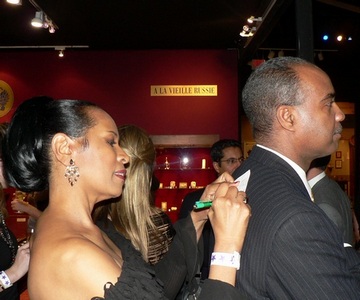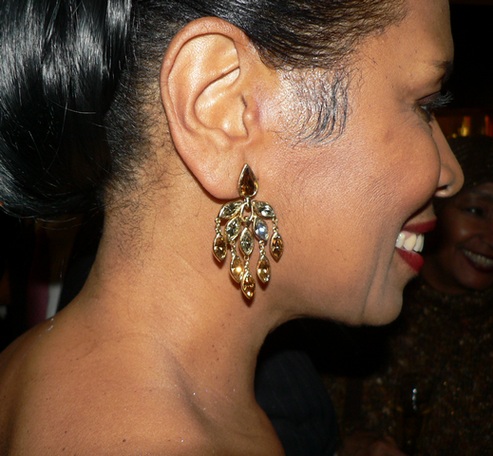 Charissa Craig-Jordan, seen with the always obliging Marcus Jordan, chose the intricate earring option as well.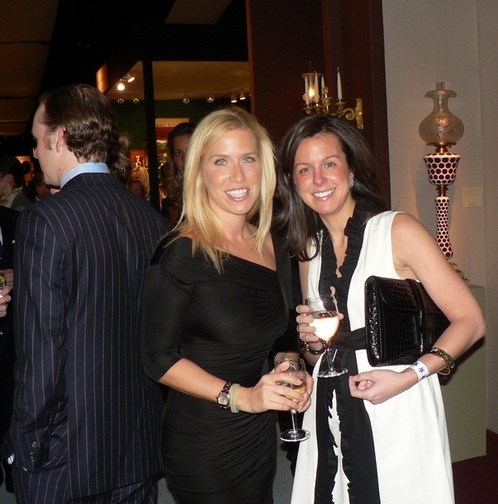 Blazingly blond, Alexis Bodenheimer's water-blue eyes were perfectly complimented by a stunning black dinner dress. Her raven-haired friend, Tracy Crane, wore white with black ruffled edging.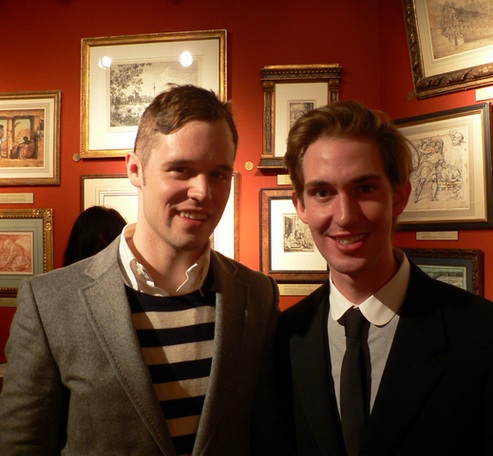 Joseph McCarthy and his pal Benjamin Wriely both wore mixtures of black, white, and gray.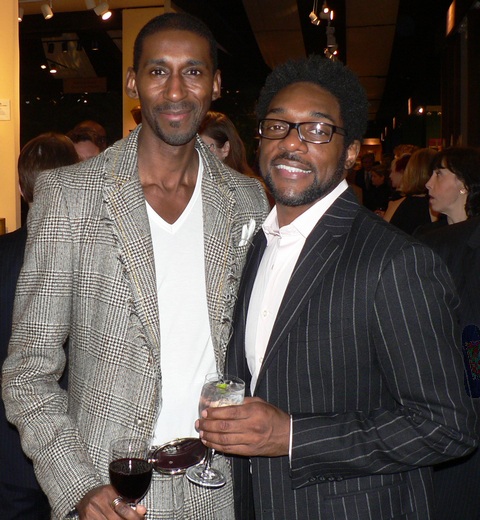 The same palate was effectively employed by Larry Bentley and Rodney Terich Leonard, the noted poet.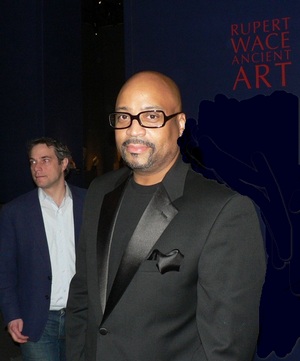 Michael McCollom was in black on black in various textures, which is always appealing.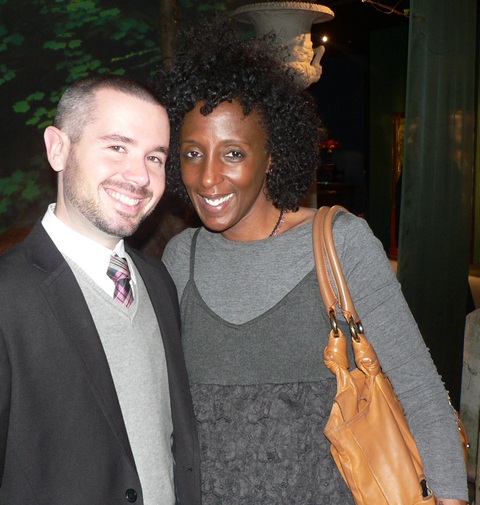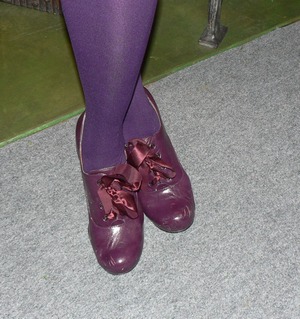 Jeremy Polk and Tonya Miller were yet other devotees of gray, accented by pink, violet and plum.
>
Stephanie Redhead wore a gray dress and jet beads,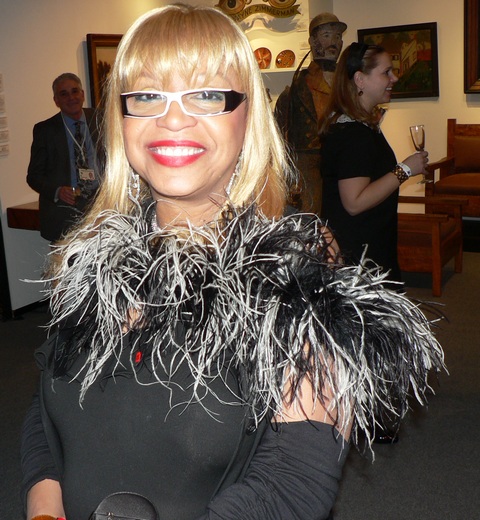 while Barbara Kendrels opted for a black and white feather boa with matching spectacles.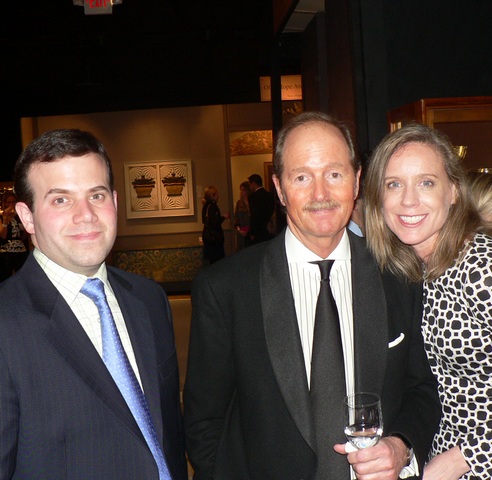 Squired by Paul Mateywnas and Norman D. Rau, festively wearing a dinner jacket in the new way, with a four-in-hand tie, Sarah Weinkam wore black and white silk.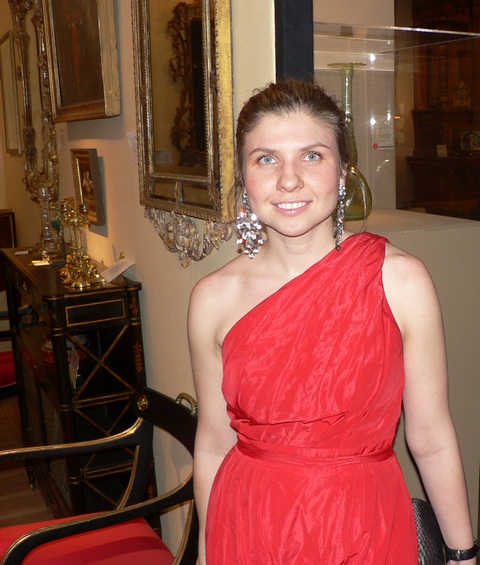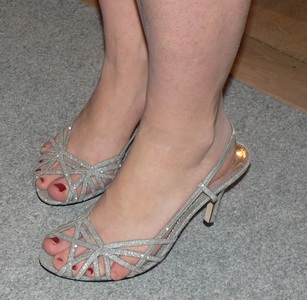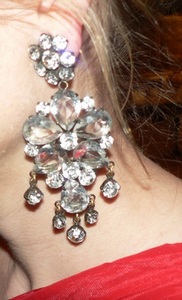 Resplendent in scarlet silk, worn with silvered slippers, Bianca Kawecki wore the evening's most spectacular earrings.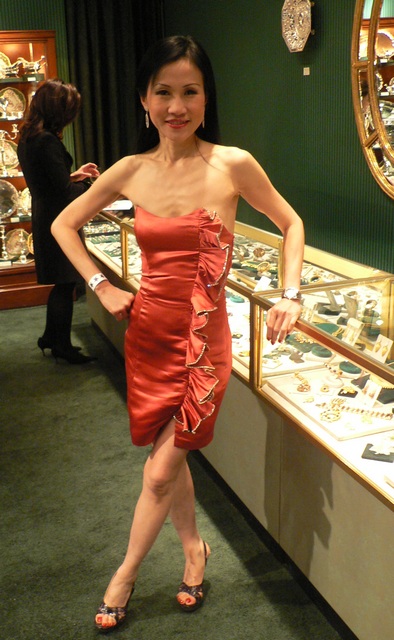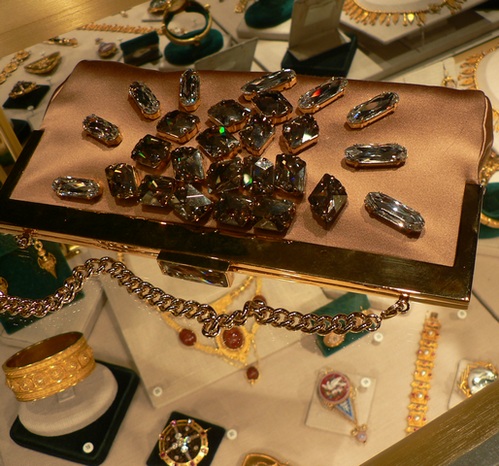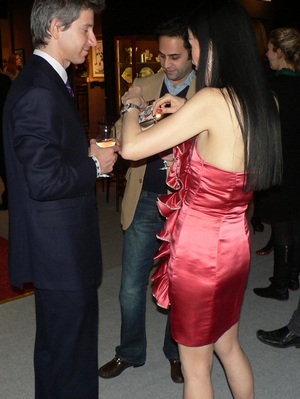 Reed-thin, Chiu-Ti Jansen, similarly abandoned black for a ruffled coral-colored sheath, slinky slippers and a magnificently bejeweled bag.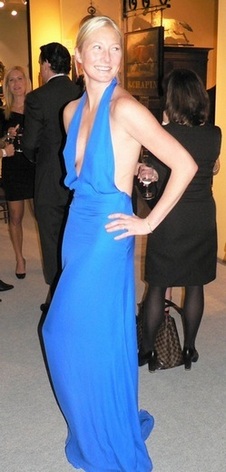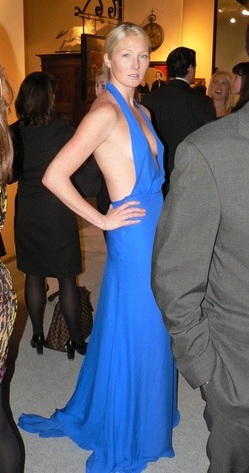 Maggie Rizer, also refusing to forsake color, wore a clinging blue evening gown with a train by Catherine Fulmer.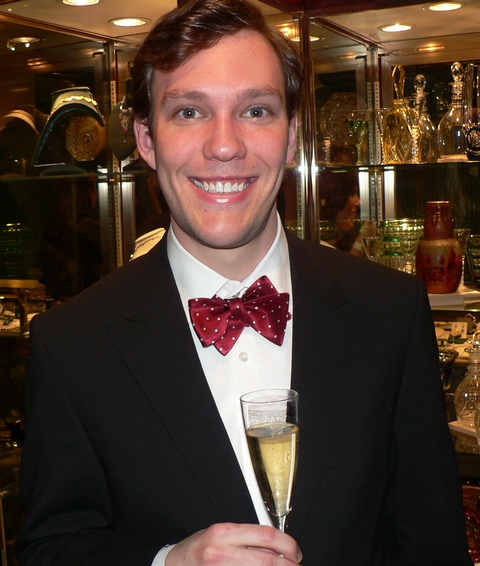 William Rutledge had a captivating smile and wore a winning red bow-tie with white polka-dots.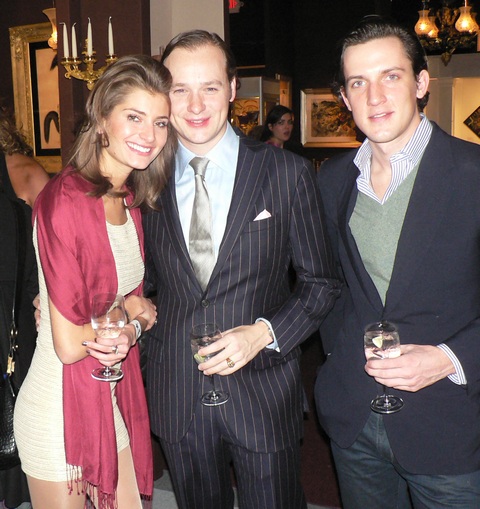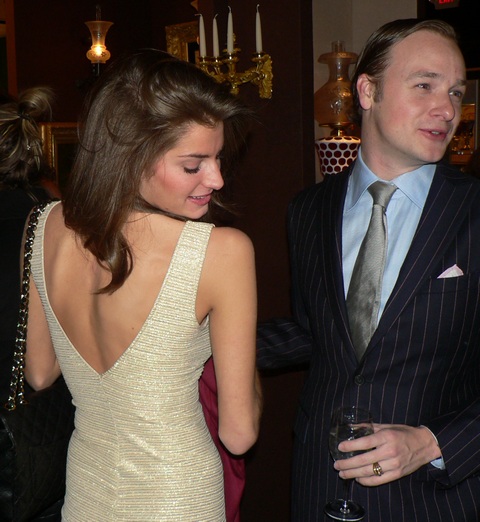 Asniey Passik, with John Munson and Sebastian Bland, in a short-skirted silvery dress boasting an uncovered back, attracted Bill Cunningham's attention as well as mine, and others besides.
What copious sheaves of American Beauty roses there were to behold, placed among mammoth pots of blossoming mauve orchid plants. There were endless knots of people shod in the most incredible shoes all greeting one warmly, greeting one endlessly, people whom one sees only a few times in a given year at other scintillating gatherings just like this one. Most counted as acquaintances, people whom it's easy to like, as one knows them so slightly. Others though are one's dearest friends, people whom we love, if only because with all they've learned, they still think we're great.
Thanks to Tony Victoria rather unexpectedly, I came upon an old, old friend from Ohio, where I grew up, whom I had not seen for years and years. Imagine my surprise, even shock, to see a souvenir of Gwinn in the middle of the booth of the Gerald Peters Gallery! Gwinn, I ought first to explain, is not a person but an estate, with an idyllic house on the shores of Lake Erie, near Cleveland. This otherwise sedate stuccoed house, designed by famed neo-Classicist Charles Adams Platt, boasts a splendidly exuberant semi-elliptical portico dominating fountain terraces down to the water. Magically reminiscent of a Mediterranean villa, arguably, Gwinn is the most masterful integration of a house with its setting, not just in all of Cleveland, but anywhere in America.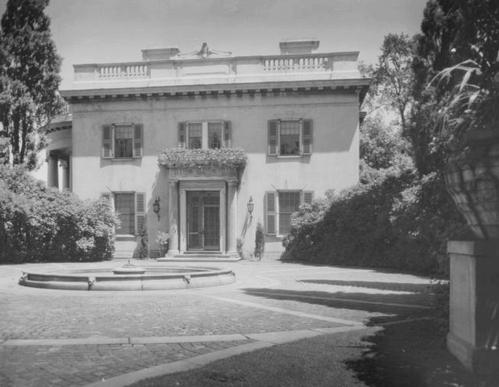 It was built a century ago, for shipping, steel and ore mining magnate William Gwinn Mather, scion of a venerable New England clan. An unlikely beauty lover, who only married at 62, some scholars suspect that Mather was gay, just as many speculate about his friend Charles Freer. It was the Detroit industrialist Freer whose Washington museum features Whistler's extraordinary 'Peacock Room', who had first made Mather aware of Platt. Like Freer, Mather too, evolved into a collector of considerable discernment. Both avidly purchased figure studies by Thomas Wilmer Dewing. Mather aquired as well Italian paintings from the 15th through 17th the centuries. He also owned a single small but exquisite Renoir, 'Woman Adjusting her Earring'.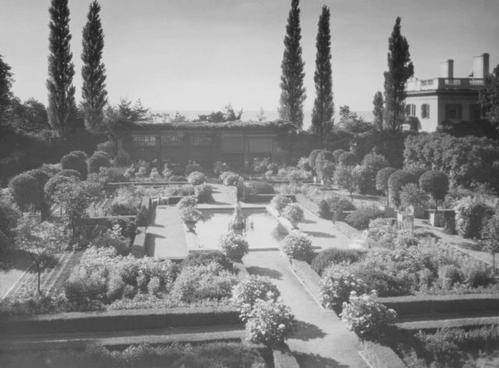 I discovered Gwinn through my friendship with Jeanette Johnson Dempsey, Philip Johnson's older sister. Mrs. Dempsey, her sons, and grandsons, all lived in Bratenahl, an elite enclave surrounded by the city. Her grandsons, though younger than I am became friendly, and visiting them, we'd stroll along the lake's shore until we reached the place that looked just like the back of the White House. The gardens by Warren Manning, Charles Platt and Ellen Shipman had just been restored and were a superb evocation of earthly perfection.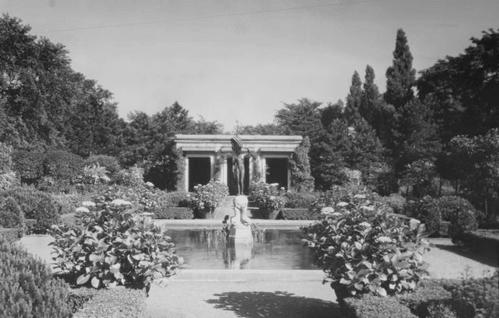 Even before first seeing Gwinn I'd read about it. One memorable evening, a dinner for 200 members of the Garden Club of America, were presented dessert in the form of chocolate ice cream served in in miniature earthenware flowerpots. Little bouquets and boutonnières were set in the ice cream for the individual guests, who, proceeded from desert to the floodlit garden to enjoy a performance starring the première danseuse of the New York City Ballet. Suspended above the platform from which they danced, a great floral garland swung gently in the breeze between the high elm trees.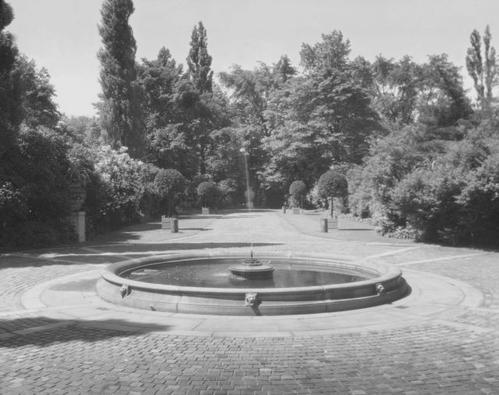 "Go ahead, touch it, try to make it move," teenaged David Dempsey had taunted me. He was referring to a monumental, 9-foot-tall, pink granite urn, weighing 7 tons. It was created by Paul Manship, whose best-known work is Rockefeller Center's golden "Prometheus" fountain-figure. Appearing at a distance like an ordinary ancient Italian oil jar, closer inspection reveals reliefs of Native American life. Completed in 1914, visually it terminated a bend in the gravel drive leading into a paved enclosed forecourt with a circular lily pool and fountain. Backed by evergreens, it was mounted on ball bearings so that Mr. Mather could contemplate each side. Almost at the touch of a hand, it turned as easily as a top.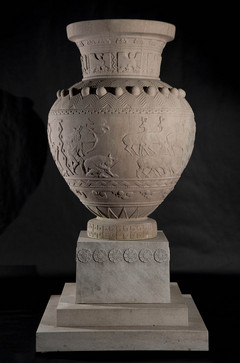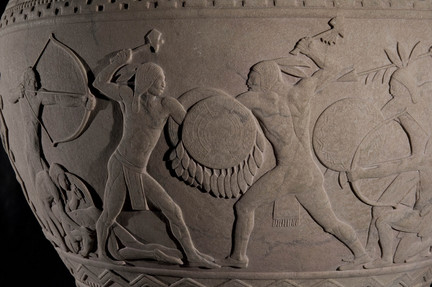 That was David's juvenile joke, daring me, 34 years ago, to move a seemingly unmovable object. And now, here it was before me, under bright lights at the antique show, priced as if the recession were long over, at $6 million. Turned down at a much lower figure by the Cleveland Museum of Art, it's happily been replaced by a convincing reproduction. Probably, this will become the fate of many more ornaments in grandiose gardens across our nation, just as it was a century ago in comparatively impoverished Europe. Evidently, the pursuit of beauty is unavoidably connected to an inevitable despoliation of all our evocations of earthly perfection.
The antique show closed on Sunday, January 31st. Rumor has it that, since it's unprofitable, this may have been the final Young Collectors' Cocktail bash. A s for the Mather house in Ohio, today Gwinn is administered by a private foundation as a conference center.

SUBSCRIBE AND FOLLOW
Get top stories and blog posts emailed to me each day. Newsletters may offer personalized content or advertisements.
Learn more