New restaurants like the discretely-posh, absolutely delicious 5 & Diamond, at 2072 Frederick Douglass Boulevard, 646-684-4662, abound in today's Uptown. But, the Cotton Club of Lena Horne, the Savoy Ballroom, the Lafayette Theatre, Small's Paradise, are all gone.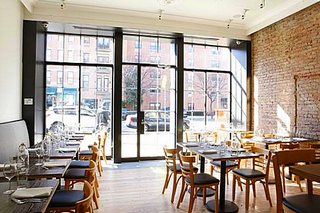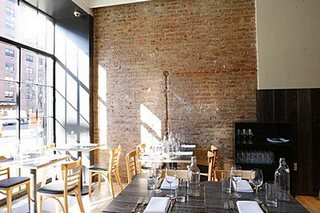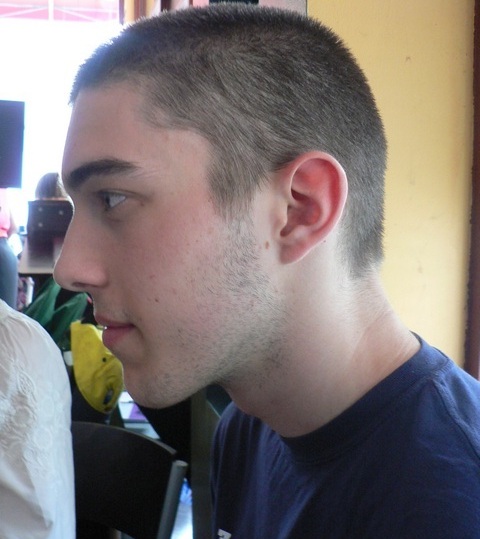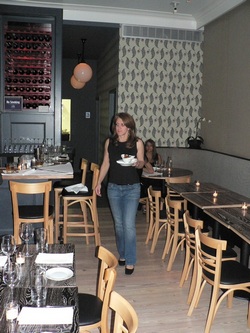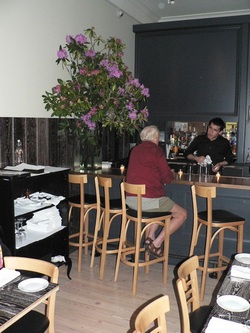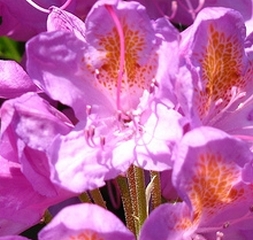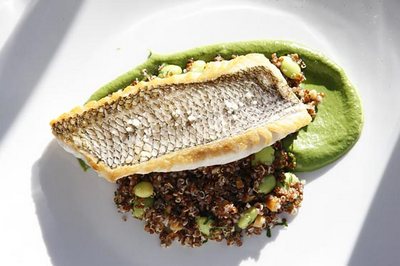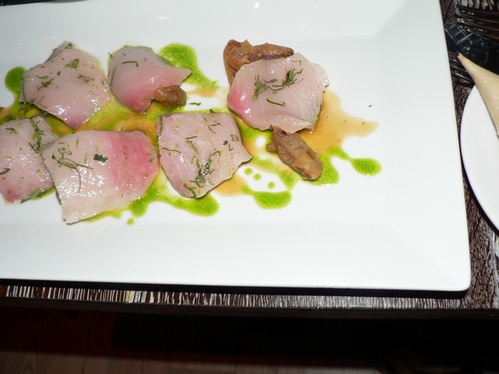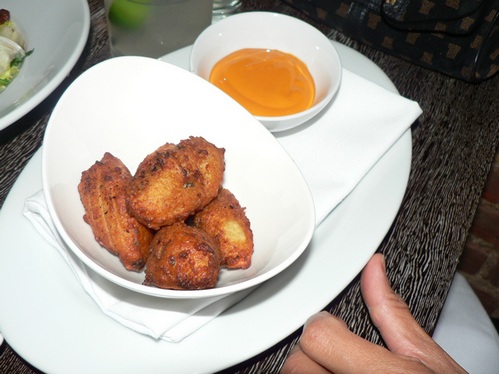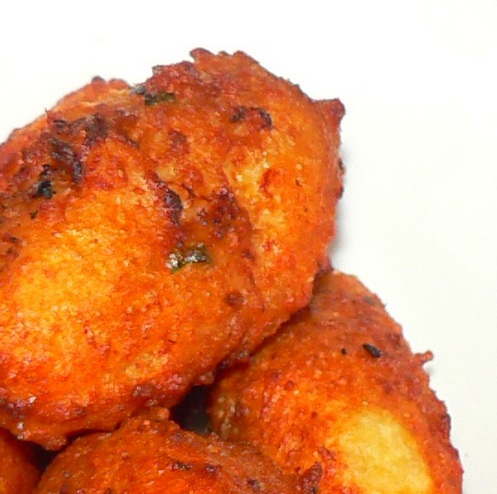 Discretely-posh, absolutely delicious 5 & Diamond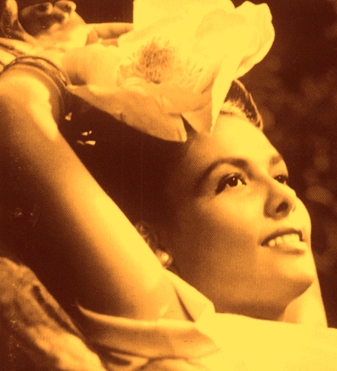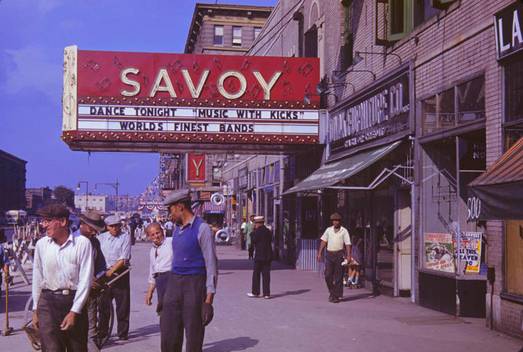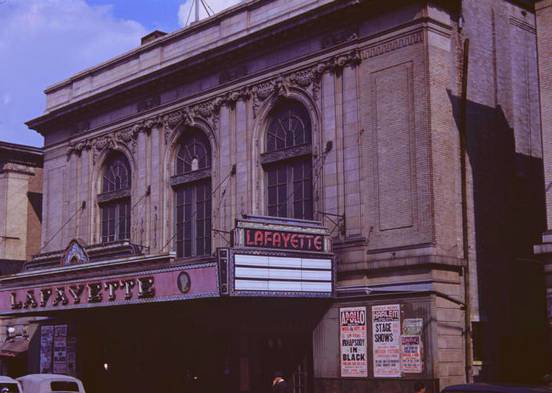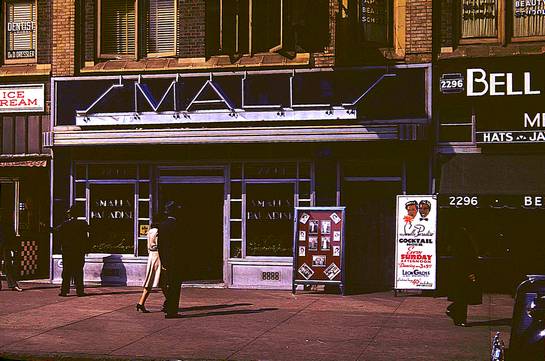 The Savoy Ballroom, the Lafayette Theatre, and Small's Paradise, are all gone
Even the Victoria Theatre, a rare survival from 1919, by Thomas Lamb is under threat!
Is change always inevitable? One thing happily never changes. Spring brings flowers, birds and Harlem's wonderful house tours and the Maysles Institute's Homo Harlem Film Festival, each of which I'm fortunate enough to be involved with. Each is also co-sponsored by Harlem's preeminent elected preservation and cultural advocate, State Senator Bill Perkins.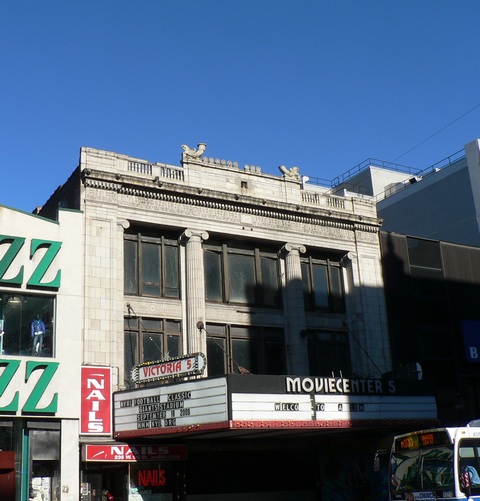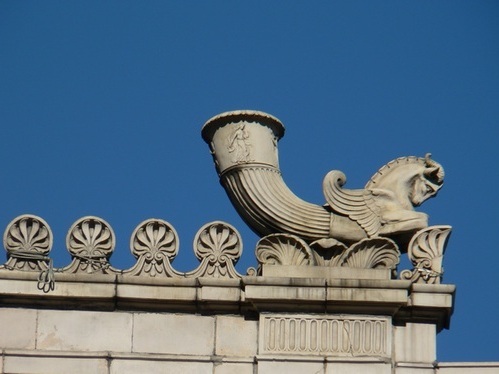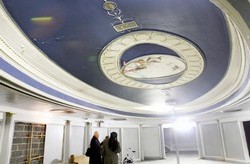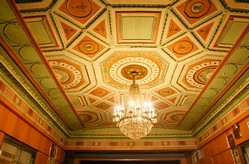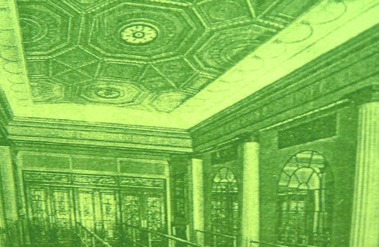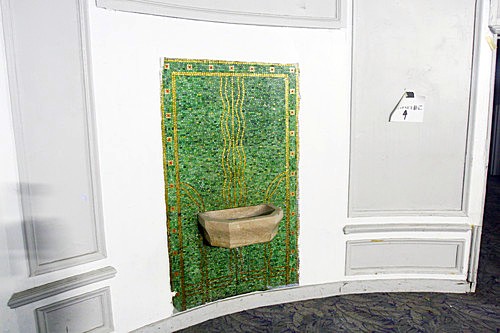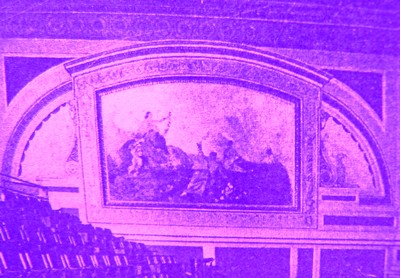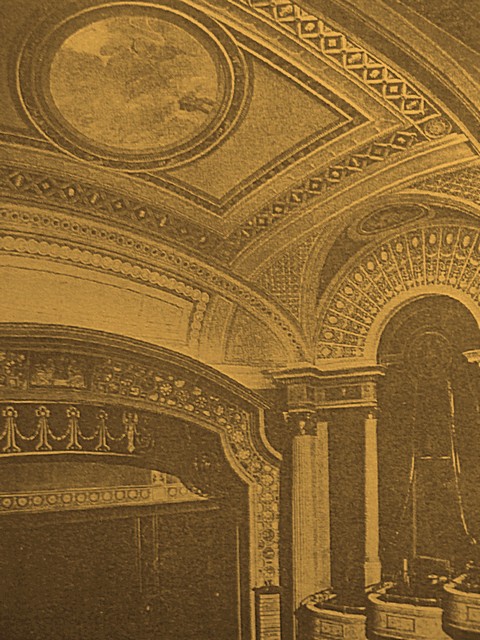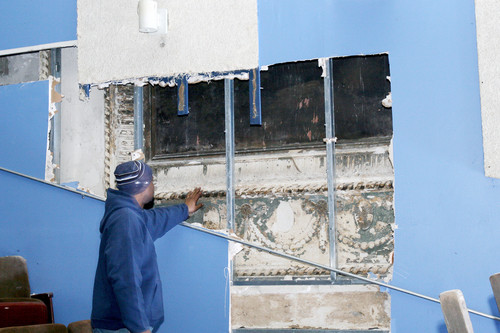 Even the glorious Victoria Theatre, a rare survival from 1919, by Thomas Lamb is under threat!
So, if you've ever wandered down a street at night, to catch glimpses of inviting interiors suffused in artificial light, if you've ever seen an imposing house that seemed as old as time, and wondered what its history was--who lived there, and what happened to them-- you're in luck!
Graced with a diverse riot of rich architectural embellishments, Harlem was once predominately an Irish-American neighborhood. The mayor, city commissioners, teachers, police officers and firefighters all lived in Harlem 130 years ago. Now, few of their great-great grandchildren live in Harlem--or even within the city limits. Yet--thanks to enduring political clout--they still dominate many civil service departments.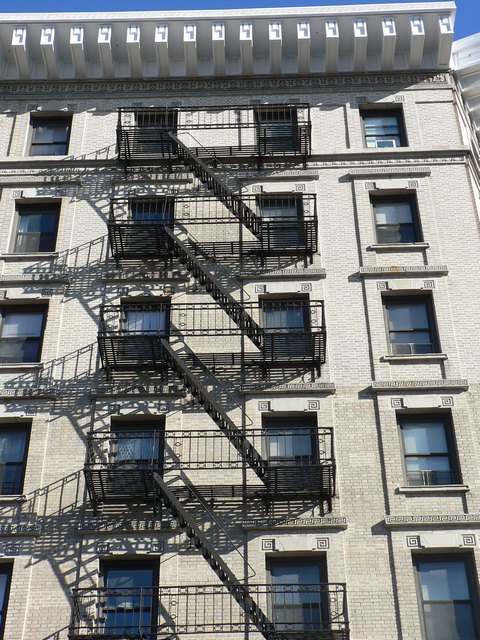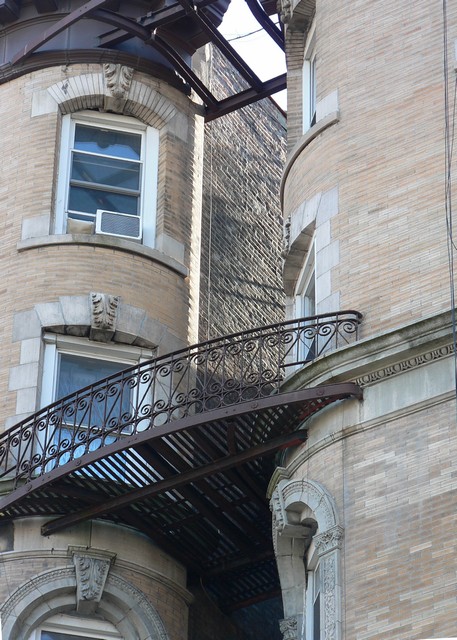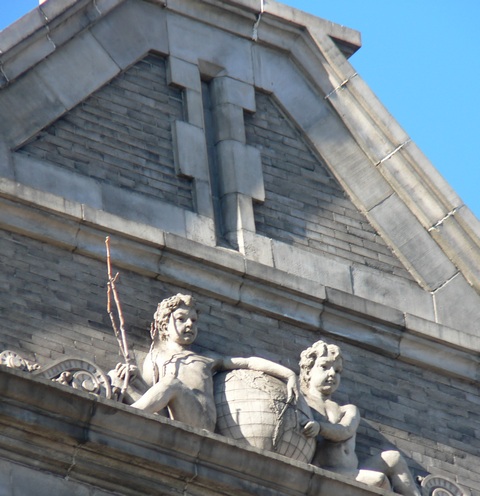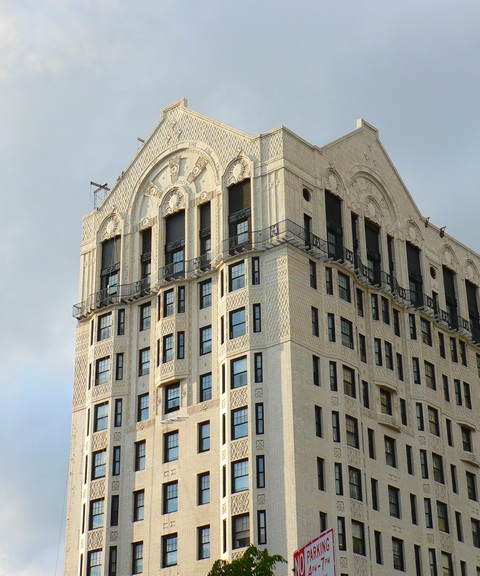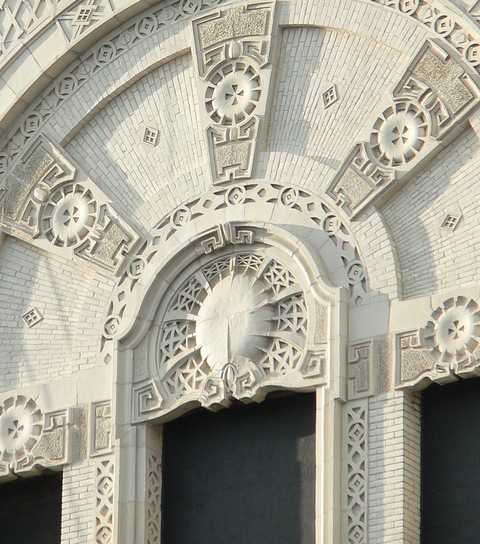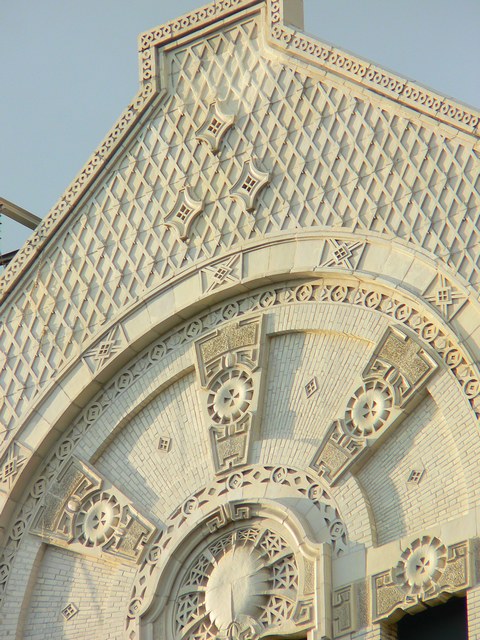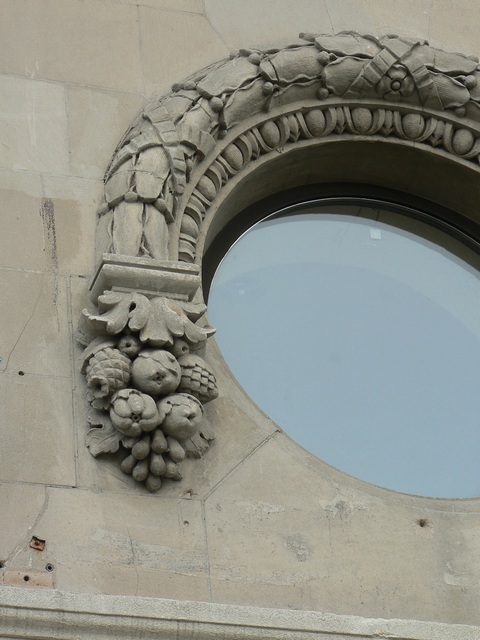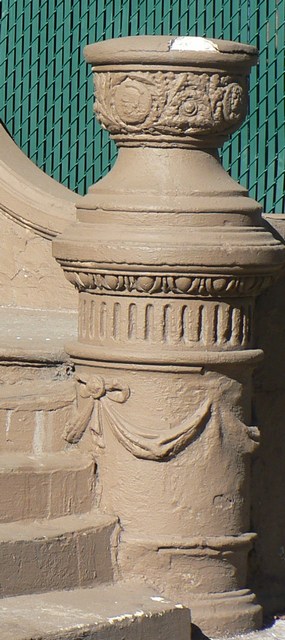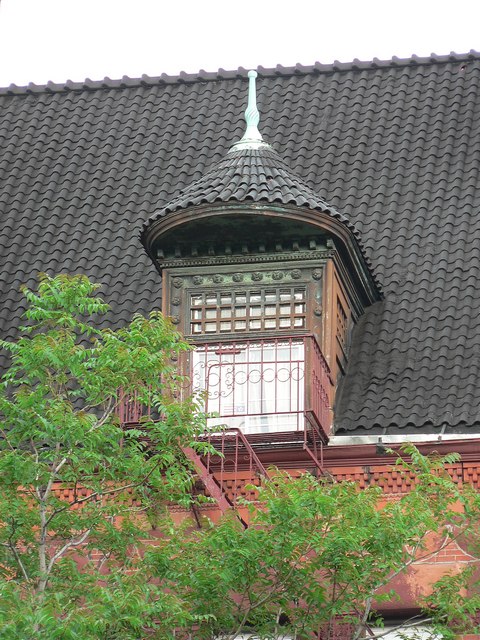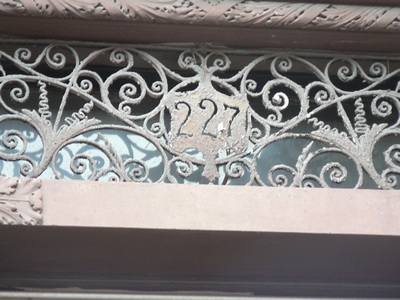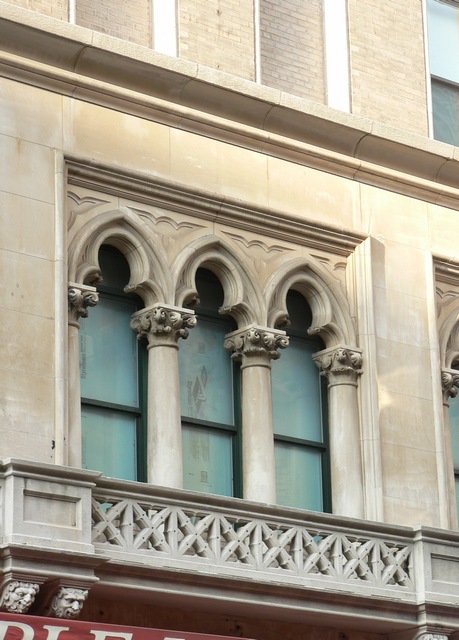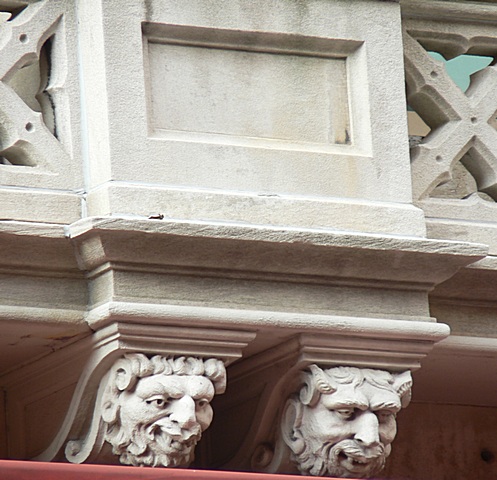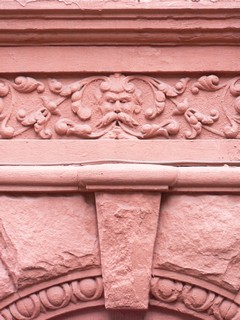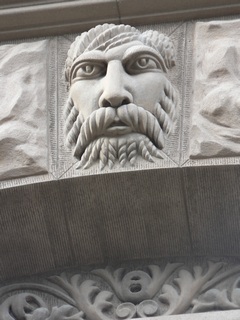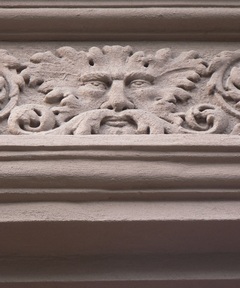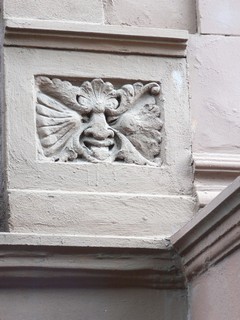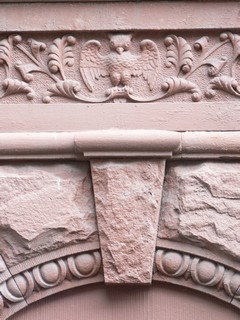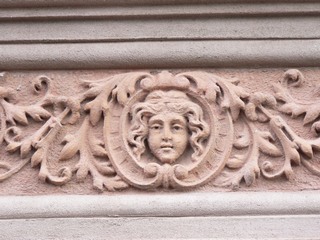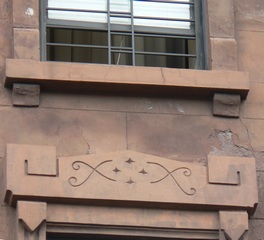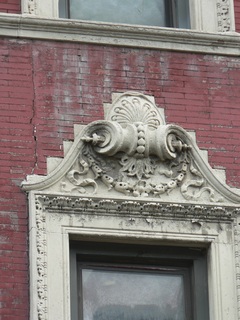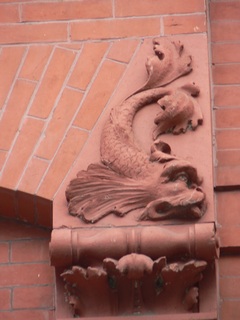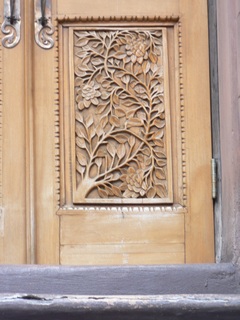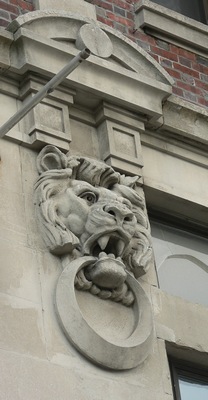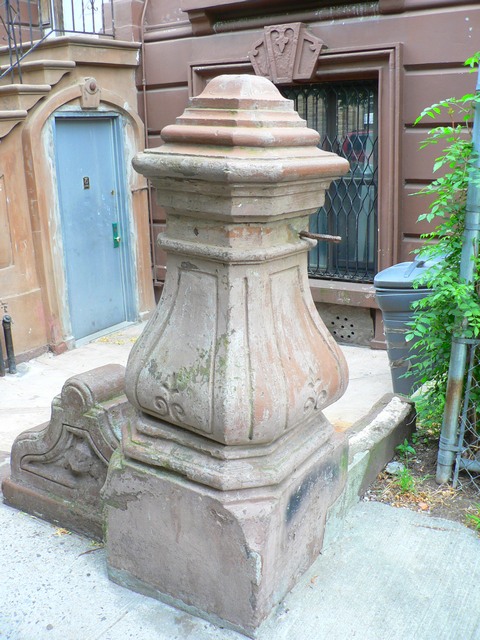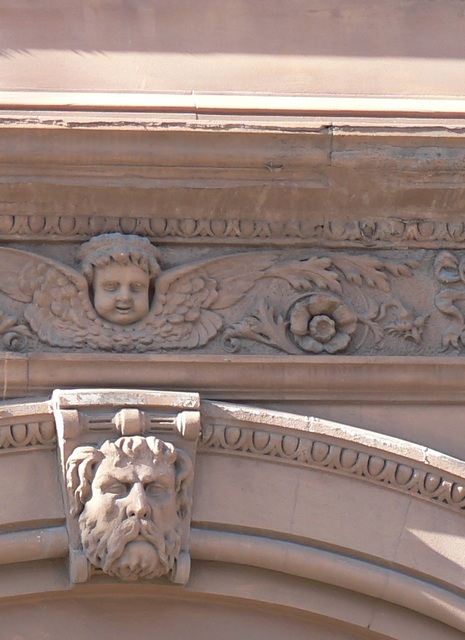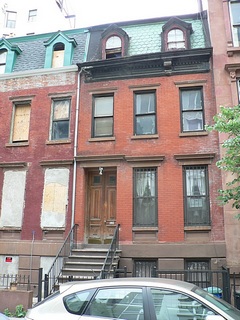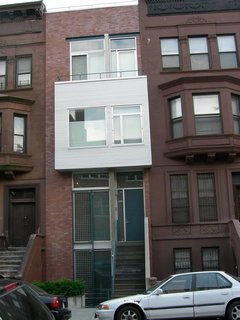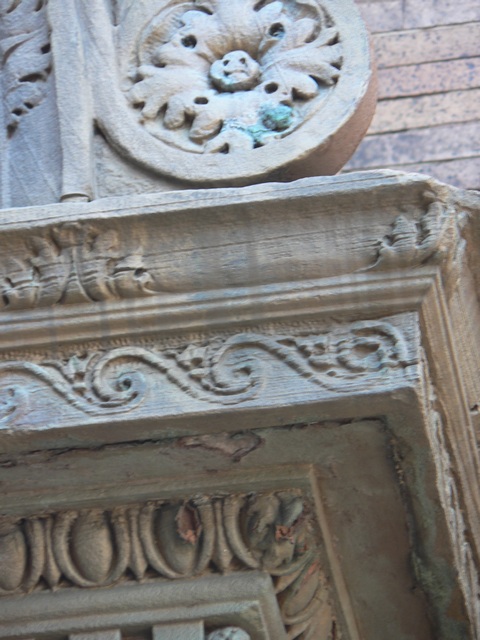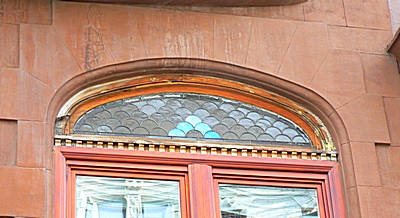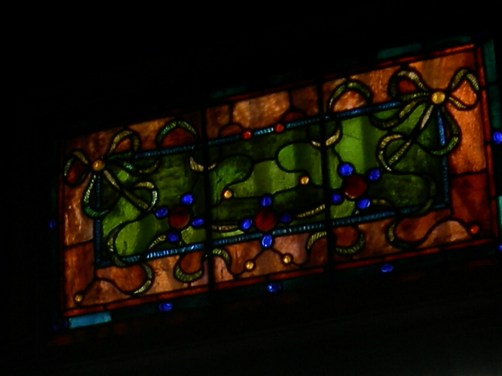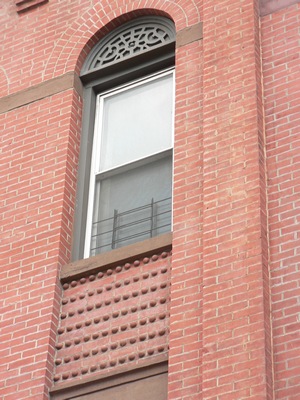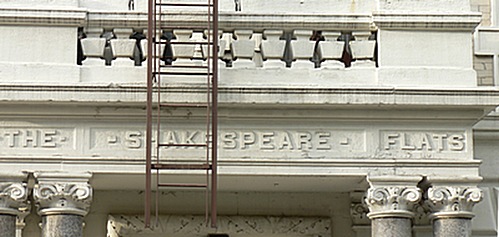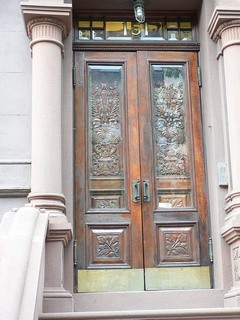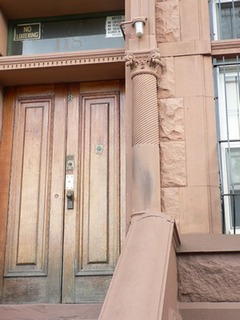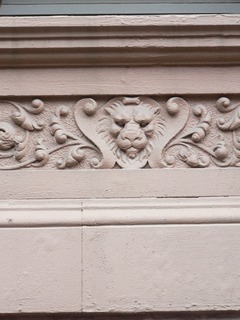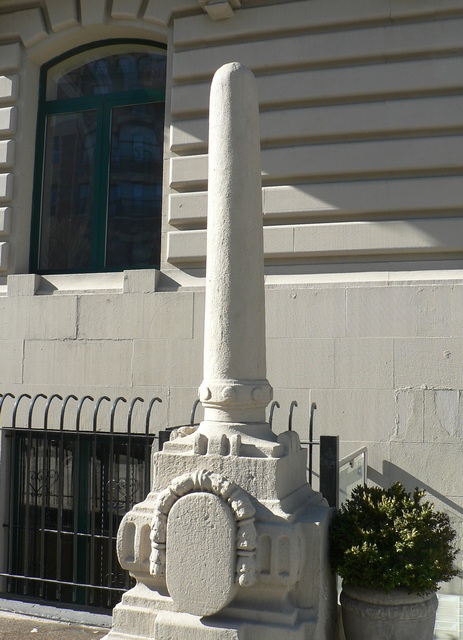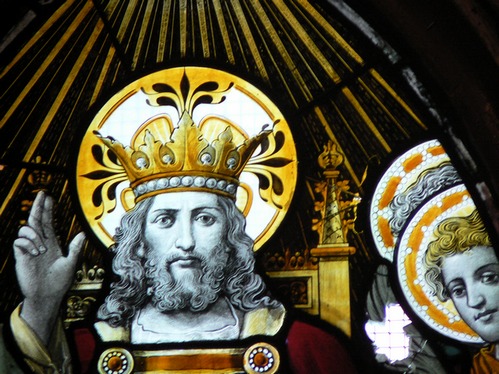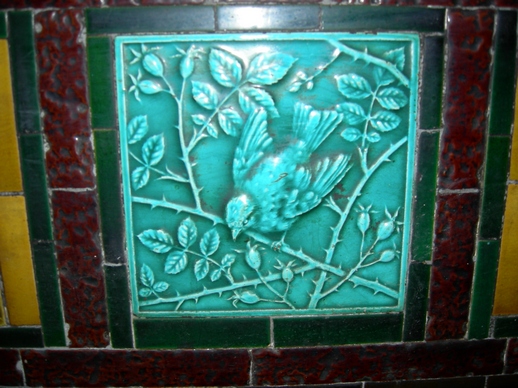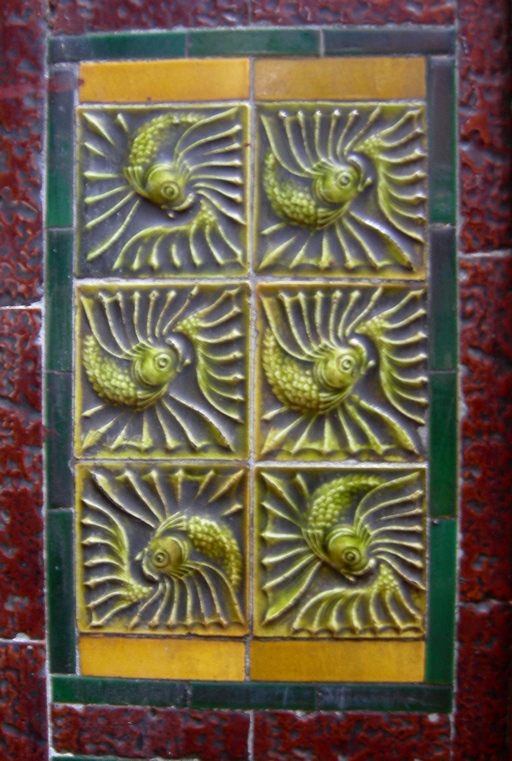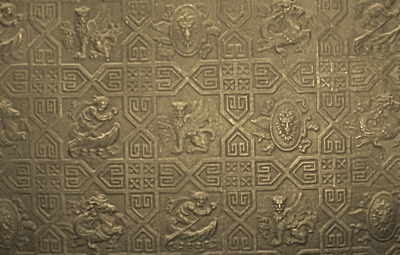 Rich details of Harlem's architecture
By 1920, accelerated black migration during the First World War had made Harlem into the African American Cultural Capital. Adopting the white ethnic model, wherein disciplined party politics equaled political wallop, Black leaders were able to secure street name changes and affordable housing in thoroughly red-lined 1960's through 1990's Harlem.
Today, "affordable" housing is the exception. The "change" elected bureaucrats assiduously helped foster will surely spell their demise. But this was hardly the goal.
Knowing many blacks lack resources, politicians merely turned to people who do have cash. It was a logical calculation that's helped expand campaign coffers and spurred condominium development too. Changes wrought by this alliance of expediency have hardly been inevitable, organic, fair or right. Neither might nor means makes right.
What of a century ago, when white residents greeted tentative black settlement near 135th Street, as they might have met the invasion of a foreign power? 'The Negros have infiltrated yet another block on 130th Street, where they had previously been repelled' screamed one typically hysterical headline.
The past of 138 West 121st Street, one of a group of 5 Queen Anne style houses designed by Gilbert A. Schellenger, and completed in 1888, was very different than today. First owned by Mary A. Wood, who lived here until her death in 1902, aged 70, in 1906 it was acquired for $23,700 by Elias Surut and his wife Esther.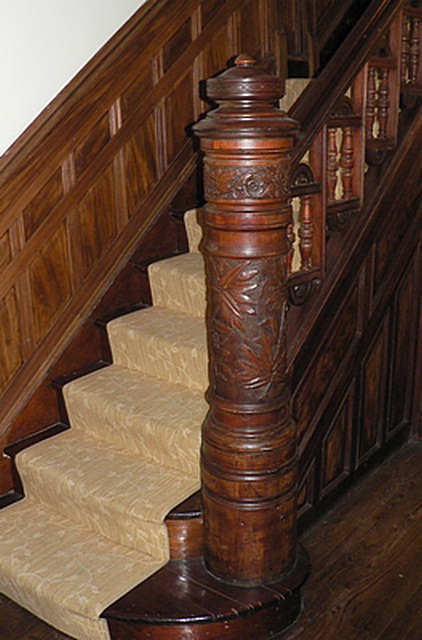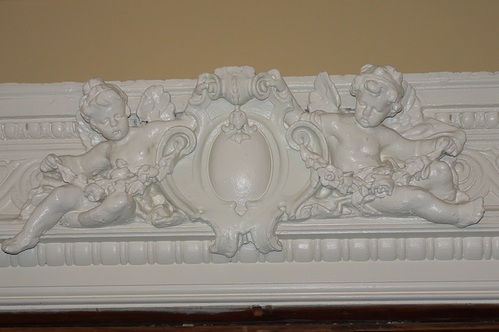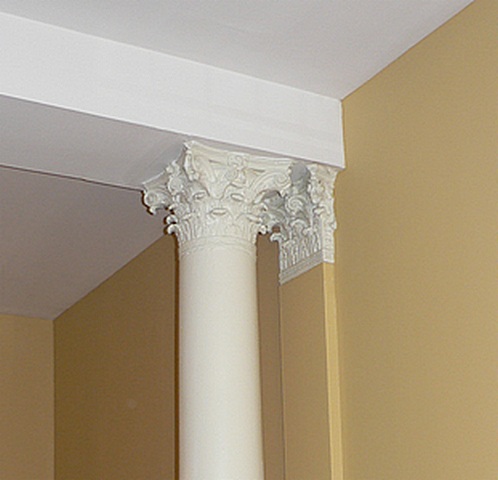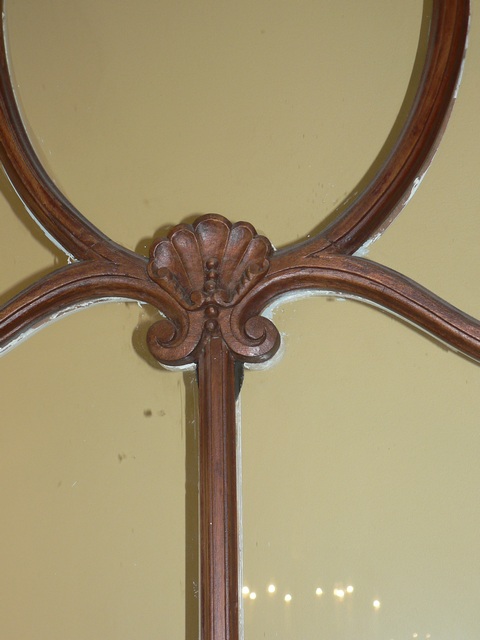 This is all ordinary enough; although the Suruts had two sons and three daughters, and lived with Mrs. Surut's mother and brother. The current owners of their house, Courtney and Wilhelm Daniel O'Malley have just two sons and a daughter. Overall, the difference between the past and present, is one of degree: While both the O'Malleys help direct major philanthropic organizations, Mrs. Surut never worked and her husband headed what became the Woolen Corporation of America.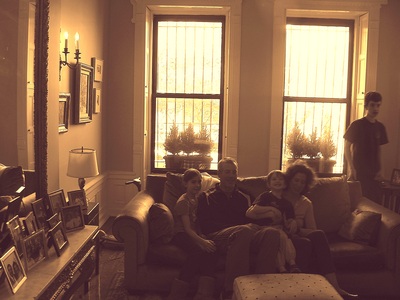 This meant an abundance of live-in servants, including a cook, a housemaid a nursery maid and a chauffeur. In summer the Suruts sojourned to their country house at Arverne in Rockaway Queens.
For those who imagine Harlem life a century ago as a carefree idyll, it's worth recalling Mrs. Surut's shock one afternoon in 1911. Going upstairs alone to sprinkle more camphor flakes on the carpets as a precaution to prevent moths, before a trip abroad, she saw a pair of men's trousers dangling from the stair hall skylight. 'A practical joke,' she thought, until closer inspection revealed the legs of a dead man who, attempting to break in, had accidentally hanged himself.

Like the graduated steps on a staircase the school age O'Malley children don't yet know this story. Their life of school and play is hardly the rigorous round of dancing classes and outings meant to lead to a suitable marriage pursued in days gone by. Three going on ten, in imitation of his older siblings the youngest O'Malley already shows promise as an imitator of Matisse.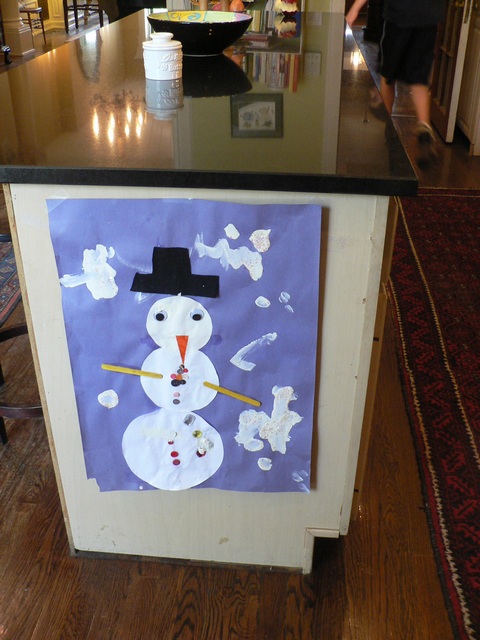 His parents say that apart from ample affordable space and exquisite, intact architectural details, what drew them here from the Upper West Side, was the kind of diversity they see disappearing downtown. Ask what their thoughts are about Harlem's future, if in the wake of houses and apartments that cost $2,000,000 and more, if that diversity, of race and class can prevail, they answer, "Of course," adding, "It won't be exactly the same as today, but there will still be a variety of different kinds of people living here!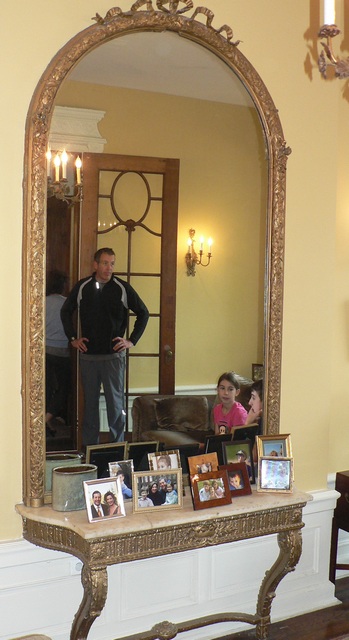 All throughout the 19th century 124th and 126th streets functioned like back alley-ways for theatres and commercial buildings on Harlem's 'main street', today's Martin Luther King, Jr. Boulevard, 125th Street.
For 30 years after it moved from lower Sixth Avenue in 1893, Koch & Company, at 132-140 West 125th, was Harlem's preeminent department store.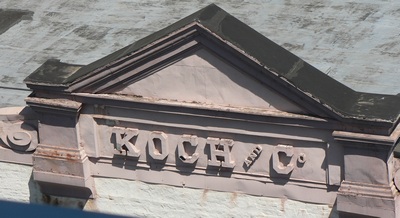 Designed by William H. Hume & Son, Koch & Company's Victorian exuberance was echoed in a lower key when the same architects designed a six storey warehouse connected by an underground tunnel to the store. Located at 138-140 West 124th Street, it was completed in 1906.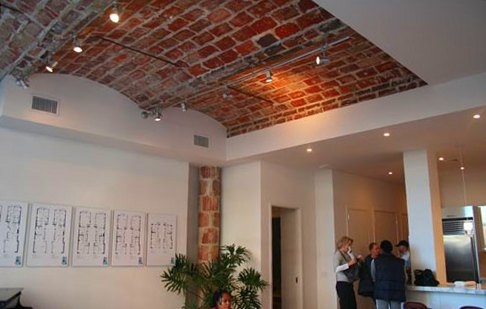 Built to endure, with massive masonry walls and floors supported by terra cotta tile vaulting, as Loft 124, with the addition of 6 new levels, this structure has been thoughtfully adapted into Harlem's newest condominium development. Covering the entire 50 X 100 foot plot, extending from 123rd to 124th Streets, outfitted with an abundance of expansive windows and lengthy terraces, it's the spectacular views, over Harlem and downtown, that most distinguish this building.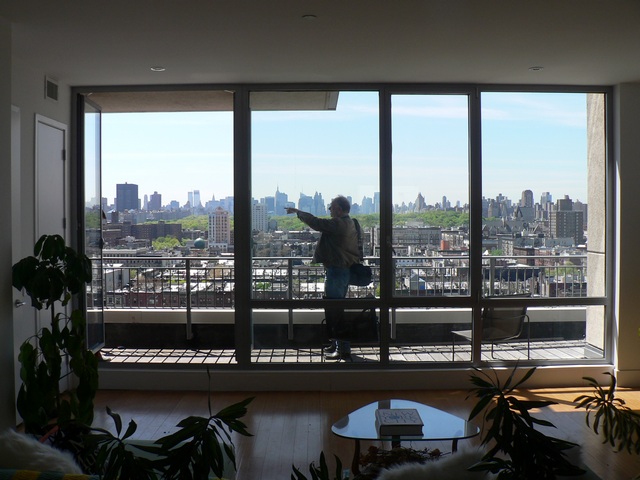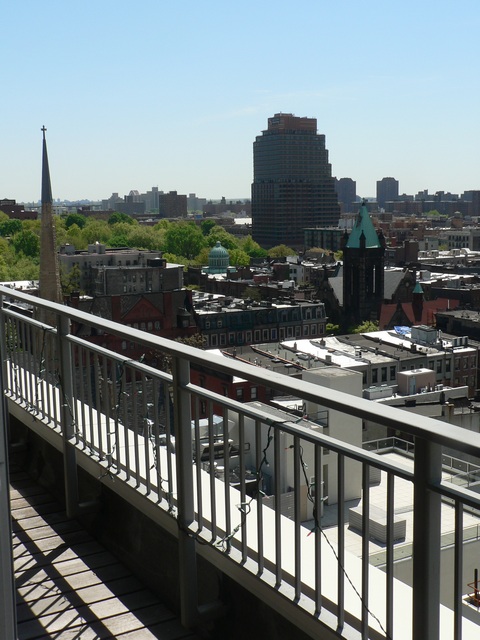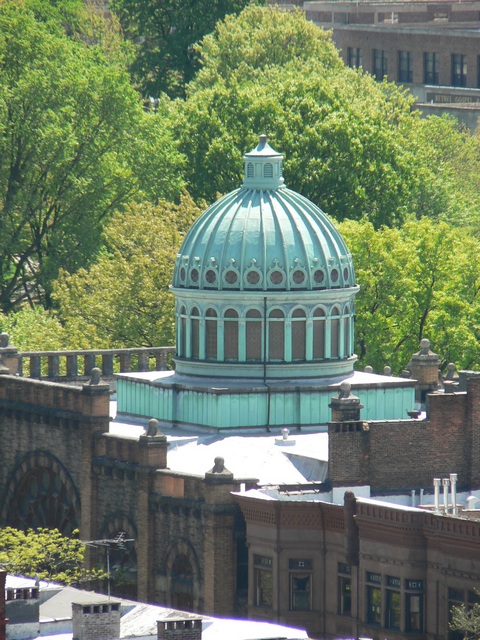 Bamboo floors, remote controlled gas burning fireplaces, grey-veined marble counter tops, custom designed Italian cabinetry, 6 burner Viking ranges, a Sub-Zero refrigerator, built-in wine storage, walnut vanities with double sinks, tilt-and-turn windows, a washer/dryer and central air conditioning, as nice as they are, such amenities are ordinary enough in any modern luxury tower.
"But the view from my bedroom is exceptional," says realtor Todd Stevens, the fortunate owner of a penthouse here, "you see the park, the Empire State and the Chrysler Buildings, it's exhilarating!"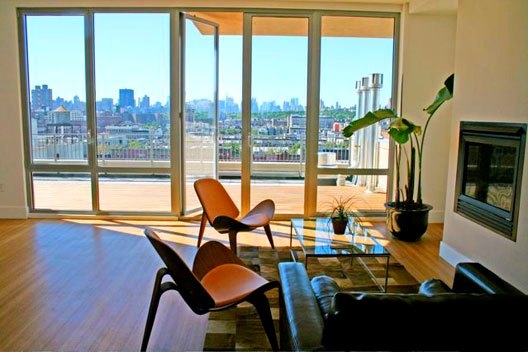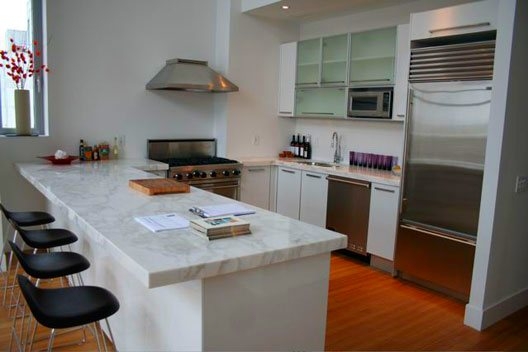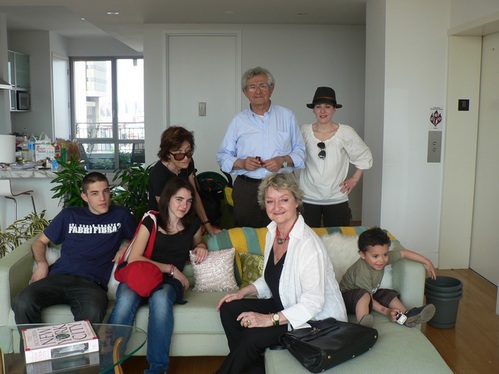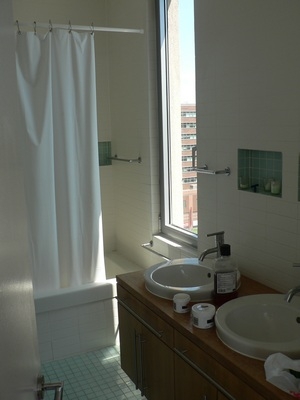 A native of Boston the 37-year-old Harlem enthusiast who's lived uptown for 12 years, also marvels at the opportunities that abounded here in what he refers to as the "good times, 2003-2007". "All sorts of new people moved here. Many had kids. The prices were so affordable compared to Park Slope or the West Side, and this is a superior neighborhood.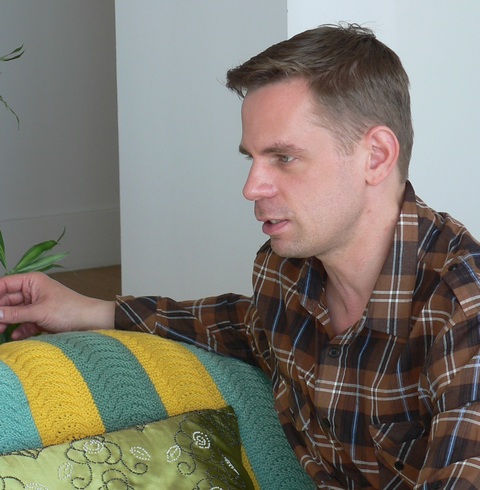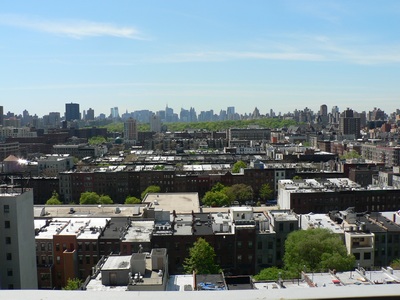 Many of my clients were able to buy a house or apartment and a nearby income-producing building as well. That's what I did. I'd heard that my landlord might sell the landmarked brownstone where I lived, but was sure he'd never sell to me.
Apartments at Loft 124 cost from $800,000-$1,800,000. Mine was near the top end, so when I took the plunge and got it, that's when Jim said, 'Now, I know you're serious and committed.' It was a stretch, but I bought his brownstone too.
Every race and profession imaginable, my neighbors at Loft 124 are all between 30 and 33. That alone indicates how the potential of Harlem is limitless!"
A Victorian brownstone to be featured on the Mount Morris Park House Tour walk called, Inside and Intimate, was once owned by Dr. J. Gardiner Smith. One Hundred years ago, he helped lead those who fought to try to keep Harlem white. One of Dr. Smith's daughters Marguerite Smith was the first woman elected to serve in New York's statehouse, in 1919.
Currently The Smith house, is owned by renowned movie-maker Albert Maysles of Gray Gardens fame and his wife Gillian Walker. Now, as when I lived here at the end of the 1990's, it is a colorful treasure-trove of exotic orientalist decoration. It also has a beguilingly lush garden where cooling refreshments will be offered
The second destination on this walk is Valerie Bradley's house, built in the 1880's. It has a warm atmosphere redolent of down-home Harlem rent-parties during the 'Renaissance 'period of black creativity. This is ideal, since Valerie, who's just completed an authoritative guide to Harlem also operates a popular, but little known b-n-b here. Those who come to stay are invariably so pleased that they plead with their attentive host--'please don't tell anyone else, who might spoil things!'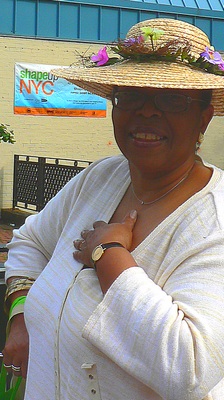 Designed by Cleverdon & Putzel, Audrey and Bernardo Rubie's ornate Victorian house was completed in 1891. Embellished by the usual elaborately carved oak and mahogany, it also boasts a handsome collection of family portrait-photographs.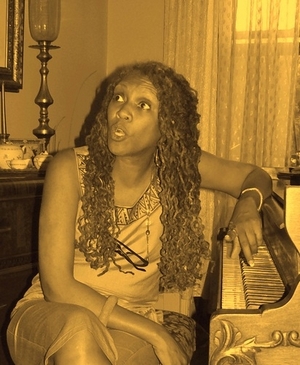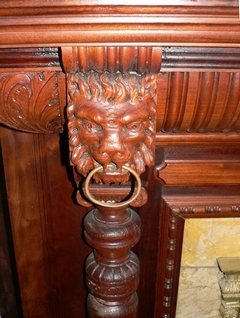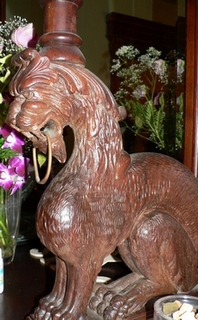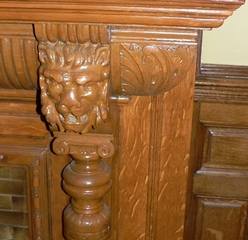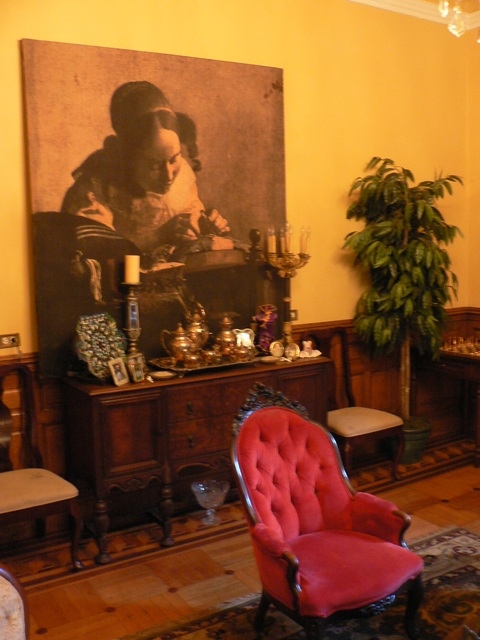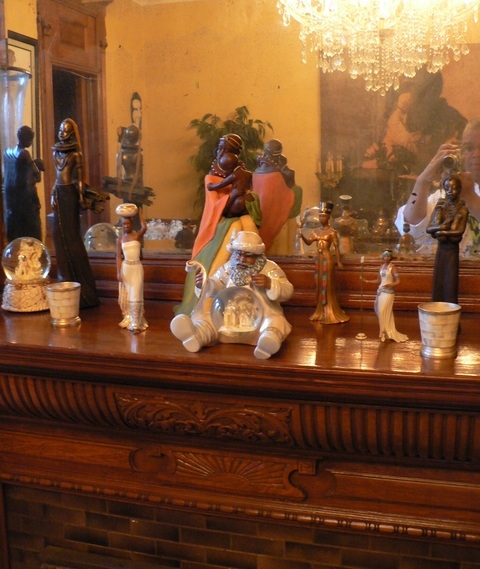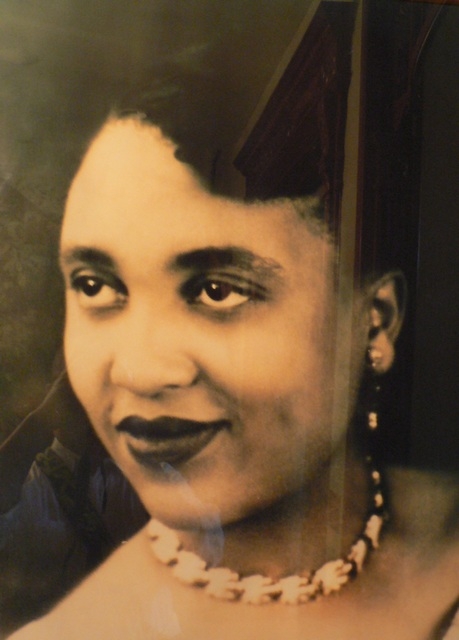 Better still, the Rubie's interiors are enriched by powerful mystical paintings by their 20-year-old son Haile. Overcoming the challenges of Down's syndrome Haile's inventive work has been acclaimed by critics far and wide, from France, to Japan and points in between. "Haile is a wonderful son who has become a wonderful artist: He has painted since he was only 4. We encourage Haile in every way that we can, and these reflections of his imagination are extraordinary!", say his justly proud parents.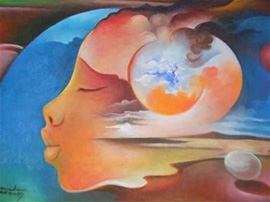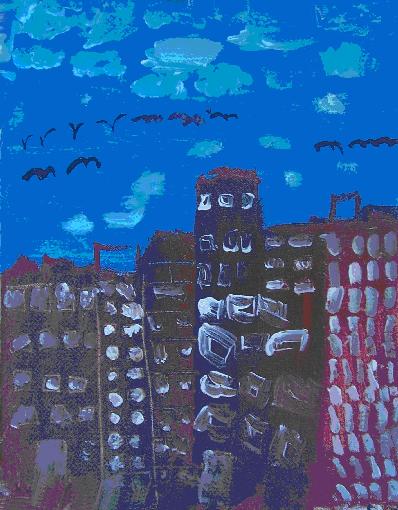 >
Astute individuals, who acquired their special homes when Harlem was still a bargain, today enjoy magnificent surroundings that most of us can only dream of. Joining the Hamilton Heights Homeowners Association walking tour, led by none other than me, offers a priveleged glimpse of a private realm. One can obtain additional information and purchase tickets on the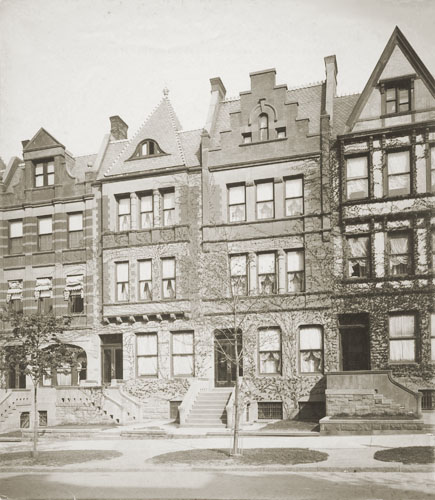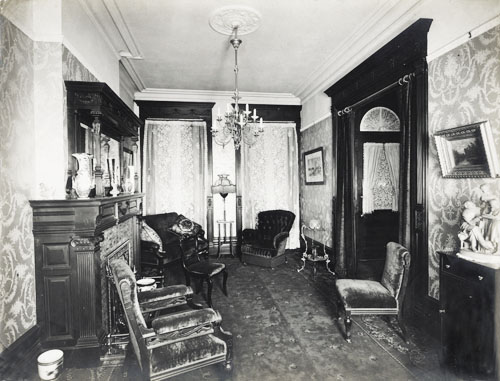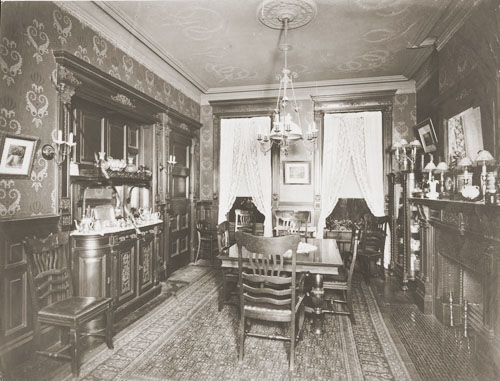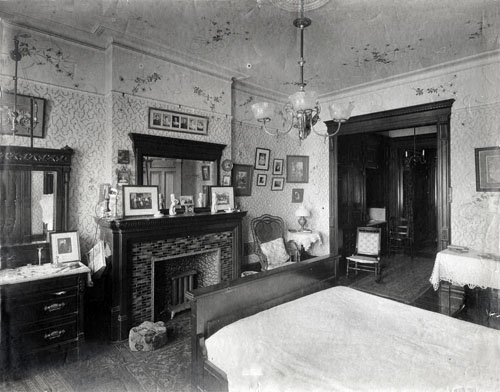 Views of Richard Leeland Sweezy house, 329 Convent Avenue, ca.1908
The Museum of the City of New York celebrates Pride Week 2010 with the opening night of Maysles Cinema's second annual Homo Harlem film series. This week-long event investigates the cinematic representation of gay life and culture in black America's fabled homeland. Co-sponsored by State Senator Bill Perkins, Men of All Colors Together, Harlem Sage and Queer Black Cinema, the series is curated by Michael Henry Adams. For a series schedule visit /www.mcny.org/public-programs/all/Homo-Harlem.html" target="_hplink">Cinema@mayslesinstitute.org. $http://www.mcny.org/public-programs/all/Homo-Harlem.html
Reservations Required
$12 Non-Members
$8 Seniors and Students
$6 Museum Members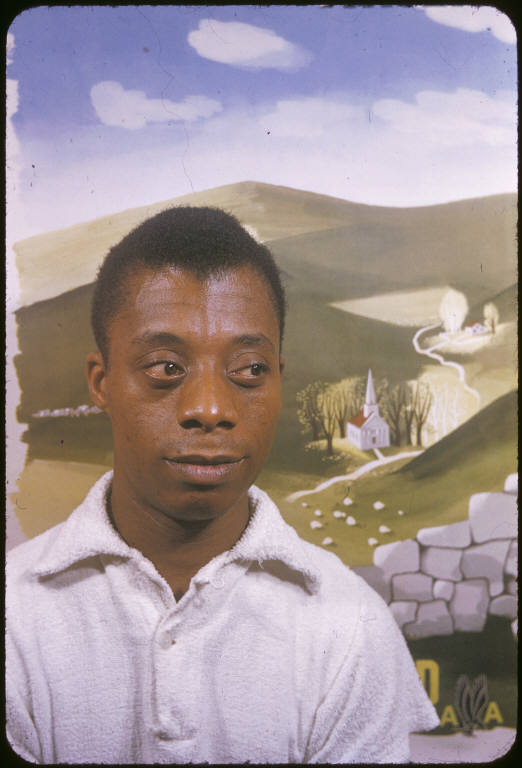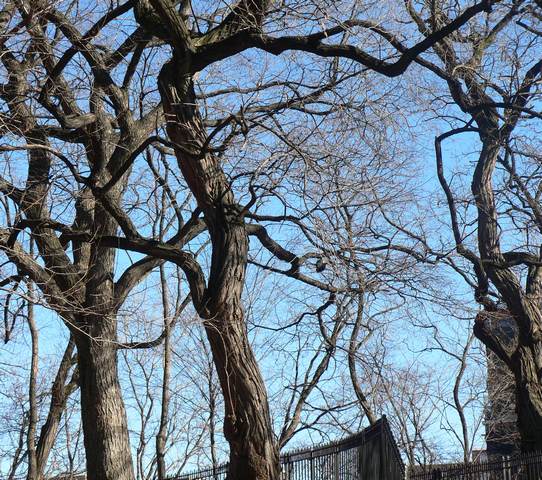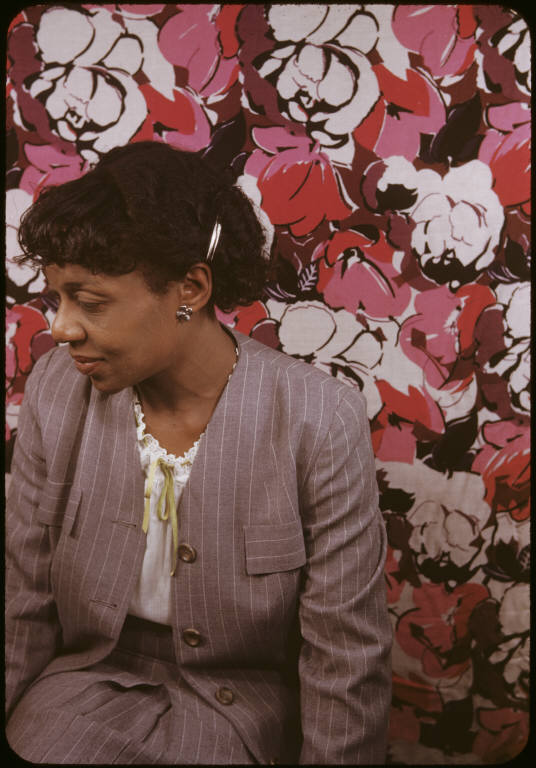 Jimmie Baldwin, Dorothy West and the elms of St. Nicholas Park all feature in this year's film festival
SUBSCRIBE TO & FOLLOW THE MORNING EMAIL
The Morning Email helps you start your workday with everything you need to know: breaking news, entertainment and a dash of fun. Learn more