McCain and Obama aired television ads this past weekend that emphasized themes that have been the backbone of their campaigns from the outset. Obama himself predicted this final weekend would be filled with smears from McCain, yet McCain refrained from mentioning Ayers, Jeremiah Wright, and even refused to comment on Obama having an Aunt living in the U.S. illegally. Instead, as Sam Stein pointed out a few days ago, McCain wisely ends his TV ad campaign with the message that has resonated the most with voters: McCain's biography. Obama also ends on a positive note, as he attempts to seal the deal with those key demographics that he had struggled with in the primary, by preaching a gospel that change will make America stronger.
McCain "Freedom" Ad (October 30, 2008)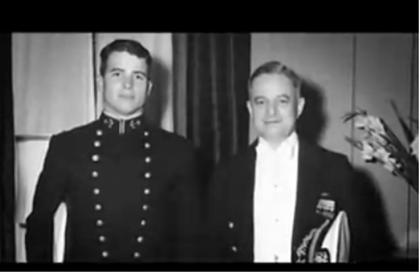 McCain: I've served my country since I was 17 years old.
McCain begins the commercial with straightforward biography, as a picture of him and his father reminds viewers that he was a soldier brought up in a disciplined military family, and has committed his entire life to serving this country.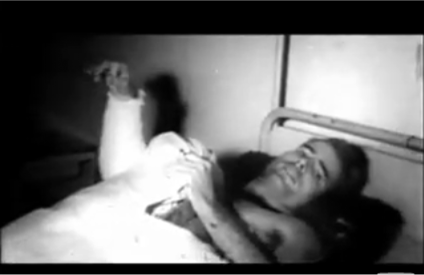 McCain: I spent 5 years longing for her shores. I came home dedicated to a cause greater than my own.

The ad segues into a powerful visual of a battered McCain, wearing the wounds of his torture as a P.O.W. in Hanoi. After seeing this image, it's impossible not to be moved by the thought of a man who suffered for over five years in captivity and was mentally and physically abused. And it's impossible not to think that he has the strength and fortitude to be commander in chief.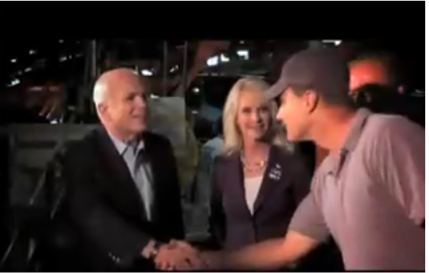 McCain: We can grow our economy. We will cut government waste.
McCain signals to blue-collar workers that his policies will lead to economic growth and job creation, reinforcing his commitment to pro-business tax cuts and reducing pork barrel earmarks. McCain uses the word "we" in his narrative to convey the humble feeling that he and the voters are in this together, and as a team, they can get this economy back on track.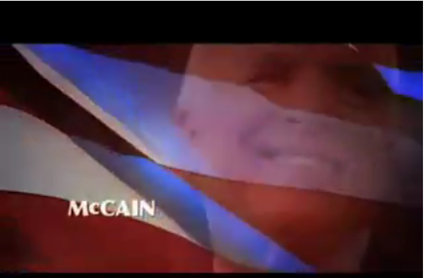 McCain: Don't hope for a stronger America - vote for one. Join me.
McCain ends the ad with a slight jab at Obama's message of hope, alluding to earlier assertions that Obama's campaign consists of empty slogans. The visceral image of the American flag blending with McCain's face, combined with the slogan "join me", is an attempt to strike a patriotic chord with voters.

Obama "Something" Ad (October 31, 2008)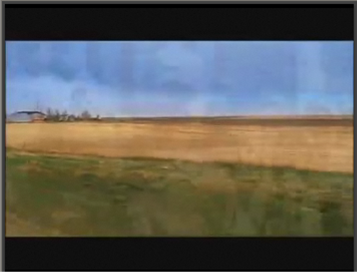 ANNCR: Something is happening in America. In small towns, and big cities. People from every walk of life, uniting in common purpose.
Obama returns to a more abstract approach that he used during the primary, as the announcer says, "Something is happening in America," referring to the phenomena that ignited his soaring popularity. The vivid snapshot of the American heartland exposes the Obama team's strategy of trying to bond with middle class voters and voters in red "fly over" states - trying to tell them that he's as American as apple pie.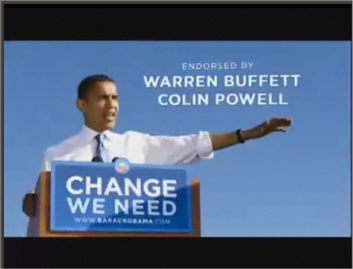 ANNCR: Barack Obama. Endorsed by Warren Buffett and Colin Powell. A leader who will bring us together.
Obama emphasizes two monumental endorsements from Buffett, one of America's most successful and well-known investors, and Powell, a high profile former Chairman of the Joint Chief of Staffs, hoping folks come to believe that he has superior economic policies and to ease concerns about his lack of national security experience.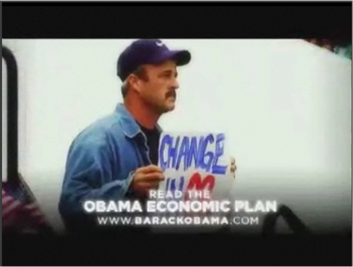 ANNCR: We can choose hope over fear, and unity over division, the promise of change over the promise of the status quo.
In this frame, while Obama touches upon his themes of hope, unity and change, like McCain, he attempts to reach out to white middle-class voters that he struggled to capture in states like Ohio and Pennsylvania.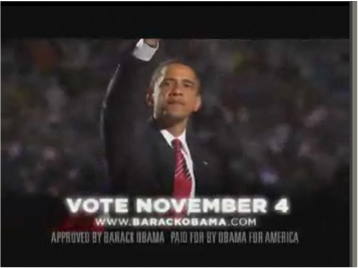 ANCCR: That's how we'll emerge stronger and more prosperous - as one nation, and as one people.
Obama wants the audience to conclude that he is best suited to lead this country back to prosperity, which is critical, considering the pain many Americans are feeling who have been helplessly watching their 401Ks, savings and other investments melt away on a daily basis.
McCain takes the high road in this final weekend of the campaign, with a strong and effective ad that highlights his character and experience. He calculates that his biography and personal traits will trump Obama's change theme and issues like the economy, while he also tries to insert the seed of doubt that Obama is too risky. He hopes images of his courage, feelings of patriotism and qualms about Obama seep into the subconscious of voters. The Obama ad almost has a spiritual quality to it, meant to trigger excitement about the future, about change and about new leadership. Obama uses powerful language centered on the concept of unity throughout the add, ending with "as one nation, and one people." Obama's ad counts on the fact that Americans are tired of bipartisan and ideological politics, and are ready for change, and in this ad tries to convince voters of all backgrounds that he is the one that can heal and lead this country to better and brighter days.
SUBSCRIBE TO & FOLLOW THE MORNING EMAIL
Start your workday the right way with the news that matters most. Learn more