My wife, Yolanda and I were in Costa Rica when the planes hit the towers.
Our first thought when we heard the news was that our son commutes into Manhattan from New Jersey on the Path train that runs under the World Trade Center.
Once we knew he was safe, my next thought was that the world will never be the same again.
Eight years later, a bike ride with the Five Borough Bicycle Club gave me a whole new perspective. We took the ferry from Manhattan to Staten Island and rode all the way to the Southern tip of the Island to visit a little known but fascinating house.
Ed DeFreitas, the ride leader, is a very knowledgeable New York history buff. He explained that on September 11, the house was the site of a truly momentous event.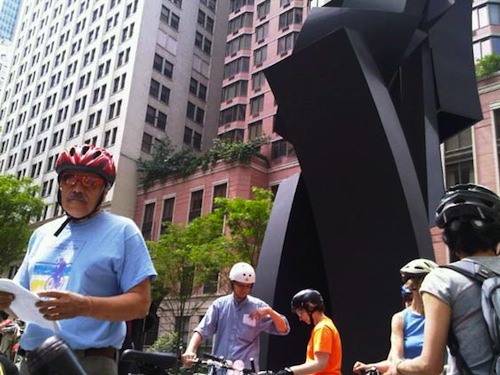 Ed DeFreitas. Photo Ed Defreitas.
On September 11, 1776, Lord Howe, commander in chief of British forces in America, met with Benjamin Franklin, John Adams, and Edward Rutledge to negotiate an end to the American Revolution. In case you were wondering, the negotiation failed. The next time British and American leaders met in peace was October 19 1781, when Lord Cornwallis surrendered to George Washington at Yorktown.
As one of the people on the trip pointed out, had the negotiations at Conference house succeeded the United States might well now be part of Canada.
On the way back to the ferry, the chain on our bike broke. Most of the group kept going. Ed, Rich McCauley, and past 5BBC president, Jesse Brown, stayed back to help me fix it. Expert bike mechanics we were not.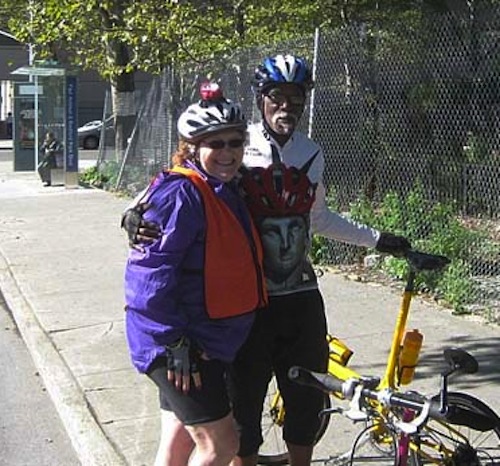 Jesse Brown (Right). Photo Sharon Behnke.
By the time we got it fixed we felt as if we had successfully completed major surgery and a full moon had risen over the chilly nighttime Manhattan skyline.
The view was magical as we proudly pedaled along the Staten Island Boardwalk pushing to make the next ferry. We arrived in time for Richie and Jesse to find us a cup of hot chocolate before boarding.
Riding with Yolanda and good friends on the ferry back to Manhattan, it occurred to me that more was changed by what did not happened in that house on September 11, 1776, than by the burning towers on September 11, 225 years later.

SUBSCRIBE TO & FOLLOW THE MORNING EMAIL
Start your workday the right way with the news that matters most. Learn more