We have to thank Kerry Diamond and Robert Newton for the inspiring Southern cuisine they proudly serve at their restaurant Seersucker. It was after all, over catfish po' boys and fresh biscuits smothered in preserves and honey butter that the idea behind The Food Life was born. The flavors fueled our minds and inspired our stomachs to learn more about our local food joints and what our favorite "tastemakers" are eating and cooking. We have been able to go into the closets and homes of our favorite influencers, but what fun foodie secrets do they store in their refrigerators, pantries and recipe books?
On a crisp Sunday morning, we met Kerry and Rob outside their Carroll Gardens restaurant with strong coffees in hand. The farmers market across the street was just setting up shop. Stands were being erected while fresh produce was being arranged in wicker baskets atop red and white checkered table clothes.  Kerry, a striking blue-eyed brunette dressed in a festive floral floor-length dress, took us through a typical "brunch day" at the restaurant. First order of business: making sure the windows have no smudges or streaks. "I am a master window squeegee-er," she proclaims, demonstrating her skills -- "the trick is to wipe off the squeegee after each stroke..." Fingerprints on a window drive the restaurant owner and former beauty executive up the wall. So one can always expect to see CLEARLY out to the street, which makes people-watching ideal. You can always catch the fashionable Brooklyn set strolling by on the weekends.
The market that sits across the way is the secret behind the restaurant's fresh fare. "Almost all of our ingredients come from these local farmers," explains Kerry.  "We really believe in supporting small family farms, not only because they are rich in culture, but it is also a healthy choice!  All the animals are raised humanely, with no hormones, free range, grass fed...  All the fruits and vegetables are grown without pesticides.  We get everything from these guys, chicken, beef, pork, fish, vegetables, eggs, spices, yogurt, artisanal cheeses, fruits, you name it!  We consistently order ingredients from each vendor each week. We genuinely value the relationships we have with everyone here." This statement is affirmed when the couple greet each vendor by name. "We're also really into pickling and preserving so we can have and serve them in the months ahead by buying fruits vegetables and grains now."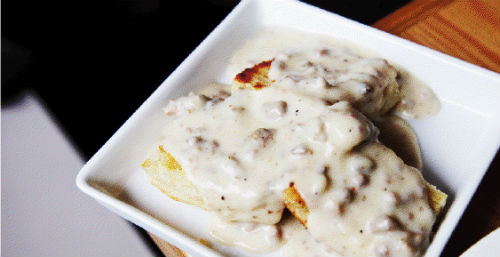 For those of you who have not yet experienced Seersucker, they offer a seasonal menu, which changes, you guessed it, by season! But the general theme always remains -- clean Southern food. "There's been a rapid emergence of the Southern comfort food "trend" (as Rob gestures the air quotation marks) but what people don't realize is that Southern comfort food isn't really a trend at all -- it is the quintessential American cuisine." He also explains traditional Southern food is not "heavy" in actuality. "Our take on Southern comfort isn't the typical heavy and rich dishes that are seen on other menus, for us, it's about a balance."  The balance that Rob is referring to has to do with incorporating lighter notes into traditional recipes to compliment and balance out each dish.  For example, the Fried Chicken Sandwich that is served during Brunch, is balanced out by a light and airy Field Pea Salad.  "I don't want our customers to feel like they have to take a nap after eating a meal because it's so heavy."
Kerry, who grew up in Staten Island, and Rob, who hails from Arkansas, met while Rob was working for Le Cirque in NYC.  Soon after, Rob proposed the idea of opening up their own restaurant and gave Kerry a book by Danny Meyer called Setting the Table.  Upon finishing the book, Kerry, inspired, was ready to venture into the restaurant business.  Armed with Rob's experience in the kitchen and Kerry's PR skills, the two set out to open their own place.  "Deciding on a location was easy, we knew we wanted to be in Brooklyn [Kerry's been a Brooklynite for the past six years while Rob's been there for two], but deciding on a name was a little trickier.  The idea came to us when we were at a friend's wedding and Rob was wearing a J.Crew seersucker suit. We thought, the seersucker fabric is fresh, seasonal, and there is a Southern gentility about it too, so why not call it Seersucker!"
And so it began, the months of preparation, from working with an architect, designing the interior, and configuring all the branded materials, to testing the hundreds of recipes, building relationships with vendors, and finalizing all the small but significant details, the restaurant dream was finally coming true for both Rob and Kerry.  "There is definitely a performance aspect to operating a restaurant, from both the front and the back of house perspectives.   Five minutes before you open, you turn on the music, light the candles, flip the sign, unlock the door..."  Explains Kerry, one who has executed a fair share of events in her career.  Seersucker is a 12-person operation ranging from host, cooks and bus-ers, to baristas, cleaners, servers, and bar tenders.  "It really is a group effort since we are such a small team and we really love and trust everyone that we work with.  The décor of the restaurant is also a group effort on our part, between Rob, myself, and our friends and family, we come up with various ideas for the décor.  From the flowers, plants, and candles, to the mason jar displays, front window, and signage.  We tend to see eye to eye on almost everything when it comes to the restaurant, which is great! The only thing we do not see eye to eye on is the temperature in the restaurant!" (both laugh).  The décor is constantly changing with the seasons to compliment the current offerings on the menu.  Music is the only aspect of the restaurant solely controlled by the woman of the house, who has been to many live concerts in her day. Kerry has created a playlist on PING for customers and friends to download due to constant inquiries about the music selection.
Now almost two years in, the restaurant has become a local favorite, often frequented by fashion editors and celebrities alike. (Comedian Aziz Ansari was quoted saying that Seersucker has the best fried chicken in NYC hands down -- we agree.) But both Kerry and Rob are constantly brainstorming and implementing new ideas to keep things fresh and interesting.   Somehow, they manage to still find time in their ever-busy schedules to spend time with each other, with a little bit of work involved of course.  "The restaurant is closed on Mondays, so we try to visit the Northfork often, it's a nice getaway and because we work with many of the wineries out there, I like to visit them to see how they are doing. Rob is a wine enthusiast so when he retires, he would love to own a vineyard or winery.  Santa Barbara would be ideal!" And who does the cooking outside the restaurant? Rob likes Kerry to whip things up at home, but Kerry admits it is a bit intimidating. "Cooking for a chef is hard!" But Rob likes everything and anything Kerry puts on the table, the simpler the better. One of Kerry's go-tos -- grilled lemon salmon.
Places we love:
Luna Rosa - The most underrated pizza place in the area
Palo Cortado - Really great tapas bar with a great selection of Spanish wines
Four and Twenty Blackbirds - Obsessed with their pies
Al Di La - Great food and great service
Brooklyn Larder - Like a Dean and Deluca, has everything
Brooklyn Flea - Love all the food there, especially the donuts and the gourmet chocolate bars
Stinky Brooklyn - Great local cheese and meat shop
Mile End - Sort of like a Montreal deli
The Ice House - Dive bar with amazing pulled pork sandwiches
SUBSCRIBE TO & FOLLOW THE MORNING EMAIL
Start your workday the right way with the news that matters most. Learn more