10 Beautiful Places We Could Destroy With Human Drilling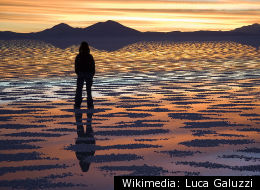 Most of us are familiar with the Arctic National Wildlife Refuge (ANWR) -- a 19-million acre protected area in the northeastern corner of Alaska that is thought to harbor large reserves of oil and natural gas.
The largest wildlife refuge in the United States, ANWR is home to a vast array of natural wildlife, including caribou, polar bears, grizzly bears, muskox, wolverines, snow geese, peregrine falcons, and many others. Much of the refuge is designated as wilderness area and barred from development, but a significant slice -- the 1.5 million acre "Section 1002" area -- has been eyed for possible resource extraction.
Proponents of drilling in ANWR, including former President George W. Bush, say the extraction of the hydrocarbons would create jobs and diminish America's reliance on imported petroleum; opponents, including President Obama, say the purported benefits of drilling are outweighed by the threat to wildlife and fragile ecosystems.
Although one or another house of Congress has passed legislation allowing for drilling in the Section 1002 area in recent years, no such measure has yet made its way into law. But many Republicans favor drilling in ANWR, and a Republican takeover of the White House and Congress could lead to such action.
But ANWR is only one pristine wilderness that is at risk of invasion and defacement due to large-scale resource extraction. Many other such sites around the world -- spared such assault until now -- are on the verge of being assaulted by energy or mineral companies.
This is not a chance phenomenon, but the product of powerful economic and geological forces. For the past 65 years, global economic growth has been made possible by the discovery and development of mines, oil fields, and other resource reserves in hundreds of key locations around the globe.
But many of these reserves, such as the oil fields of Mexico, the North Sea, and the continental United States, have been systematically depleted and can no longer satisfy the world's insatiable appetite for vital materials. This means that any hope of sustaining global consumption of basic raw materials at current (or even higher) levels will require the development of new reserves in whatever areas of the planet have not yet been fully exploited. And, by definition, this means remote and inhospitable areas like the Arctic, as well as a few especially isolated countries like Mongolia, that have largely escaped full-scale development.
There are many good reasons for speeding the development of renewable sources of energy, not the least of which is the threat posed by accelerating climate change. But a look at these threatened habitats might provide another good reason to hasten the introduction of alternatives.
Michael Klare is the author of The Race for What's Left: The Global Scramble for the World's Last Resources [Metropolitan Books, $27.00].
At 19 million acres, this is the nation's largest wildlife refuge, and a home to caribou, polar bears, grizzlies, and wolverines, as well as several Native American communities. It is a spectacularly beautiful area, with vast, wind-swept vistas of tundra, snow-fed rivers, and towering peaks, but is now at risk of intrusion by oil-drilling operations.

The Pebble Project is an advanced mineral exploration project now under way in the Bristol Bay region of Southwest Alaska, aimed at exploiting a massive deposit of copper, gold, and molybdenum. To extract these ores, the Pebble Project partners will invade a pristine wilderness to create an open-pit mine some two miles long, one mile wide, and 1,700 feet deep - a mammoth gash that would be visible in outer space. Environmentalists worry that arsenic and other toxic chemicals used in treating the ores will stray into neighboring rivers and streams, endangering the safety of salmon fisheries in the Bristol Bay area, among the biggest in the world.

Sometime this summer, Royal Dutch Shell is expected to begin exploratory drilling for oil and gas in the Beaufort and Chukchi Seas - extensions of the Arctic Ocean that abut northern Alaska. These waters are the habitat of polar bears, walruses, ice seals, and several species of whales, and are important to the livelihoods of neighboring Native American communities. Given the extreme vulnerability of Arctic wildlife and ecosystems to environmental stress, any oil leaks in these ice-strewn waters - like that which followed the Deepwater Horizon disaster in April 2010 - could prove catastrophic.

Exploratory drilling for oil and gas has already begun in the waters off western Greenland, in the Baffin Bay and Davis Strait area. Cairn Energy, a company based in Edinburgh, has sunk several test wells near Disko Island, about 100 miles from the mainland, and has plans for expanded drilling in the region. Environmentalists fear that any damage to drilling rigs resulting in oil leaks in these waters - a very realistic fear, given the proliferation of icebergs in the area - would threaten the survival of marine animals and damage Greenland's fragile coastlines.

Above the northern tip of Norway, in the Barents Sea, oil companies are preparing to exploit the Goliat (Goliath) oil field - the first to be drilled this far north of the Arctic Circle. Norwegian officials insist that drilling in these storm-tossed waters can be conducted safely, but environmentalists worry about the threat from spills to the region's unique biodiversity, including the world's largest deepwater coral reefs, huge mussel banks, and large coastal kelp forests. The Barents Sea is also home to some of the world's largest colonies of seabirds, including puffins, razorbills, little auks, and guillemots.

Baffin Island, a part of Canada's Native-controlled territory of Nunavut, is a sparsely-populated wilderness of rugged mountains, glaciers, and numerous lakes. An international consortium, Baffinland Iron Mines Corporation, has plans to establish a mammoth open-pit mine at Mary River, at the Island's northeastern tip, and a 93-mile railroad to Steensby Inlet on the south shore. Many native Inuit fear that the mining and ore-shipping operations will endanger wildlife essential to the local economy.

The 435-mile-long Yamal Peninsula juts out into the Arctic Ocean from northern Siberia. (In the language of its indigenous inhabitants, the Nenets, "Yamal" means "End of the World.") This is the one place in Russia where indigenous peoples still practice large-scale nomadic reindeer husbandry: several thousand Nenets and Khanty herders together hold about half a million domestic reindeer. But this area also harbors vast natural gas deposits, and several firms, including state-controlled Gazprom, are planning major production operations there - putting the reindeer-herding culture at risk.

Until very recently, most Mongolians were nomadic herders and the landscape - consisting of rolling steppes and desert - was largely untouched by human interference. Now all that is about to change. Since it became a multi-party democracy in 1990, Mongolia has been criss-crossed by mining firms seeking promising ore deposits and one such site, at Oyu Tolgoi (Turquoise Hill) in the southern Gobi desert, is soon to be mined for copper. Environmentalists worry that development of Oyu Tolgoi will threaten the livelihood of traditional Mongolian herders and produce enormous pollution.

Ivindo National Park, in eastern Gabon, is home to the Kongou Falls - widely considered among the most beautiful in sub-Saharan Africa. The park was long protected against resource predation, but now, as Gabon's oil output is declining, the government has awarded permits to foreign companies for development of a giant iron mine on its borders. The government has said that Ivindo will be spared from harm, but critics warn that development of the massive Belinga open-pit mine and associated infrastructure will inevitably endanger wildlife and ecosystems in the park.

Located at 11,995 feet above sea level near the crest of the Andes in Bolivia, the Salar de Uyuni is the world's largest salt flat, encompassing 4,086 square miles. Formed by the transformation of ancient lakes, it consists of a thick crust of salt resting on a lithium-rich pool of brine. By some accounts, the salar contains 70% of the world's lithium - a scarce and valuable material used in making long-lasting batteries, especially those used in hybrids and electric cars. Many companies would like to exploit the salar's lithium, but this would pose a severe risk to this unique and extraordinary landscape and to the pink flamingos which use the area as a breeding ground.