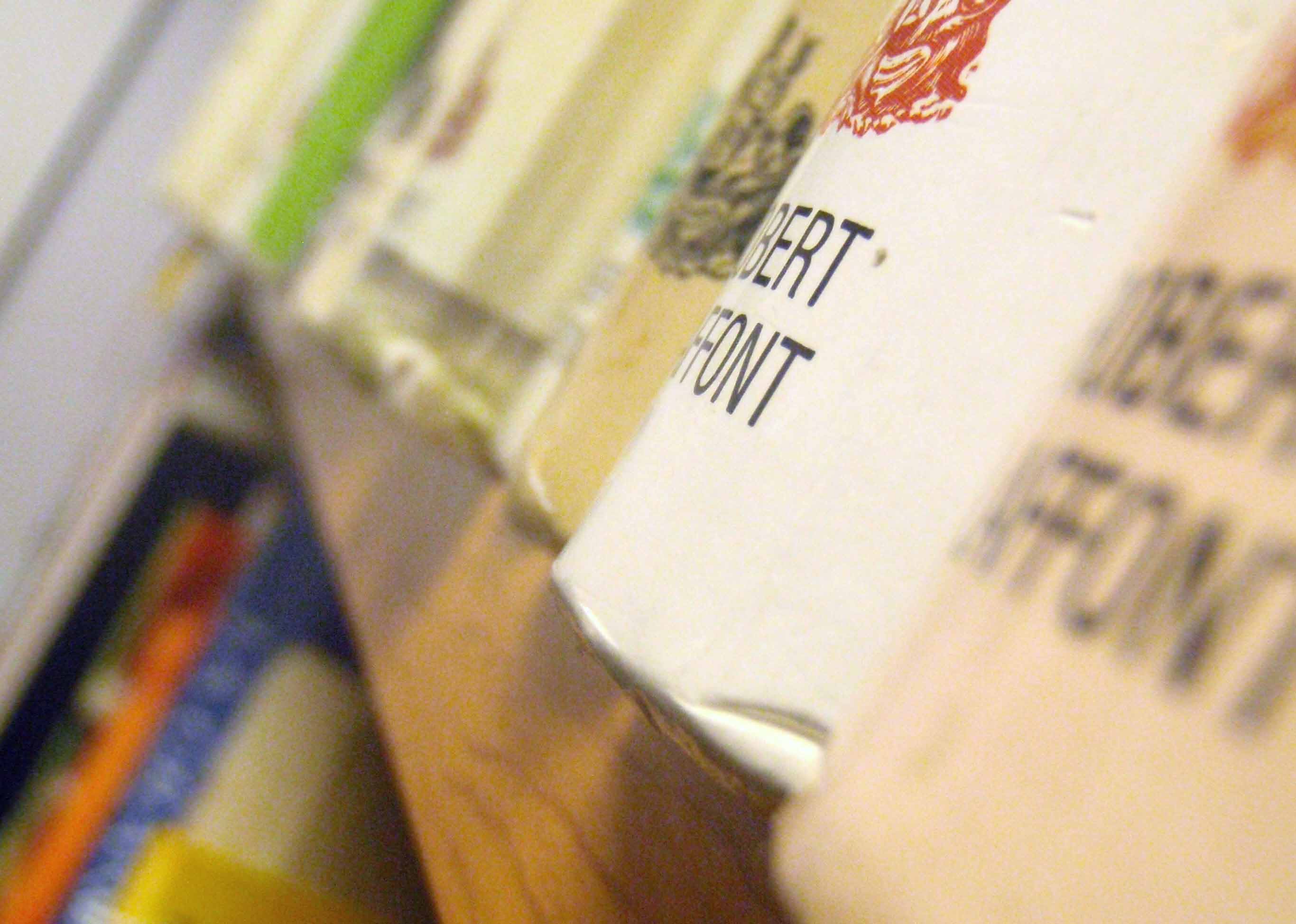 I love books. Skipping the typical route of formal culinary school, I sought a lot of my early education from them. These days, I don't afford myself nearly enough time for reading, and to be honest, when I do, they tend to be books with more pictures than text. Even in this brave new digital world where we access so much information with the click of a mouse, I still can't help but enjoy sitting down with the real deal. For a time, I actually swore off acquiring cookbooks for fear that the latest trendy tome might influence me too much. I got over it, of course, and I now see many of the few hundred books on my shelves as snapshots of my own evolution as a cook. With last week's release of Eric Ripert's latest book, Avec Eric (yes, he is my boss, and yes, I helped), I've added one more to the collection. Scanning the spines, there are several that beg to be cracked one more time, titles that serve as either important references or simply motivation to get into the kitchen. I could easily cite dozens, but below I share ten personal essentials.
Larousse Gastronomique: This hefty volume, along with a durable chef's knife, was among my first investments as a young cook. An encyclopedic treatment of French cuisine from abaisse to zuppa inglese, Larousse remains a rock-solid standard I still reference to this day. And as modern cooking evolves at an exponential rate, it's also an important document of the increasingly obscure, the rare classics in danger becoming forgotten.

Great Chefs of France, Anthony Blake and Quentin Crewe: Sadly long out of print, this is one of my all-time favorites, a profile of the generation that gave us nouvelle cuisine. I found my copy by chance, in a mountain of used books some fifteen years ago, but its historical value continues to grow tremendously. With a quick study, one easily begins to connect the dots between such groundbreaking chefs of the 1970s- Alain Chapel, Michel Guerard, the Troisgros brothers- and the current wave of chefs up to and including El Bulli's Ferran Adria. To dig even deeper, I find it fascinating that many of the chefs featured in the book all trained under the great Fernand Point, whose Ma Gastronomie is also a classic.

On Food and Cooking: The Science and Lore of the Kitchen, Harold McGee: Like all fans of Harold- that is, we chefs with an interest in the science of our food- it all began with 1984's On Food and Cooking. McGee's thorough treatment of subjects like dairy, vegetables, and confections not only allow us the occasional view through an electron microscope, it also puts aspects of food and cooking into historical and cultural context. In addition to his latest book, Keys to Good Cooking, I also enjoy 1992's The Curious Cook, where McGee applies the scientific method to many myths and theories in pursuit of culinary truth.

White Heat, Marco Pierre White: At a time when British food was still scoffed at, and long before anyone ever heard of Gordon Ramsay, battered copies of White Heat were circulating among cooks on this side of the pond. White's book is a portrait of the first rock star/gastro-punk chef on his meteoric rise toward running a restaurant empire that would be awarded a constellation of Michelin stars. Perhaps more interesting than his recipes are the grainy black-and-white photos of life in the kitchen trenches, captioned with quotes from the maniacally restless chef. I still get a little pumped when I see it today.

The Modern Café, Francisco Migoya: An instructor at the Culinary Institute of America, Migoya is perhaps the most influential pastry chef you never hear enough about. His first book, Frozen Desserts was narrow in scope, but deep in information; Modern Café, on the other hand, tackles the entire classic repertoire of the casual café setting, albeit with refined and inventive interpretations. With a pedigree that includes a stint as pastry chef at the French Laundry, Migoya raises the standards on everything from breads to savory dishes, from breakfast pastries to chocolates. Lucky for us, he's currently at work on a third book, in addition to his blog, The Quenelle.

Alphabet for Gourmets, M.F.K. Fisher: I'm quite thankful for having discovered Fisher long before the current wave of food writing and foodie culture, as I fear her writing may become lost among countless blogs and flashy cookbooks. It was through her that I recognized an underlying poetry to cooking; to a young cook also learning to eat, Fisher taught me that food could have a story that nurtures our souls as well as our bodies. I was working long hours even then, so this book of short pieces, originally serialized in Gourmet inthe late 1940s, was the perfect introduction.

Outlaw Cook, John Thorne: I often think of John Thorne as the ultimate proto-food blogger. A writer-turned cook, Thorne began self-publishing his newsletter Simple Cooking in the 1980s, from which half a dozen books would eventually be culled. My favorite of the bunch was his second, Outlaw Cook. Its opening chapter, "Learning to Eat" is perhaps my favorite piece of writing, on food or otherwise. Thorne's story of a young man moving to the big city, awkwardly navigating his newfound adult independence- his career, his art, his poverty- uses cooking and eating not just as a metaphor but as the protagonist's salvation in a touching coming-of-age story.

Ratio: The Simple Codes Behind the Craft of Everyday Cooking, Michael Ruhlman: Michael's first foray into the chef's world, Making of a Chef, appeared just as I was beginning to cook myself. Since then he's come to be considered one of the country's premier food writers who, when not doing his own thing, fills his spare time writing books with chefs like Thomas Keller. Though I'm been privy to many of the secrets Ratio reveals for some time, the reason I like it so much is because Ruhlman is spreading his manifesto far and wide, liberating cooks by throwing out their recipes. Working from basic ratios on everything from doughs and batters to sauces and charcuterie, pros and amateurs alike gain a better understanding of how ingredients work. Not only does this approach foster creativity, but it also allows cooks to troubleshoot their own mistakes, which no written recipe will ever do. Knowledge, so they say, is power.

The Big Oyster: History on the Half Shell, Mark Kurlansky: Like most of its residents, I too came to New York City from somewhere else. I'm fascinated by the city's history, which is why I enjoyed Kurlansky's book on two levels, as it tells the story of New York from the oyster's point of view. Like his other books, Cod and Salt, Kurlansky expertly weaves history, culture, and politics into our influential foodways. Prior to reading The Big Oyster, I never knew of the bivalve's role in shaping the city, yet I no longer look out into New York's harbor without thinking of the day they might return.

Medium Raw: A Bloody Valentine to the World of Food and the People Who Cook, Anthony Bourdain: It was through Tony Bourdain that I learned the power of shared experience, of the common bonds that link cooks the world over. If Kitchen Confidential did anything else, it gave us chefs a certain voice- and an audience- we didn't have prior. Though I wouldn't say I'm chasing the dream of ever having his reach, as an aspiring chef-writer I can't help but take a lot of inspiration from him, simply because he did it on his own terms, as a labor of love. So then, why is it not Kitchen Confidential, the one that started it all, on this list? Or even A Cook's Tour, each chapter of which honestly made me want to be a better cook? It's not that he may or may not be a 'kinder, gentler' Tony, but I respect him most for never forgetting where he came from. That's what informs his likes and dislikes, the questions he asks of the food world which sometimes seem to have conflicting answers. I'm just happy he's out there asking them.
So, enough about me. What books have made you rethink food and become a better cook?

Follow Michael Laiskonis on Twitter: www.twitter.com/mlaiskonis