"Oh, by the way, I've invited 13 people over for dinner tonight."
That's my wife, the incomparable Kim, breaking the news to me on a Sunday morning at our pad in midtown Manhattan, after I've just flown in on a late-night flight from L.A.
How can I resist? It's mid-April, and New York is starting to look springtime beautiful. There's the last of the season's white asparagus I'm dying to cook, plus the start of line-caught Long Island wild striped black bass, which will be with us through summer.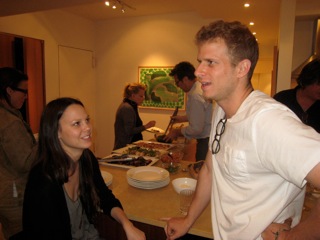 style="float: right; margin:10px">Plus, Kim's put together an irresistible guest list. Uber publishing dealmaker David Kuhn. His partner Kevin Thompson, the great set designer. Legendary Kipper Kids performance artist Harry Kipper (my partner in crime for so many meals, to be chronicled in the Bravo series of our dreams, "Two Fat Bastards" - NOT!!!!!). His wife, the queen of the New York Restoration Project, Bette Midler. Their daughter and Capri lover, "the Sophe." Our daughter, Clancy McCarty (that's her in the photo on the right), co-producer of the documentary "No Woman, No Cry," made with Christy Turlington. Clancy's friend, animator Seth Brau. Art guru Susan Sayre Batton, who's made her mark on the Honolulu Academy of Arts and, more recently, the Modern Views project to benefit Philip Johnson's Glass House and Mies van der Rohe's Farnsworth House. Fab fashion photog and fellow Genevan (with Kim) Pamela Hanson. Her internationally known art guru dude Jaime Frankfurt. And our own L.A. boy, formerly of MOCA and now new Guggenheim deputy director, Ari Wiseman.
AAAARRRGGGHHHH! What a lineup!
style="float: left; margin:10px">They start arriving before sunset, as I get the bbq going. In addition to asparagus and fish, we've got the always-adored 28-day dry-aged New York strip steaks from the great New York meat purveyors DeBragga and Spitler (check it out on the left, sliced up and ready to serve). A side o' roasted peewees, the smallest of the fingerling potatoes. Kim does her famous green salade, now chronicled for all time in Welcome to Michael'shttp://www.welcometomichaels.com. Add some Eli's Bread, which I garlic and butter the bejesus out of.
And did I forget the cheese? In a pinch, we secure some awesome goat brie and Saint Augur blue from Ernest Klein & Company in midtown.
Of course, we need wine. We pour Prosecco, Kistler Chardonnay, and the world-famous 2007 Pinot Noir from The Malibu Vineyard, just released by my always wild-and-crazy winemakers Bruno "The Italian Stallion" D'Alfonso and his trusty sidekick Kris "She Made Sea Smoke Famous" Curran.
Dessert finally arrives, as it always inevitably does: Häagen-Dazs, chopped walnuts, and Hershey's chocolate sauce.
How to end such an evening? We enjoy a puff on the terrace, attempting to focus on the best of midtown New York architecture. Eero Saarinen's "Black Rock" (the CBS Building. Johnson's "Chippendale" (originally the AT&T Building, now the Sony Tower). The gold-plated Crown Building. The Gothic Sherry Netherland. The former "666" Building (now renamed "Citi"). The turquoise-hued ornamentation of the vintage Peninsula Hotel building (originally the Gotham). The spires of the Fifth Avenue Presbyterian Church (at 55th Street) and the Episcopal Saint Thomas Church (at 53rd and Fifth). Cesar Pelli's Museum Tower rising above MOMA. And with great anticipation, Hine's spectacular soon to be Jean Nouvel 1025 foot tall building to go right across the street. And, last but definitely not least, the valiantly flowing Stars and Strips atop the Waldorf.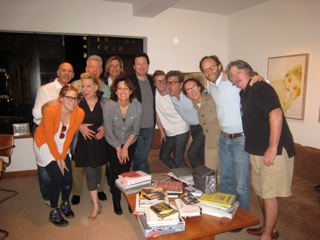 style="float: left; margin:10px" >
Oh yeah. Gotta love New York--especially in the springtime with great food and drink and wild and crazy friends to share it all!
SUBSCRIBE TO & FOLLOW THE MORNING EMAIL
The Morning Email helps you start your workday with everything you need to know: breaking news, entertainment and a dash of fun. Learn more