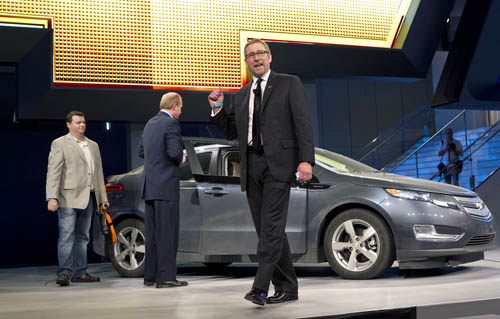 Joel Ewanick, Marketing VP for GM Intros Chevrolet Volt, courtesy GM
Thanksgiving in Los Angeles can be more than just watching the Macy's parade, football games and devouring heaping platters of turkey and all the trimmings. Now that the LA Auto Show is keeping its doors open on T-day it's possible to engage in another All-American ritual - kicking tires.
If you can steal a couple of hours in between kick offs you'll discover green is the buzz word for this year's LA Auto Show with over 50 new electric, hybrid and alternative fuel vehicles on display downtown at the Los Angeles Convention Center. This year they're open on Thanksgiving Day starting from 9 AM and going strong until 8 PM.
The car companies hope producing green cars will translate into piles of cold, green cash in their coffers. Or, at least be the bait luring customers into the showrooms where they can buy a shiny new auto powered by a traditional gasoline engine.
The big news at last week's press preview was the official introduction of the Chevrolet Volt - which won the Green Car of the Year Award and was named Motor Trend's and Automobile Magazine's Car of the Year for 2011. Joel Ewanick, marketing VP for GM rolled on stage in the Volt he drove 1100 miles from Michigan. This still dusty battery powered road warrior, which comes equipped with an auxiliary gasoline engine for extended range driving up to 400 miles, was living proof that you're not going to be stranded if your battery runs down.
Chevrolet has announced pricing at $41,000 (or $33,500 depending on the federal income tax credit, which ranges from $0 to $7,500). Payments on a 36-month lease can be as low as $350 per month with $2,500 down.
They plan to sell 500 Volts by the end of the year, ten thousand in 2011 and eventually ramp up to 220,000 a year.

Nissan Leaf at the Auto Show
The Nissan Leaf, the other much-anticipated electric auto lighting up the motoring firmament also made its auto show debut. The Leaf is smaller than the Volt, somewhere between the Nissan Altima and the Versa, and is a battery-only car. Nissan boasts about its 100-mile range, which exceeds the Volt's 40 miles on battery alone, but there's no back up gas motor to keep you going if you forget to plug it in. Nissan says you can return the car to an 80% charge in only 30 minutes at public charging stations if you have an optional Quick Charge Port. Which is ten times as long as the average time at the gas pump for a full tank but better than the eight hours required for a full charge using your home's current.
The Leaf is priced at $32,780 and, depending on the eligibility for the $7,500 federal tax credit, it's likely to run you considerably less than a Volt. But you have to decide if the "range extender" comfort of a back up gasoline engine is worth the extra dollars. You can rent a car for those annual trips to see the proverbial "grandma" GM keeps mentioning in its pitch for the Volt's dual power sources.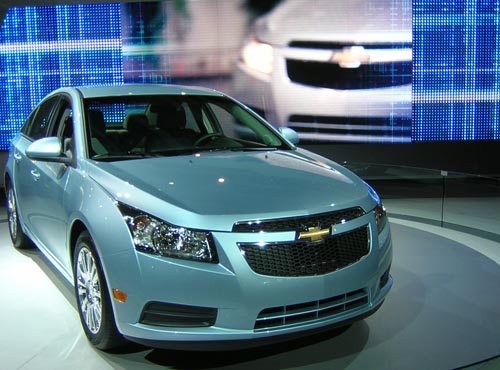 Chevrolet Cruze Rolled out at 2011 LA Auto Show
You don't have to plug in to get great gas mileage. Chevrolet's new midsize car, the Cruze, offers 42 mpg with its turbocharged gasoline engine and six speed automatic transmission for about $19,000. The base Cruze, minus the turbo, comes in at just under $17,000.
The cars have been a hit in Europe and South Asia where they've been on the market for several years. GM offers a hatchback version of the Cruze in Europe but if you want a hatchback in a similarly sized vehicle you'll have to look at GM's crosstown rival Ford.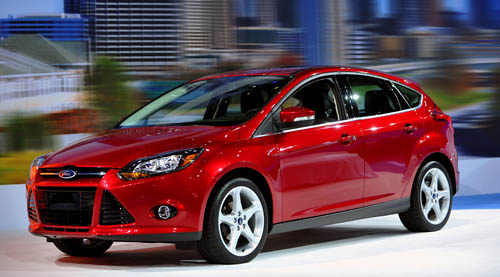 Ford Focus SKV, courtesy Ford Motor Co.
The new Ford Focus, like the Cruze, was first introduced in Europe but Ford decided to bring the hatchback version and a sedan over here. Ford didn't think Americans would want a five-door/hatchback but when they actually asked people they were told they definitely would buy a hatchback. So, the company changed course and added a hatchback for just under $19,000 to the mix that also includes a four-door sedan priced around $17,000. Each is designed to deliver about 40 mpg.
Ford's president for North America, Mark Fields, is bullish on the Focus because this segment of the market represents 20% of the cars sold in the US and 50% are sold to first time buyers. The auto companies value this demographic because they're likely to be able to sell them several more cars over their lifetime. Opposed to us oldsters who may be buying our last ride. With this fashion forward market in mind, the Focus sports a youthful streamlined styling proving that small can be beautiful or at least doesn't have to be dull.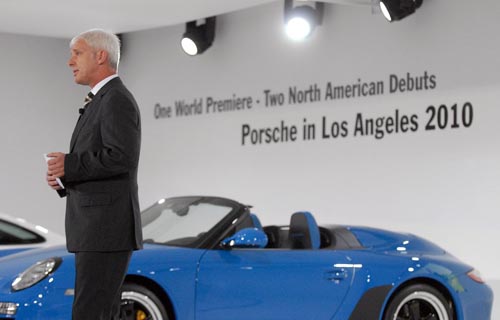 Porsche CEO, Matthias Mueller intros Porsche 911 Speedster at LA Auto Show, courtesy Porsche
All of the traditional piston powered autos, even the most sporty and high performance ones, are being given a new coat of fuel efficient, green wash to demonstrate their affinity for the survival of the planet as well as the ability to pin your skull to the headrest as they accelerate.
Porsche's new 911 Speedster takes you from 0 to 60 mph in 4.2 seconds and has a top speed of 190 mph but executives were quick to point out in the same breath that it delivers, "27 mpg on the highway." Of course, you won't get 27 mpg at 190 mph.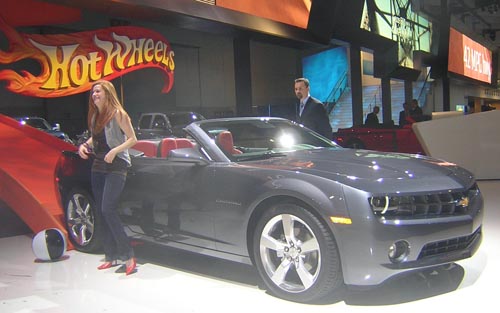 Mallory McMorrow, Hot Wheels designer in front of the real thing
Chevrolet wasn't averse to throwing a little red meat into the ring. The new Camaro Convertible, available in February, just in time for the Spring melt, has all the heart-thumping horsepower and handling any self-respecting car guy or car gal craves. It's the perfect take me out, wind me up and go vehicle for those unafraid of emitting a little carbon or burning some rubber. As Kermit used to say, "It's hard being green" especially when a Camaro calls your name.
Chevrolet teamed up with Hot Wheels to create a Camaro model and they'll be giving those away at different times during the day. They advise visitors at the show to check with representatives on the Chevrolet stand for details.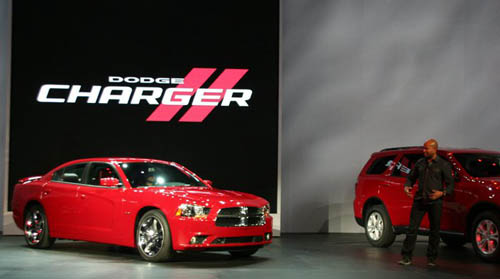 Ralph Gilles, CEO, Dodge, intros the revamped Charger
The CEO and head of design for Chrysler's Dodge brand, Ralph Gilles, said he was showing only mid-life cycle, "interventions." But he's worked his team hard to update the interiors and banished what he called, "rat fur gray" textured trim. Confident at what he's been able to achieve he says the new interiors are "delicious."
His biggest challenge was trying to make the minivan cool. Chrysler invented this segment 27 years ago and has sold 13-million of the kid haulers but Gilles wants to make it "fun to drive."
He really got excited when he talked about the revamped 5.7L HEMI V8 powered 2011 Charger. It has "more sex per pound" than other cars in its class and "is the type of vehicle that makes others wet their pants," he said. There's "finally a HEMI that justifies the Charger's looks." The starting price for power and speed is $25,995.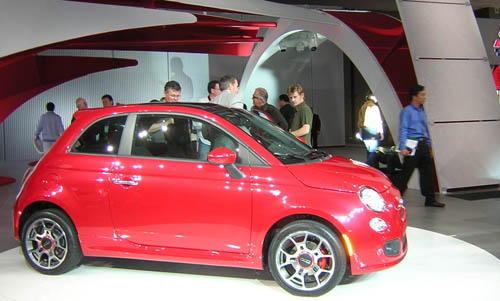 Fiat 500, Cinquecento at the LA Auto Show
Speed and green power are being challenged for popularity among buyers by the small, cute, nostalgia and value conscious wing of the automotive world with Fiat's introduction into the US of its 500 coupe. The diminutive 500 or, cinquecento, as it's called in Italy, is an updated throwback to the car that put that country on wheels after the Second World War. The 500, borrowing the playbook BMW used with its reinterpretation of the Mini, has helped to return Fiat back to profitability and CEO Sergio Machionne, who also runs Chrysler now, hopes it will do the same for the still lagging US automaker. The 500 will be built in Toluca, Mexico which will help Fiat service the US, Mexico and South America. Engines will be supplied by a Chrysler plant in Dundee, Michigan. Chrysler dealers will distribute three models of the 500 starting at $15,500.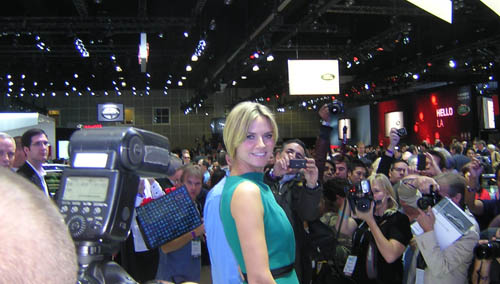 Heidi Klum turns heads at LA Auto Show
I discovered at the press previews that not every car maker had something really compelling to show the media. Those that don't often resort to dangling distractions in front of the frumpy shutterbugs. Volkswagen talked up its new EOS convertible model but got more attention with an actual model, Heidi Klum.
The LA Auto Show has something for everyone and as the city completes its light rail system eventually you won't even have to drive downtown to attend. Wouldn't it be great to live in a world where we can choose to drive instead of being condemned to commute? Until then, we might as well make it as much fun and environmentally conscious as possible. It's worth making the trek to the Auto Show to see what the automotive future holds. And who knows maybe you'll convince someone to pick up a little bobble to make your holiday happy. How 'bout that Porsche? I'm sure it comes in green.

Location and Information:
Los Angeles Convention Center
1201 S. Figueroa Street
Los Angeles, CA 90015
(213) 741-1151, ext. 3
www.laautoshow.com
SUBSCRIBE TO & FOLLOW THE MORNING EMAIL
The Morning Email helps you start your workday with everything you need to know: breaking news, entertainment and a dash of fun. Learn more