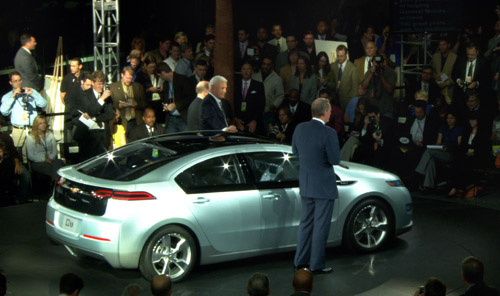 Introduction of GM/Chevrolet Volt, courtesy Westmidwest Productions
General Motors has a long history of attacking its critics, including Ralph Nader and Michael Moore. It's been turned on its head. After suffering a public relations pummeling in filmmaker Chris Paine's documentary Who Killed the Electric Car, GM's response to Paine was to open the doors to its top secret design works and grant him access to its executives as the company struggled to regroup and build a commercially viable electric car. This is like the Pope inviting abortion rights activists into the Vatican to nose around. Oh, and making sure they bring their video cameras.
Being no fool, Paine took them up on their offer and began the three-year project that resulted in his thoroughly engaging new film, The Revenge of the Electric car. While making this film he cast his net wider to include GM rival Nissan, the fledgling start up Tesla and a quirky couple who convert old sports cars into electric vehicles. The result is an engaging and dramatic story that transcends the debate about melting ice caps, at risk polar bears, vanishing south seas islands and pending planetary devastation as it revs up the audience with its high-powered cast of characters all racing to invent the future.
The challenge for Paine was not being lured too far into their web. "We had to keep making sure we weren't being co-opted," he said. To keep their journalist credentials spotless they declined generous offers from the car companies to pick up some of their travel expenses. That's a tough call for an indie filmmaker and for many auto writers whose publications are more than happy to overlook this kind of potential or implied conflict of interest. Spurned by Paine's refusal to take the bait, the car companies rolled out their secret weapon -- engaging and personally seductive executives who know how to lay on the charm and light up the cameras.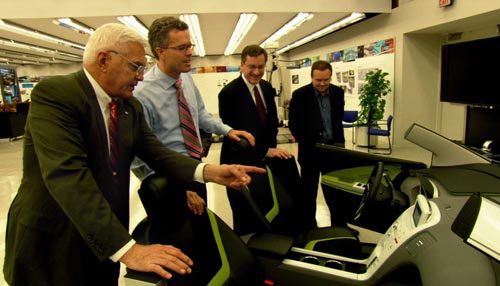 Bob Lutz and Volt Team Inspect Prototype, courtesy Westmidwest Productions
Boxing for GM is Bob Lutz, the silver-haired, dapper, cigar smoking, old school car guy who mixes John Wayne swagger with Cary Grant élan. Lutz has been quoted as saying he doesn't believe global warming is real but that didn't stop him from pushing the GM board to get in the hunt for the solution to making electric vehicles practical. He may have given the world the Dodge Viper and Ford Explorer, be a friend of legendary race car driver and Cobra creator Carroll Shelby but it's clear there's nothing he likes more than competition -- even more than the smell of gasoline in the morning. Of course, we see him after he's thrashed a prototype Volt, GM's entrant into the electric car quest, and realize that you may take the oil out of his veins but not the need for speed.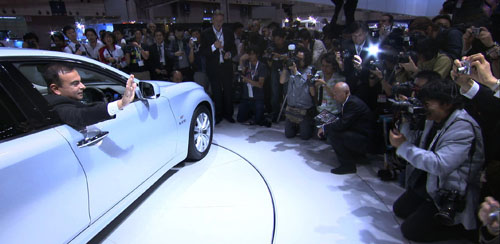 Carlos Ghosn Intros the Leaf, courtesy Westmidwest Productions
In the other corner is Carlo Ghosn, the intense Brazilian of Lebanese descent, CEO of both number two Japanese carmaker Nissan and France's Renault, whose Napoleonic size doesn't diminish this globe trotting auto executive's stature as he pushes his board to make what could be the riskiest bet ever. Ghosn like Lutz gets the go ahead to go all in for an electric vehicle. And the two auto titans come out fighting.
Ghosn has run the numbers. At the 2008 LA Auto Show I heard him make his case. "There are 600 million vehicles worldwide rolling on the planet," said Ghosn. "By 2050, statistics show there maybe up to 2.5 billion vehicles."
Even if only ten percent of those are electric, that's 250 million electric vehicles. Ghosn is betting that getting the jump on the competition will mean that Nissan/Renault takes a big bite of those sales. Of course, he's hoping his electric land adventure pays off sooner.
Lutz and Ghosn are the main event in this title fight to see who'll be the electric vehicle champion of the world but there is an amusing sideshow for the spectators.
Elon Musk at center and Tesla Team on Wall Street, courtesy Westmidwest Productions
Elon Musk, who made a fortune selling Paypal for $190-million, decided he could take his Silicon Valley, do it in your garage, scrappy style, stuff a boat load of computer batteries into the back of a stylish sports car designed by Lotus and beat the auto giants at their own game. Paine contrasts Musk with clips from another auto dreamer who dared to take on the Gods of motordom -- Preston Tucker -- builder of the car that bore his name.
Tucker, like Musk, was profiled in a movie but we know how it ended for Tucker. He was indicted in federal court for taking deposits on cars that didn't exist and accused of never intending to make good on the sales. He was acquitted but the bad PR, the cost of his defense and having his fledgling manufacturing interrupted while he fought the case did in this outsider's hope that he could compete with the giants. Going inside Musk's operation, we see a hapless struggle to quell the dissent of people who've put down $50,000 deposits and keep hearing their cars are coming (who are then told he's raising the price on the cars); to build cars that are free of debilitating defects and to constantly lure in new investors (including the Federal Government) to keep his enterprise on the road. Whether you like him or think he's a hopeless egomaniac building an elitist little sports car for rich doctors, you can't deny that his desire to build his Tesla (named after the much maligned scientist who gave us AC power) is as real as his love for launching his SpaceX Falcon rockets. Clearly he's a character made for the silver screen.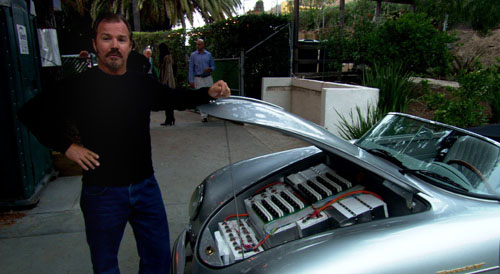 Greg "Gadget" Abbot with his Porsche, courtesy of Westmidwest Productions
These larger than life, alpha males share some screen time with a quirky Greg "Gadget" Abbott a creature of Southern California whose idiosyncratic desire to retrofit classic sports cars -- including a 356 Porsche -- with batteries meets with what seems to be insurmountable challenges, including the destruction of his garage/warehouse by fire. But the flames of his passion to tinker and create can't be put out or consumed by this disaster. Mustering the will to go on he digs through the embers and finds enough parts that will allow him to regroup and get his eclectic, electric experiment running.
Some people have criticized Paine for including Gadget but seeing his entrepreneur's zeal reminded me of Chevrolet's old tag line, "The Heartbeat of America." His passion for creating the electric vehicle future is exactly the raw and vital "Heartbeat" that's going to be needed to kick this transformation into high gear.
It's unlikely GM or Nissan will meet their sales goals for this year with the Volt and the Leaf, and Tesla is still being eyed warily by investors, but Gadget did finish the conversion of his Porsche and made the drive from LA to Palm Springs just in time for a cocktail by the pool.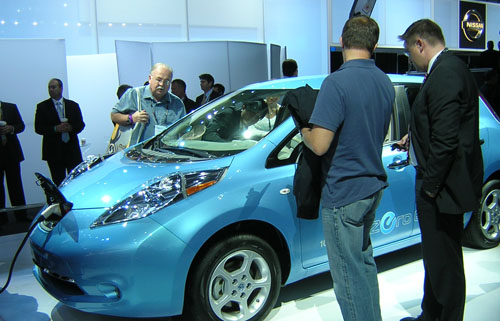 Nissan Leaf on the stand at LA Auto Show, courtesy Worldwide Icons
Between now and 2014, J. D. Power's research says we can "expect to see as many as 16 new vehicle models with alternative powertrains launched in the U.S. market. This line up will include "five more BEV's (battery electric vehicles) like the Nissan Leaf" and other extended-ranged electric vehicles like the Volt.
What Revenge of the Electric Car makes clear is that designing, engineering, building and marketing this transportation revolution isn't going to be easy. Making it affordable -- the Volt lists for about $40,000 -- and keeping the enthusiasm alive inside the car companies is going to be challenging. Jay Leno driving up to the LA premier of the film in his 1908 Baker Electric vehicle was a reminder that electric cars were once viable competitors to their gasoline counterparts. They were crushed by cheap oil and the range offered by petrol burners. To make sure Paine's next film isn't the Revenge of the Gasoline Car, we'd better hope all the stars align and our vehicle future is electric. Of course, you'll still be stuck in traffic but at least you won't be guilty of polar bear-icide.
Revenge of the Electric Car opened in Los Angles and New York and will roll out nationally. To find a theater near you or request a screening go to the website.
SUBSCRIBE AND FOLLOW
Get top stories and blog posts emailed to me each day. Newsletters may offer personalized content or advertisements.
Learn more