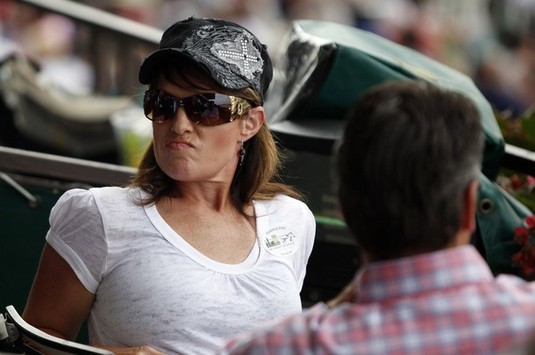 Having thrown her weight behind several winning primary candidates this week while also drawing media attention for her oily Obama taunts, this Sarah Palin photo -- even though it was taken three days before -- was likely the most significant image of this primary week.
Palin was not just unapologetic for arriving under-dressed at the society event but looked openly mean in her (read: "I'm rich") designer glasses and her (read: "I'm bad") redneck-y hat with its (read: "I'm with Jesus") rhinestone cross.
I was interested in this picture as much for the raw hostility on Palin's face, though, as the relaxation. If Palin has been defiant all along in how she deploys divisive symbolism (or, at least, since she threw off her GOP minders), she's always been a little giddy, nervous, awkward or self-conscious about it.
Since she quit the Governorship, though, and has been rolling in the benjamins (affording her, among other things, the time to preen on the culture circuit and to bring in more and better handlers), I've been seeing that awkwardness less and less, and I don't see it in this picture at all.
Palin might not be a viable Presidential threat in 2012, but what that expression says is that she's going to cause a lot more damage, what with her getting past the stuttering and losing the training wheels.
(photo: Jessica Rinaldi/Reuters)
SUBSCRIBE AND FOLLOW
Get top stories and blog posts emailed to me each day. Newsletters may offer personalized content or advertisements.
Learn more