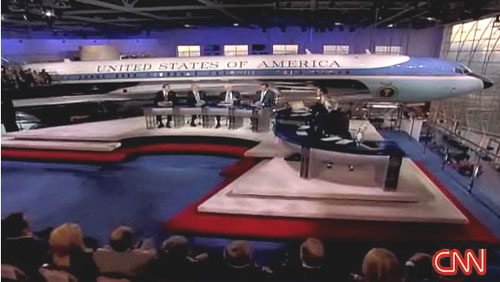 "President Reagan always wanted to give people the chance to see Air Force One up close because he understood the power of symbolism and the pride Americans would feel when they saw our 'airborne ambassador."

-- Mark Burson, Executive Director, Reagan Presidential Library Foundation
With all the conservative and corporate bashing from the Democratic candidates, it's no surprise that the Reagan Library and the library's big time donors (with the able assistance of ratings-hungry CNN) would go out of the way to boost the cred of the GOP candidates (including fly boy McCain) by virtually embossing them onto the side of Boeing's Air Force One -- while delivering one of the most powerful, aggressive, energetic and, yes, phallic backdrops ever outfitted for a nationally-televised campaign event.
"Simi Valley," home of the Gipper sanctuary, was never more aptly named.
For a more moving picture of the scale of the show, check out this sister post at BAGnewsNotes.com.