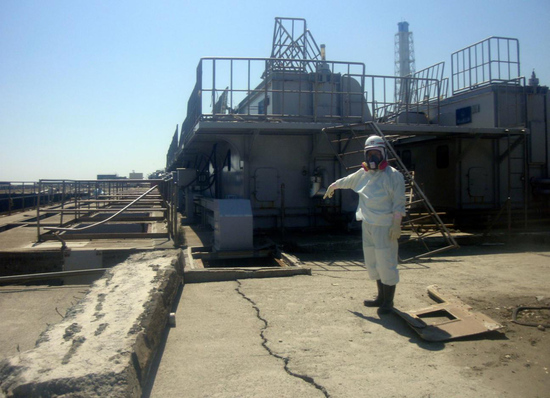 (click for full size)
On top of TEPCO's floundering record and poor communication since the Fukushima disaster began, it doesn't help their cause that a lot of their photos don't feel all that "empirical."
In particular, this photo they issued last week would be hysterical, if not for the frightening knowledge (reported here yesterday and updated today) that the situation at the plant is near critical. What the worker is pointing out, by the way, is one specific leak that TEPCO was able to plug last Friday (with great fanfare, obviously), as if closing off a drip from a rotting roof could save a whole house (or town, or prefecture) from falling down.  The other photo they released on Friday is almost as measly, showing workers spraying a super goo on the ground to try and prevent radioactive particulates from going airborne. Talk about putting a bandaid on a, well, gaping hole, and hoping the world felt reassured.
If "Hey Ma, we found the crack!" is supposed to make me feel better, it just makes me more shaky and convinced how way in over our heads we are.
<! -->>>See more takes on Japan earthquake photos here and at Tumblr.<<
(photo: TEPCO/Friday, April 1, 2011. caption: A Tokyo Electric Power Co. (TEPCO), a TEPCO employee points at a crack newly discovered in a maintenance pit on the edge of the Fukushima Daiichi nuclear nuclear power plant in Okumamachi, Fukushima Prefecture, northeastern Japan. The crack was apparently caused by the March 11 earthquake and may have been leaking since then, said the company's spokesman Osamu Yokokura.)
SUBSCRIBE TO & FOLLOW THE MORNING EMAIL
Start your workday the right way with the news that matters most. Learn more