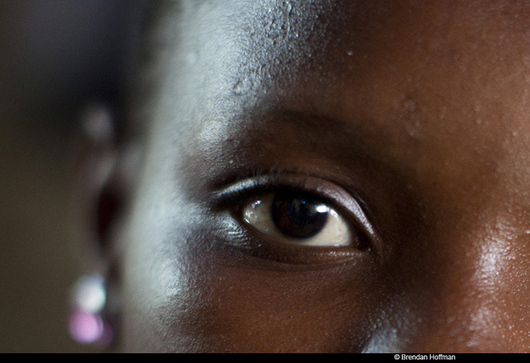 Angelie, age 14, poses for a portrait on July 14, 2010 in Port-au-Prince. She was raped by four men and two women, all of whom she knew, that past Saturday. It happened when they invited her into their home and offered her food. While she has reported the crime to the police, no arrests have been made.
It's not like the rapes afflicting Haiti are new.
This Guardian story from March '09, outlining the problem of rape in the Cité Soleil slum, detailed how half of the victims are children and teenagers. Many of the rapes are perpetrated by police and military, only twelve rapes went to court that past year, and there were only twelve child protective officers for the whole country.
Since the earthquake, MSNBC discusses how women are forced to trade sex for food, and despite the influx of foreign aid organizations and a stepped-up UN presence, security in the tent camps is abysmal. Statistics are hard to come by, but a Haitian support group counted at least 230 known cases in 15 camps in the two months following the quake. It's not that violence is escaping notice: VOA sketches out the fuller dimensions of the security challenge, while the New York Times spotlights one woman's recent abuse.
Because this terror is rampant, we at BagNewsOriginals, our photojournalism section, were drawn to Brendan Hoffman's photos of recent victims of sexual assault -- images which literally loom, but at the same time, manage to balance sensitivity, privacy, and the wishes of these girls and those close to them to make the violence known.
Brendan's images have not just intensity but also intimacy -- an intimacy that defies the searing depersonalization and objectification of the act of rape. The detail of the facial "landscape" can't help but draw us in and generate a natural curiosity about the soul inside this skin, as well as the state-of-mind in and behind the eye. These young women, at near-actual scale and through the power of that gaze (whether addressing the camera directly or askance) simply demand to be recognized by you and I.
Because of size constraints here, you can't see this photo at its true size, which is boldly, "defiantly" large. However, I invite you to view the Originals post at BagNewsNotes where you can see four full-size images taken by Brendan Hoffman. Brendan's photographs allow the girls to be human. They confront us, we see their pain, awkwardness, perhaps even a bit of their soul and spirit. As a result, we cannot remain passive observers.
SUBSCRIBE TO & FOLLOW TRUMP'S FIRST 100 DAYS
How will Donald Trump's first 100 days impact YOU? Subscribe, choose the community that you most identify with or want to learn more about and we'll send you the news that matters most once a week throughout Trump's first 100 days in office. Learn more