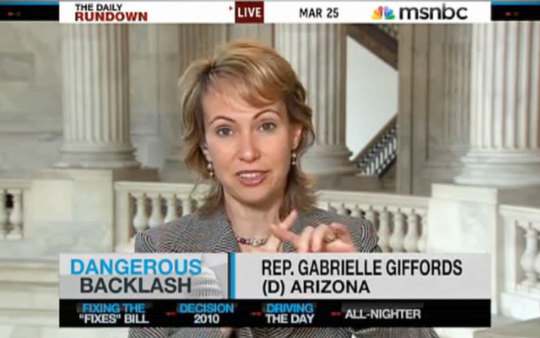 There's certainly a lot of imagery to look at regarding the shooting of Rep. Gabrielle Giffords.  The most troubling image I saw, however, occurred in the interview Giffords gave to MSNBC back in March after her office was vandalized following the health care vote.
Specifically, I wanted to show you this one frame I grabbed from that interview. In describing how extremists were working people up and creating a dangerous atmosphere, Giffords not only cites Sarah Palin's Facebook graphic targeting Democratic Congressman for defeat in the mid-term election, Giffords actually demonstrates with her hands how Palin targeted her district with the crosshairs of a gun sight.  Studying this frame, it's hard to imagine a person would model her own fate this directly unless the atmosphere, the specificity of the suggestion and the blatant irresponsibility of Sarah Palin and right wing extremists didn't make it this predictable.
SUBSCRIBE AND FOLLOW
Get top stories and blog posts emailed to me each day. Newsletters may offer personalized content or advertisements.
Learn more