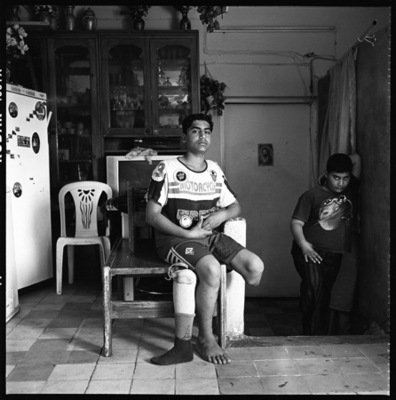 (click for full size)
In photographing Iraqi war injured, photographer Farah Nosh's main motivation was to highlight how Americans only see physical damage inflicted on their own. The image above is included in Iraq's Brutally Wounded, a photo essay of Nosh's images produced for Alternet by Nina Berman and co-sponsored by BAGnewsNotes.
One thing Nosh's images do is highlight the absence, or far more rudimentary nature of Iraqi prosthetic devices. It is a sobering comparison, given the radically more natural looking and more high tech appendages available to wounded American vets.
Beyond just the physical, however, most of Nosh's subjects are photographed at home. Not so much home alone, though. Four of the seven shots in the Alternet piece are family portraits in one form or another, as are two more in the "Wounded Iraq" portfolio on Nosh's website. Nothing makes these images more accessible than their familial impact. Take the photo above, for example.
On May 5, 2003, then twelve-year-old Saif Yusif Hanoun from the Al-Amil district of Baghdad was taken to the hospital with a fever. On the way, he was injured by American gunfire and lost his left leg from below the knee. To the right, and set back, is his younger brother. According to Saif's mother, Saif will hit his brother out of envy for having both legs.
Of course, there are elements here which elaborate Saif's anger and depression, the most vivid being the relegation of the prosthetic to a position opposite his damaged leg and facing away. More universal, however, are the physical dynamics between the siblings. The younger boy -- who earns no named in the presentation -- hugs the wall (as if in a characteristic backing off). At the same time, though, he puts his nearest leg forward (demonstrating the instinct to be closer?), and rests his hand just above his own knee (while retracting his left one), as if in symbiotic and empathetic connection with his brother's predicament.
Besides binding two brothers together, this slice of life helps tie the brothers to us.
Photo Essay plus Farah Nosh interview here.
For more of the visual, visit BAGnewsNotes.com.
(image: Farah Nosh/Getty. March 2006. Baghdad, Iraq)