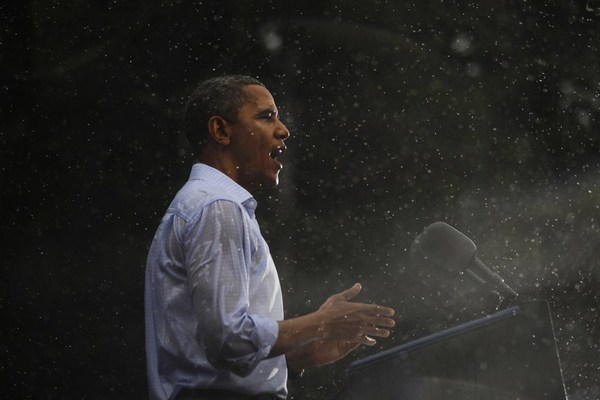 It didn't have the same drama as the '08 shot. That photo of Obama in a downpour wearing a black rain slicker invited comparison to Neo from "The Matrix." (It also won the NYT's Damon Winter first place in NPPA's 2009 Photojournalism awards.)
Still, with Obama campaigning like it's October, the photos of Prez in the rain in Virginia on Saturday drew plenty of
buzz
. For a day, at least, it felt like the return of "yes we can." (Given his wonky governing style, it still seems like a surprise when the charismatic and fired-up finally Obama reappears.)
And while Romney (who was busy chilling on the estate) is taking his own drenching right now over when he did or didn't leave Bain, Saturday's weather invited a different comparison -- to an illustration of Mitt's Ark in the upcoming Vanity Fair:
(photo 1: Jason Reed/Reuters caption: U.S. President Barack Obama is pictured during a heavy rain storm at a campaign rally in Glen Allen, Virginia, July 14. Obama traveled to Virginia on Saturday for campaign events. photo 2: Evan Vucci/AP caption: Republican presidential candidate, former Massachusetts Gov. Mitt Romney, right, laptop in hand, talks with his son Josh by Lake Winnipesaukee at his home in Wolfeboro, N.H., Saturday, July 14, 2012. illustration: Barry Blitt/Vanity Fair)
SUBSCRIBE AND FOLLOW
Get top stories and blog posts emailed to me each day. Newsletters may offer personalized content or advertisements.
Learn more