A Son Falls and Lifts Mothers Up: For Sybrina, A Mother's Day Salute to Trayvon's Mom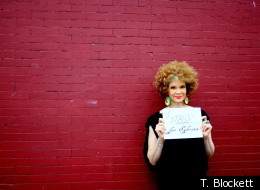 "You can't get over the pain of losing a child. You have to be lifted up out of it". In these words, Helen Delaney, captured the essence of the For Sybrina Mother's Day Campaign, a tribute to Sybrina Fulton, Trayvon Martin's mom. We wanted to lift her up on her first Mother's Day without Trayvon. We wanted to lift up mother's everywhere who've lost children. And what an uplifting experience #4Sybrina has been for all who participated. Through well wishes, cards, prayers, songs, poems, pictures and videos people from all over connected and created one long, living letter of love to Sybrina Fulton. While we were saluting the strength of Sybrina Fulton, For Sybrina became a beautiful tender repository for powerful personal stories of loss, hope and love for all mothers.
We want to thank the hundreds of people who took the time to be a part of this beautiful community of motherhood and support inspired by Sybrina. We'd like to give very special recognition to Mocha Moms, Inc., a wonderful national organization of Black mothers for their lovely card making effort, actress/comedian Kim Coles for her fierce twitter commitment, singer, songwriter and music therapist Stacie Aamon for "It Came To Be" an original composition For Sybrina, to the delightful Urban Vintage café and boutique in Brooklyn for hosting our very special MADFree conversation and all the volunteers for their cheerful service.
A Message to Sybrina Fulton from Michaela angela Davis about this MAD Free:
Sybrina My Beloved Sister,

We've never even talked, yet you've made me a better mother, a better daughter and a better woman. You're unnatural, unthinkable lost gave me the courage to ask my mother to openly share her own devastating story of losing a son in hopes it would give you and others hope. When sisters share their stories we can learn from, lift and liberate each other, that's what the MAD Free conversation project is all about. Of all the revolutionary women I've talked to, this one with my mother has been the most powerful. You see, now that the thing she feared the most, burying a child, has happened, and through faith she survived. She is fearless. She is free. Trayvon is free. Mommy wanted to tell you most of all, Trayvon is with you, just as her Eddie, after 33 years, is with her, always. This MAD Free is in your honor. I thank you. I stand for you.

This Mother's Day, I Shine for Sybrina,

Micheala angela Davis
Follow Michaela Angela Davis on Twitter: www.twitter.com/MichaelaAngelaD