Last night, writer/director David Gordon Green was on-hand for the New York premiere of his dark drama Snow Angels -- starring event no-shows Sam Rockwell and the always chatty Kate Beckinsale -- at the Museum of Modern Art, which meant he was missing a different kind of show: the presidential primaries. "I'm excited to hear about Texas, because that's my home state," said the 32-year-old filmmaker, who was casually dressed in a blue jean shirt over a wolf print t-shirt and sporting braces on his teeth. Though Green declined to reveal who he was supporting, he admitted he was "eager to just watch the show." Green was equally enthused about Angels finally hitting theaters after debuting at Sundance last year ("time to unleash the beast!"), as well as his recent induction into the Judd Apatow comedy frat pack. His next film as director, August'sThe Pineapple Express, stars Knocked Up's Seth Rogan and James Franco as a stoner and his dealer forced on the lam after the latter witnesses a murder. (Hey, if the man-child story machine ain't broke...) In addition to highlighting the "brilliance of Seth Rogan," Green singled out the "discovery of Franco as a new comedy talent." Are the actor's scenes as hilarious as his"The Hills" parody with Mila Kunis? "Oh, that's nothing," said Green. "You ain't seen nothing yet." Sweet.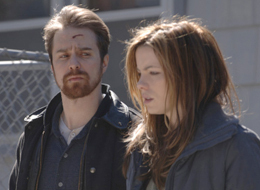 Also sweet were Angels co-star Amy Sedaris' shoes, which were a glittery brown and elevated the petite actress and infamous cupcake master several inches off the ground. And while Sedaris was pleased with the images from a recent photo shoot for Vanity Fair she had received that morning, her role -- as Beckinsale's put-upon best friend -- was no joke. "I'm attracted to dark material," said the erstwhile comedic -- and Democratic-leaning -- performer.
Rounding out the premiere's cast appearances were 17-year-old Connor Paolo, who's perhaps better known as Blake Lively's suicidal younger brother on Gossip Girl. For all GG fans needing their XOXO fix, Paolo reports, "Rehearsals start March 12!" Also looking adorable was Olivia Thrilby, herself better known as Ellen Page's best friend from Juno. But not necessarily for long. With four movies awaiting release, including Kenny Lonergan's Margaret with Matt Damon, Anna Paquin, and Matthew Broderick and the comedy The Safety Glass, co-starring Hilary Duff and Steve Coogan, the 21-year-old may soon graduate to "It" girl status. "One movie's this summer, one's in the can, the last two are due later this year, and I'm about to start The Dream of the Romans with Jeff Daniels and Lauren Graham," said the actress, who also "secretly" admitted to being glad the Juno-train was finally, finally pulling to a stop. She also copped to being a "big, big" Obama supporter. Guess you can't always have it all.
SUBSCRIBE AND FOLLOW
Get top stories and blog posts emailed to me each day. Newsletters may offer personalized content or advertisements.
Learn more