Invictus is an amazing, true story that you need to see with your children.
Invictus chronicles how South African President Nelson Mandela and rugby star Francois Pienaar joined forces to unite the country by winning the 1995 World Cup. Morgan Freeman and Matt Damon each received an Oscar nod for the movie.
But that's not the reason you should take your family to see this film.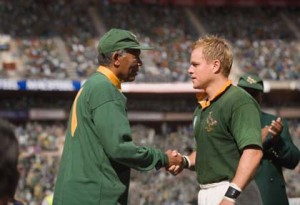 You need to take your children to see Invictus because it's a story about leadership. American kids need to see an example of what elected leaders are actually supposed to do! Most of our elected leaders do not think of the people they are supposed to serve; they think of themselves and their own personal gain.
Invictus begins as Nelson Mandela -- a man who had spent 27 years in prison for fighting against apartheid -- is elected president of South Africa. Though apartheid has ended, the country is divided between an angry black majority and a frightened white minority.
Mandela seeks reconciliation as the key to progress for South Africa. He realizes he needs something symbolic to pull the country together and looks to unite the country through the national rugby team.
The leaders we elected to serve us and represent our interests in Washington appear to serve the lobbyists and corporations. That's a problem that won't be solved anytime soon. In the meantime, my husband and I try to give our kids a daily example of leadership -- and we'll take our children to movies like Invictus to see how an elected leader should behave.
This Blogger's Books and Other Items from...
FOLLOW HUFFPOST