THE BLOG
Are Rihanna And Khloe Kardashian Sharing Clothes? Looks Like It To Us...
Who knew these two were fashion soulmates (or maybe had the same stylist)?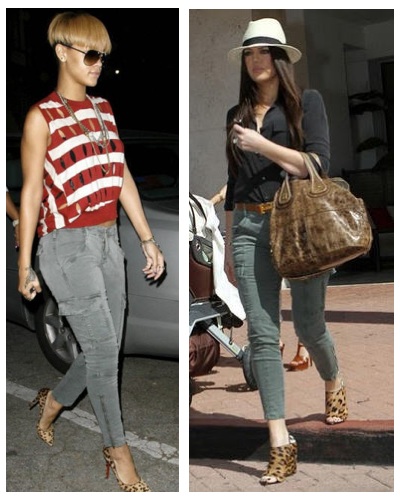 Both Rihanna and Khloe Kardashian wore these J Brand Houlihan Cargo skinny pants ($230) - a sexy, edgy version of the cargo look. And, bizarrely, they both paired the pants with leopard shoes. This isn't the first time Khloe and Rihanna stepped out in similar outfits though.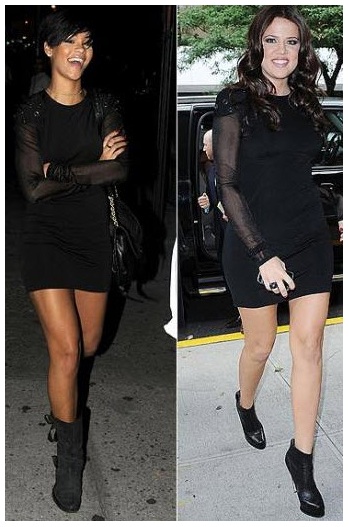 Both ladies also wore this sheer-sleeve minidress, and both paired it with black ankle boots. Do you think they're raiding each others closets?
If you're a fan of Khloe's style, check out the Kardashian for Bebe line, too.
To get the daytime look - the parts that both girls agree on - try these pants and shoes: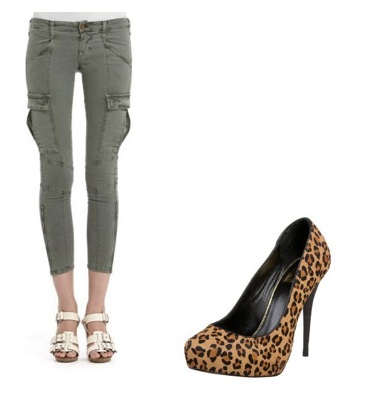 J Brand is known for their amazing fit-check out their collaboration with Proenza Schouler-and these J Brand Houlihan Cargo Skinny Pants ($230) are a sexy version of the classic cargo pant. Leopard pumps will make the outfit pop - these Dolce Vita Trinity Pumps ($209.95) will pair well with most colors.
Like their evening look better? Try these two pieces paired together: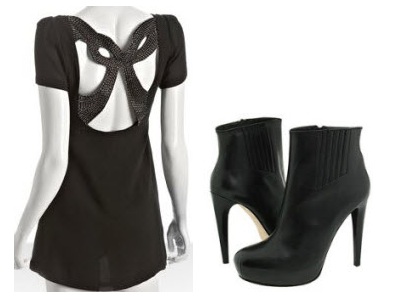 Try this Corey Lynn Calter dress with a cool embellished back ($163, down from $233), reminiscent of Rihanna and Khloe's shoulder-embellished frock, paired with these booties ($80, down from $89) from Type Z.
Browse more black dresses on SheFinds, or gear up for spring with our favorite bathing suit styles.