Giving back is in my blood, but I didn't grasp just how deeply it is etched into who I am and how important it is as part of a successful business strategy until I became an entrepreneur.
It seems I have always possessed an entrepreneurial spirit. Growing up in a house with six siblings made feeding us all a challenge for my parents to say the least. There were times when the lights were shut off, the water wasn't running and cooking on the small Hibachi out of a sauce pan in the backyard was, to us, like camping. Like most kids in hand me downs with great imaginations, we always had a plan on how we could make money for the holidays.
I remember my favorite "campaign": mistletoe. In Santee where we grew up there were tons of mistletoe trees. My brothers would climb up through the branches and throw hunks of mistletoe down to the ground for me to gather. We would put them in baggies tied with red ribbon, and not just one size baggie. There were the $1, $3, and $5 size bags to choose from. I was maybe 12, and already my inner entrepreneur was kicking in. We went door to door, splitting up territory and each day taking turns and teaming up to hit up the best spots. We made what was, at least for us, a boatload of money and helped our family have a great Christmas while making people happy with this little green piece of kissing magic.
Fast forward to now. After surviving a hellish violent crime, I changed my life completely and decided that I was going to show up in my life every day saying yes to positive energy, direction, focus and purpose. After writing my book, Held Hostage, assisting in it becoming a Lifetime movie and becoming an international speaker, I knew I needed something else; a business that tapped into my entrepreneurial, gift of gab and relationship building, and giving back spirit. I decided to focus my time and energy on only those who are making a positive difference in the community either by way of their message, story, project, or product. This birthed my non-profit event Rock To Stop Violence, an annual event to stand united for non-violence through rock & roll music, art and fashion. The 2nd Annual event will be held at House of Blues in San Diego May 19, 2010. It also birthed my Women Who dreamBIG radio show and my for profit company Common Unity PR: Specializing in Positive Public Relations in Your Community.
Last week I was in a team meeting with clients Good Friends United. They strive to make a positive difference by connecting people to the community and each other via events, group travel, concerts, social and business networking and, of course, giving back. The campaign we came up with: Giving Back: The Perfect Way to Start the New Year.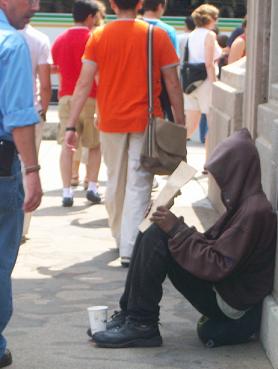 Remembering the times when all we had was in a sauce pan out back on the Hibachi and sharing this with my team, we decided we were going to feed pizza to as many homeless in San Diego on New Year's Day as possible. The best part-one of my brother's was right there with me creating this wonderful give back campaign. Today we have business owners in the community stepping up to start their new year off by giving back and donating pizza.
The simple truth is... I never could have imagined how gathering up mistletoe and hitting the streets to help our family would instill in me such a sense of survival, entrepreneurship and love for helping others. It is my joy to be on this journey and have been given the chance to give back, not just on New Year's Day, but everyday in every way that I can.
Start your New Year off by giving back on New Years Day and let me know what incredible way you chose to make a positive difference in your community!
Happy holiday's everyone and may 2010 bring success beyond your wildest dreams... Compliments of the Universe!
SUBSCRIBE TO & FOLLOW MUST READS
The internet's best stories, and interviews with the people who tell them. Learn more