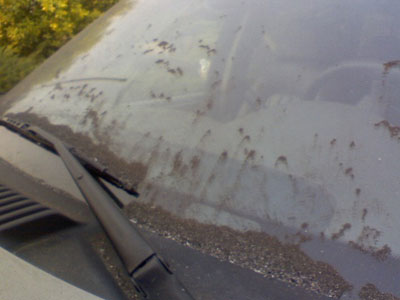 My car after only a few hours, while I was at my friend's house after being evacuated
The fiery red sun was setting in the sky as I drove back home. As the winds shifted directions ordering the fires path to change, evacuations in my area were lifted. Sleep finally came without the worry, sirens and contemplation. By morning I awoke to a silence that I somehow can't quite trust yet.
The news this morning tells us that President Bush is on his way and that FEMA is already here assessing the smoldering devastation of so much land, so many homes, so many lives. Major media outlets are set up at Qualcomm Stadium, reminiscent of the Katrina disaster, with its larger paved areas and more accessible parking for equipment and crews. But the stadium is just one of many places holding thousands of people displaced from all they own today. The fair grounds are overflowing with people and animals, schools and churches and community centers are bursting at the seams with evacuees.
Private homes not in the path of the fires owned by those with open arms now house three and four families at a time, families now gathered around the television watching, waiting and contemplating the "what if". They, like us all, will learn from the past and do things differently next time.
I am certainly no stranger to adversity. From my days as a teenage runaway escaping the agony of domestic violence; the kidnapping and 14 hour hostage ordeal of my daughter and me seven years ago that involved explosives and bank robbery that devastated us both; to right now as I sit looking at the spaces on the wall where pictures used to hang now still piled in my car. But with every twist and turn in the road, there are lessons to be learned, opportunities to grow and the possibility to change for the better burning in our soul with every choice we make from that moment on. Since the kidnapping, we live and do things differently. We live smarter than before, safer than before. I will do the same with the lessons from the fire, pack them with an evacuation kit I will be putting together for "next time".
When natural disasters happen, and they will continue to wreak havoc around the globe increasing in frequency and magnitude due to global warming, we as individuals and the government must learn how to do things differently, smarter and safer. With each heart wrenching massive tragedy, we must seek to learn and grow in ways that will make the next time better; from response to recovery to rebuilding of homes and lives.
The fires we endured four years ago in San Diego taught our city officials and response teams that they had to plan on a next time and in that they must incorporate better evacuation plans, better organization of evacuation sites and better efficiencies for supplies and services. They accomplished all of those objectives this time. It has been incredible to see the cooperation of agencies and the organization of disaster response efforts during a time that could so easily be complete mayhem.
Now it is time to see if President Bush and FEMA have learned from past disasters. Let's see if they are more prepared for their "next time". I hope so, not just for us here in San Diego, but for all those who have and will in the future be caught in the path of Mother Nature's madness.
This Blogger's Books and Other Items from...