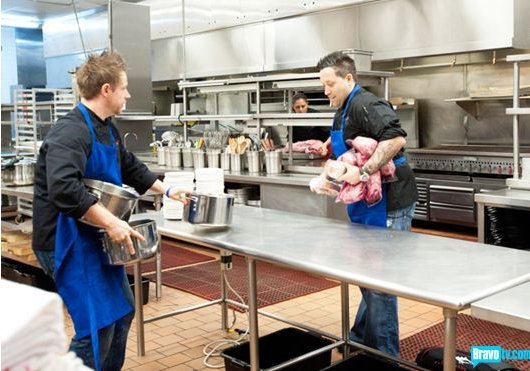 Editor's Note: Michelle Weber of Thursday Night Smackdown is liveblogging Top Chef with HuffPost Food tonight. To participate, leave your comments below.
A preview of tonight's action, from Bravo:
It's the pen-ultimate episode before the big finale and with only THREE chef'testants left, the heat is on for these All-Stars to deliver perfection-only. But will the seemingly-simplest of Quickfire Challenges end up tripping up the chef'testants when they must make the most delicious one-pot meal? And when the remaining three concept their ideas for their Elimination Challenge, a nervous Richard Blais starts to realize that perhaps Mike Isabella is more of a threat than initially realized. Is Mike the quiet underdog? Find out this Wednesday 3/23 @ 10/9c on BRAVO's Top Chef All-Stars *Final Three*
A Simple Challenge: Antonia Lofaso explains that it's those simple challenges that throws everyone for a loop
Calling out Mike: Antonia Lofaso needs to call out Mike Isabella about the preparing the hardest dish.
Follow Michelle Weber on Twitter: www.twitter.com/TNSmackdown