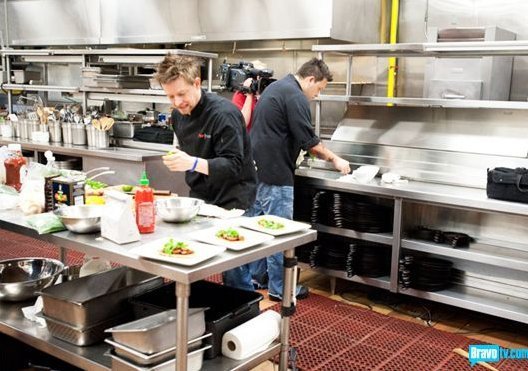 Editor's Note: Michelle Weber of Thursday Night Smackdown is liveblogging the Top Chef All-Stars finale with HuffPost Food tonight. To participate, leave your comments below.
03/30/2011 11:00 PM EDT
Top Chef = RICHARD.
THANK GOD. Legions of fans won't have to give up on Top Chef now!
03/30/2011 10:59 PM EDT
Richard, you were strong all season; Mike, you came on strong at the end.
03/30/2011 10:55 PM EDT
Commercials. Is there a way that we, as a nation, can force Robert DeNiro to retire from appearing in films?
03/30/2011 10:53 PM EDT
The third goes to Mike. And dessert's a toss up.
03/30/2011 10:52 PM EDT
The first course goes to Richard. And the second.
03/30/2011 10:51 PM EDT
Mike gets his wife and parents, Richard gets...Uncle Scott.
03/30/2011 10:50 PM EDT
Why should you be Top Chef? Blather blather showing who I am blather greatest moment of my career blather blather.
THERE'S NO CRYING IN TOP CHEF.
03/30/2011 10:47 PM EDT
THERE WERE NO GIRLS IN THE KITCHEN. THERE WERE WOMEN IN THE KITCHEN.
03/30/2011 10:46 PM EDT
JUDGES' TABLE. Mike: "The hardest part of this season was every part of it."
03/30/2011 10:45 PM EDT
Winning Top Chef would be the best thing that ever happened to Richard. So, you know, sorry about that, Richard's kids.
A preview of tonight's action, from Bravo:
After an emotional elimination down in the Bahamas, only TWO All-Stars are left standing with the taste of victory and their chance at redemption in sight. And when Tom and Padma deliver the ultimate Elimination Challenge: create the restaurant menu of their dreams, the chefs are full speed ahead to claim the title. But before Richard Blais and Mike Isabella get to judges' table, they are faced with some of their past competitors as all All-Stars return for the chance to be a sous chef. Who will assist in the Finale? And which of these two All-Stars will finally hear the words, "You are Top Chef"? Find out this Wednesday 3/30 @ 10/9c BRAVO's Top Chef All-Stars *FINALE*
Down to Two: The remaining two chefs have no time to digest what just happened as their final challenge is immediately announced.
Picking Sous Chefs Blindfolded: The final two chefs choose their sous chefs blindfolded.
FOLLOW HUFFPOST